Live it up at LACMA's yearly late-night bash, Muse 'til Midnight, this Saturday at 8 pm (UPDATE: This event is now SOLD OUT). Design collective ISO50 starts the dance party with a DJ set by Tycho plus guest Willits from 8 pm until 10 pm in front of Chris Burden's Urban Light. Then step into the galleries and take in the gorgeous sounds of indie-rock choir the Silver Lake Chorus, performing live inside Van Gogh to Kandinsky, John Altoon, and Marsden Hartley (before it opens to the public)! There will be a cash bar and small bites available all night. Purchase your tickets online or at any Ticket Office.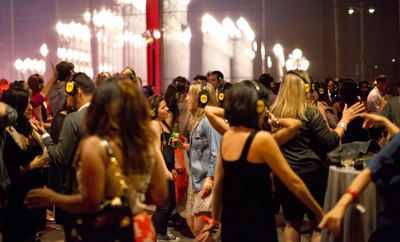 Image of Muse 'til Midnight, 2013
New this weekend, see paintings from an influential American modernist in Marsden Hartley: The German Paintings 1913–1915. About two-dozen of the artist's seminal works from his years spent in Berlin reveal the deep effect of World War I and highlight Hartley's use of military symbols and Native American motifs. Members see it first and for free during Member Previews on Friday and Saturday.
Also opening on Sunday is Sam Durant: Proposal for White and Indian Dead Monument Transpositions, Washington, D.C., a large-scale installation by L.A. artist Sam Durant. Using monuments found throughout the country commemorating those killed during the "Indian wars" between Native Americans and white settlers, this exhibition confronts issues of American history and the role of public monuments in shaping our understanding of the past.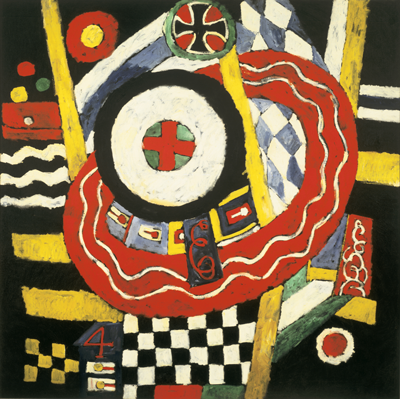 Marsden Hartley,
The Iron Cross
, 1915, Mildred Lane Kemper Art Museum, Washington University in St. Louis; university purchase, Bixby Fund, 1952
This weekend in music, experience the melodies of trumpeter, composer, and educator John Daversa with his Small Band on Friday evening at 6 pm, part of the Jazz at LACMA series. On Saturday at 5 pm, come hear KoTolán, a multicultural world music ensemble that plays a mixture of Latin styles infused with modern jazz at Latin Sounds. And at Sundays Live on Sunday at 6 pm the The Lyris Quartet returns to perform Silvestre Revueltas's Musica de Feria and Brahms's String Quartet in A Minor, op. 51, no. 2. All performances are free and open to the public.
Also on Sunday, bring your family to Andell Family Sundays—Art+Technology and discover how much artists and technology innovators have in common by experimenting, learning, and collaborating with others in the Director's Roundtable Garden.
Sara Queen