For nearly 25 years, teaching artist Michael Wright has led over 200 classes at LACMA, introducing drawing from the collection to thousands. "Being in the museum on a weekly basis is an immense treat and privilege. Being with art makes you think about artists, what they had to do, what they went through. I've developed friendships with the pieces. I visit them and say 'hi.' This is the most relaxing thing I've ever done. It is very different from setting up a still life and cracking a whip." 
Since 1986, Michael has spent almost every week teaching drawing in the galleries to adults as well as teens. "It's like time traveling, getting in the artist's shoes, to spend so much time with one painting. You can really learn the technique and have an intimate relationship with the work of art," he explained. And Michael should know.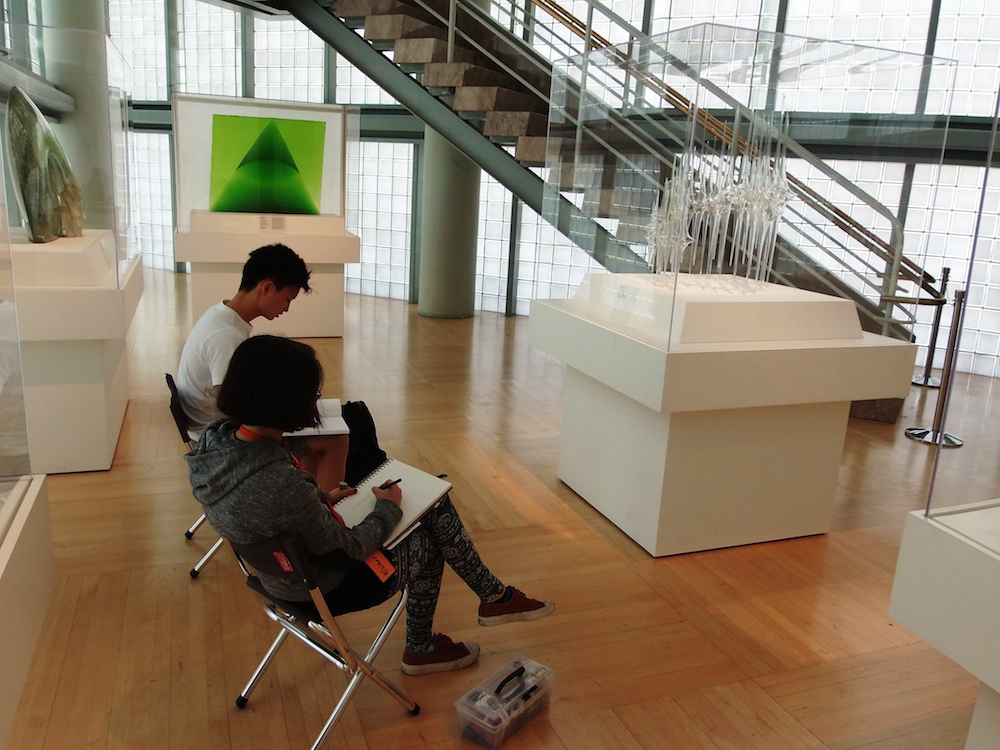 If you've been at LACMA on a Saturday, you've probably happened upon people seated throughout the galleries with big drawing pads and 2B pencils. They're most likely participants in Michael's class. He's the one bouncing from student to student, dressed in typical artist all black, but he's topped it off with a black cowboy hat.
Over 1,000 people enroll in an art class at LACMA every year. People take classes for a variety of reasons: to learn something new, to hone their skills, to relax, and to meet people with similar interests. We get students who were told they couldn't "do" art (but somewhere inside they didn't believe it) and people who have degrees in art but their careers took them in a different direction. For Michael, it doesn't matter when or where you start. He welcomes his apprehensive students with an "It's about time!"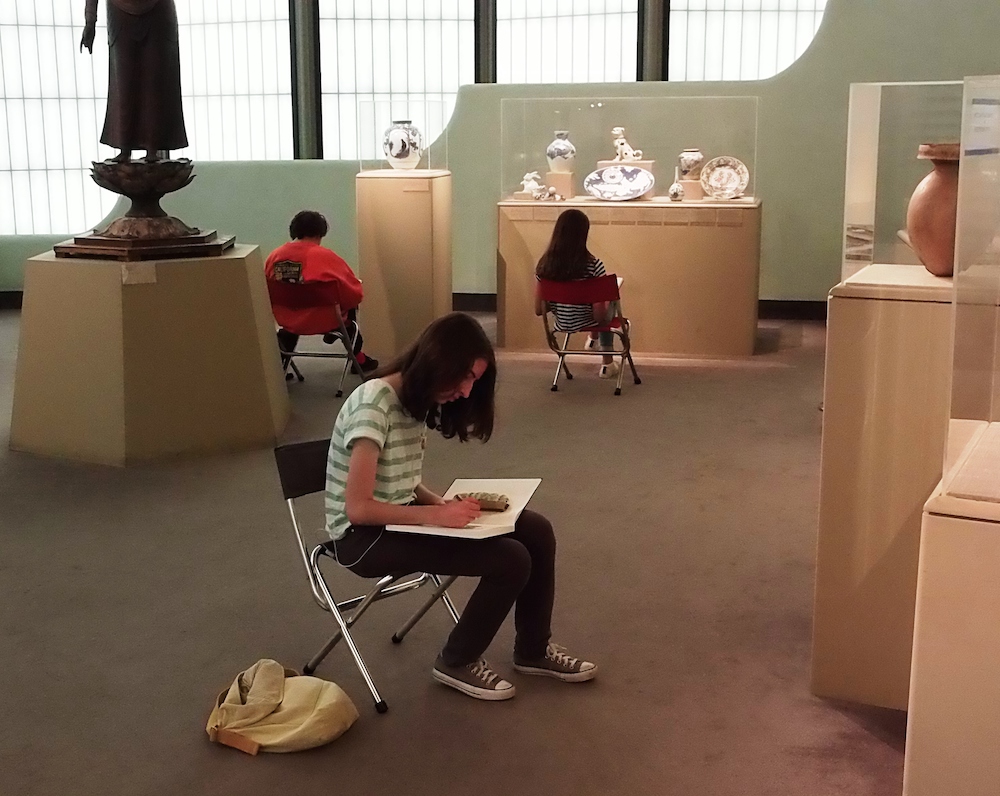 Art classes are offered all over town at community colleges and art centers, but what sets classes at LACMA apart is the focus on original works of art. Art has the power to educate, and the Education and Public Programs Department  subscribes to a philosophy of object-focused lessons. The benefit of being in a museum setting allows students to get a close and focused looking at works of art, plus contextual information offered by the instructor. This is combined with observations and prior knowledge brought to the table by students. While focusing on a work of art from the collection, students build skills in art making and learn a bit of art history, all while making deep connections to the work they are studying.
LACMA has always emphasized a hands-on experience. When the museum opened its doors in Hancock Park in 1965, it had a large dedicated studio space for creating art. Initially art classes were designed just for children and families, but soon thereafter classes were offered for adults, teachers, and students of all ages. Course descriptions stressed creativity, experimentation, and free personal expression. Classes were organized by age (not level of experience) and always included "appropriate tours of the museum's galleries." Today, LACMA has two studios that are in constant use, and a free drop-in art making experience is offered daily in the Boone Children's Gallery, where families paint together at communal tables, drawing inspiration from the adjacent Korean and Chinese art galleries.
Michael has his favorite paintings, but he gets excited when students pick something that he hadn't really considered before, giving him a new appreciation for those particular pieces. "When people turn you on to things you didn't pay attention to before, it keeps your mind open. Sometimes they will choose a work because they think it will be 'an easy one,' only to find that what they chose is really incredibly complex. For example, White Center by artist Mark Rothko, your first look is really different from the look at two hours later. How did he get layer upon layer?"
Through deep looking, questions about the decisions that artists make start to percolate: Why did the artist use that color, that material, or choose this subject? How did the artist achieve light, depth, emotion?
Through these observations, interpretations, comparisons, and questions, critical thinking skills are fostered and honed. Developing critical thinking skills is part of the Common Core State Standards for today's students, but critical thinking skills are important skills for non-students as well. To navigate in today's world we need to be innovative, creative, and analytical.
When I asked Michael what is most challenging about teaching in the galleries, he said "Finding everyone!" Then he continued, reflecting on the wide spectrum of experiences the students represent. "I'm glad we don't have classes that are defined by experience. For students who are just starting out, it is great for them to see and learn from the students who have been at it for a while. They learn from each other. And, for the students who have been at it for a while, they can see how far they have come and are reminded of what it was like when they first started."
For students who get stuck, he says. "Don't listen to the thoughts in your head. Tell the left brain, 'thanks for sharing.' Trust your eyes. Trust what you see. Practice getting into the right-brain mindset by setting up one-minute drawings. If you set up five one-minute drawings, with no judgment, you will get rolling. You will trip into it and get in the flow."