Viewed from afar, this screen, made up of four painted wood panels framed with silver borders, appears to feature a large, gray graphic with floral white cutouts. Upon closer inspection, however, the large, dark mass that fills up most of this screen are made up of thousands of vertical, dark etches that mindfully elude the floral elements dotting the canvas. "The graphite pieces were about carrying out a psychological exercise. I had a vision that if you put enough silver in a mold, it fills up its density and it will set up its own kind of visual drama or power. Power is what I was looking for," says the artist, Ed Moses, of his strategy in creating such works.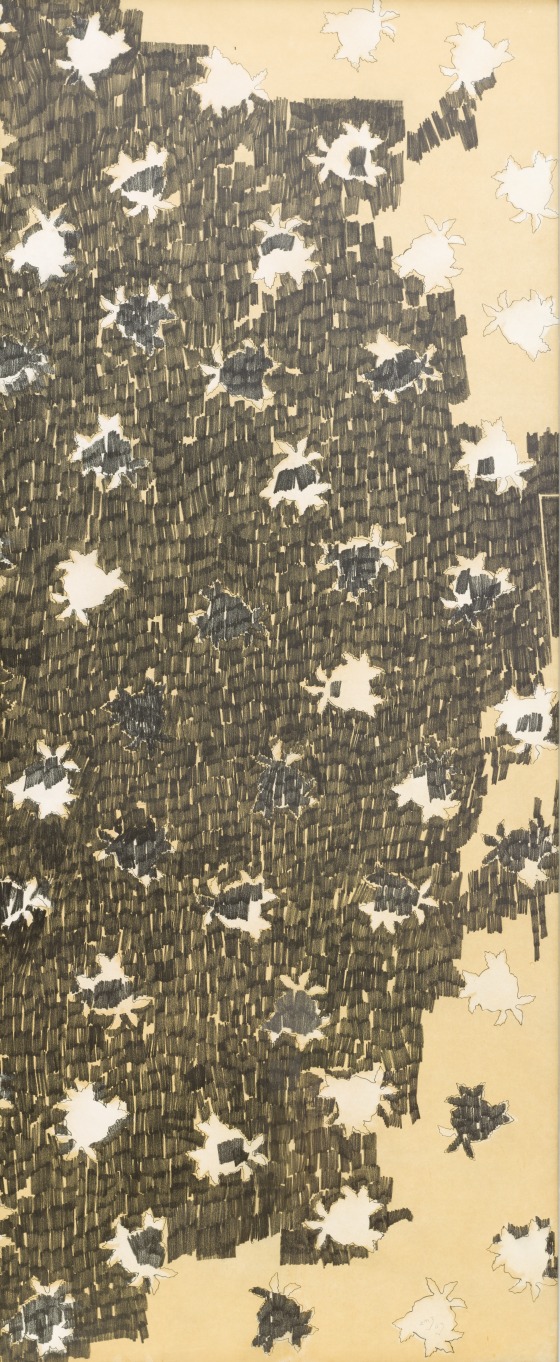 Moses, the seminal West Coast artist, made this screen as part of his series of six Rose drawings. The works were inspired by a rose-patterned oilcloth he found while traveling in Mexico. Moses made stencils from the blossoms that he found on the oilcloth, tracing their outline with graphite to create abstract shapes across the surface. The space outside of the traced area was then methodically filled wth short, tightly compressed graphite marks. He then layered the marks to create depth and density, something he likens to a dentist "packing" a filling.
Working in Los Angeles for over five decades, Moses's first solo show was at the renowned Ferus Gallery in 1958. Since then, the artist's signature abstract style has undergone many successions and changes and has ranged in media, from drawing to multimedia to painting.
Rose Screen is currently on view on the second floor of BCAM as part of the exhibition Ed Moses: Drawing from the 1960s and 70s. Check out LACMA's Collections Online to see more images of this work.
This year marks LACMA's 50th anniversary. We're celebrating all that we've done while looking forward to what's in store for us in the next 50. Check back every week on Unframed to find a highlight of an artwork from LACMA's collection, which features over 120,000 objects that span time, the globe, and all cultures. This is 17/50 of the series.