I discovered the Andrew W. Mellon Undergraduate Curatorial Fellowship at LACMA through my academic department, World Arts and Cultures, at UCLA. The program began with the Summer Academy, a weeklong behind-the-scenes introduction to LACMA. Consisting of 15 students, the academy was introduced to staff from various departments within the museum in addition to collaboratively co-curating a virtual exhibition. Following the Summer Academy, we were given an opportunity to decide if we wanted to pursue the two-year fellowship; I submitted supplemental materials and was awarded one of the two 2014–16 fellowships at LACMA.
I was matched with a mentor for the first year of my fellowship, Leslie Jones, a curator of Prints and Drawings at LACMA. In the fall, I was able to shadow Leslie on visits to print shops and Prints and Drawings–curated exhibitions. In the office, I learned about printmaking techniques, both historical traditions and contemporary methods, with associate curator Naoko Takahatake and curatorial assistant Sienna Brown. Through my lessons and visits with Leslie, I began a research project at UCLA to connect my coursework and fellowship experience. I visited Los Angeles print shops with a plan to select a specific shop and focus on their history and impact in the field. I was drawn to Mixografia©, started by the Remba family in Mexico City and established in Los Angeles since 1983. I conducted interviews with the Rembas to learn from their individual experience of printmaking in Los Angeles.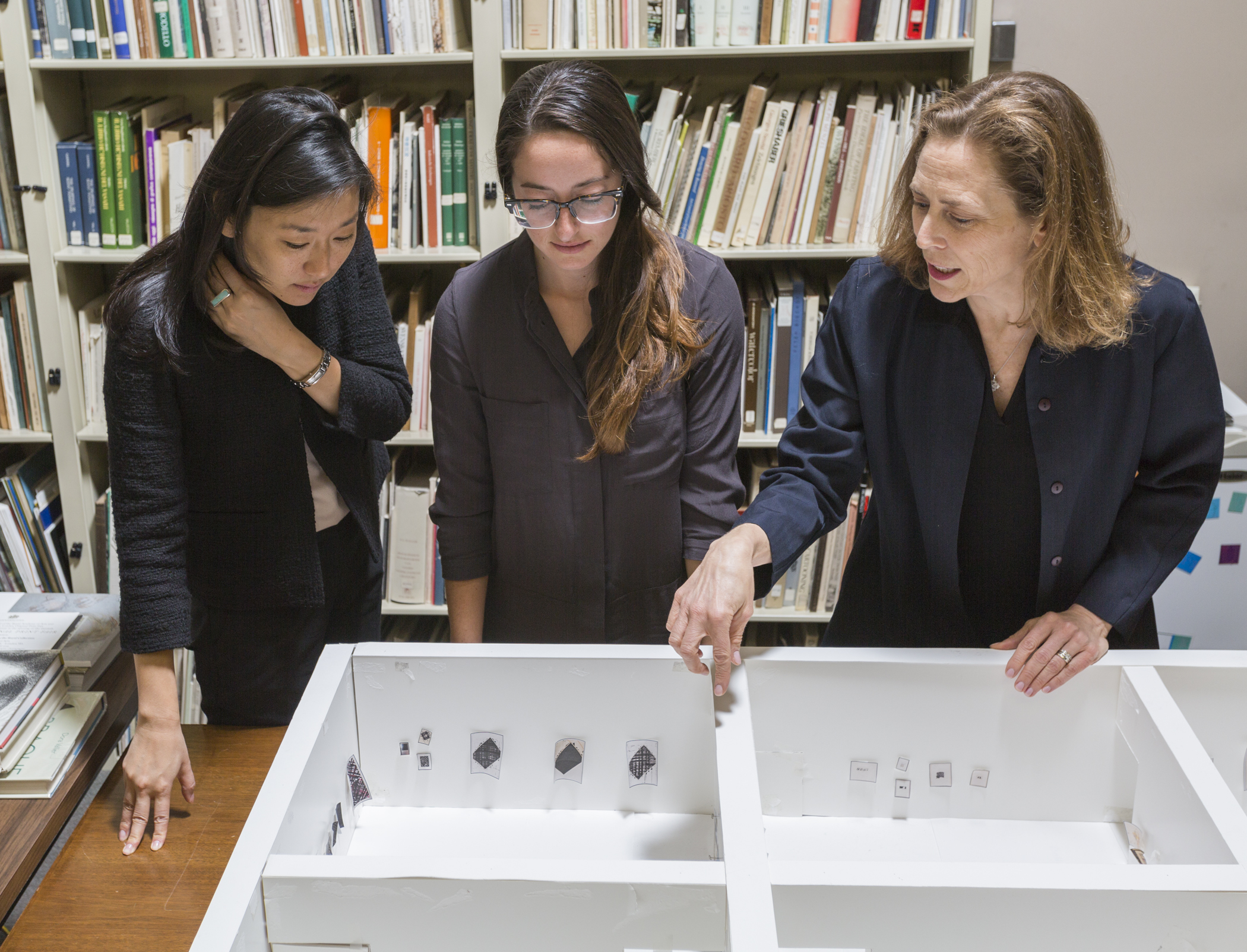 In addition to learning about printmaking, I observed the development of two drawing exhibitions that opened simultaneously in May 2015: Ed Moses: Drawings from the 1960s and 70s and Drawing in L.A.: The 1960s and 70s. One of my favorite experiences during the planning of these exhibitions was a lunch meeting with Ed Moses to discuss the catalogue for his upcoming show. Riding through Venice with him and Leslie, I was able to hear his anecdotes about the neighborhood, his experience of the L.A. art community, and his thoughts about how Leslie would translate his voice for audiences. Seeing the final exhibition in the galleries, Moses continues to shine through in the presentation of the work, even down to details like the color of the frames and walls.
In the first year of my fellowship, I've learned that the job of a curator requires everything from organizing the permanent collection to planning exhibitions. Day-to-day activities include securing loaned works of art, writing gallery label text, selecting frames, and double and even triple checking the physical state of each piece with the conservation department, among many other duties. The to-do list is endless from when a curator conceptualizes an exhibition to the final moment when they hang each work.
I recently transitioned to the summer portion of my fellowship: a full 10 weeks at LACMA. I'm working with prints again, organizing LACMA's archive of Self-Help Graphics. I'll also be present for the de-installation of the two drawing exhibitions. I've had the privilege to witness a curator's responsibilities in an inventive and dynamic thought process, and I'm excited for more learning this summer and in the upcoming year.