Recently, artist Tam Van Tran visited LACMA to see our show, Ed Moses: Drawings from the 1960s and 70s. Inspired by Moses, and as part of our Artists Respond series, Tran created a work of his own, which he calls The Consort. He talked about his response:
LACMA: What inspired you about the work of Ed Moses?
TRAN: There's an intimacy and esoteric process to the way he draws that I relate to. There's a hermetic quality that's unspoken; he's trying to find something through the process, dealing with the pure flatness of the paper.
LACMA: Where did you start?
Initially I was looking at his floral motifs: flowers, irises, roses, chrysanthemums. I took a piece of paper that had some of my own paint studies on it—I was thinking of that as a backdrop, almost like colored flowers.  Initially I was thinking of doing a series of shadow images of vases (in my previous two installations I had been doing these small vases), as supporting devices for his drawings of flowers. But then as I made the work, the process led me to thinking of the vases like a body, which led me to think about works like the drawing, Figure 5, in the catalog, where Moses is doing a rendition of an Eakins nude, and also Untitled from 1961, with the outline of a female torso. The more I look at Moses's work, there seems to be a play of masculine and feminine. I started to see in his work a search for an elusive quality that I equate with the feminine.
The drawing that I made is inspired by a Tibetan thanka image of a female deity. Her legs are completely up in the air – she's sitting, but they are behind her shoulder, so you see just a very frontal nude. There's an outline of that thanka image in my drawing. It's made with acrylic pencil, sumi ink and silver leaf. There are collage elements – a cutout of a silver leaf that forms a moon circle.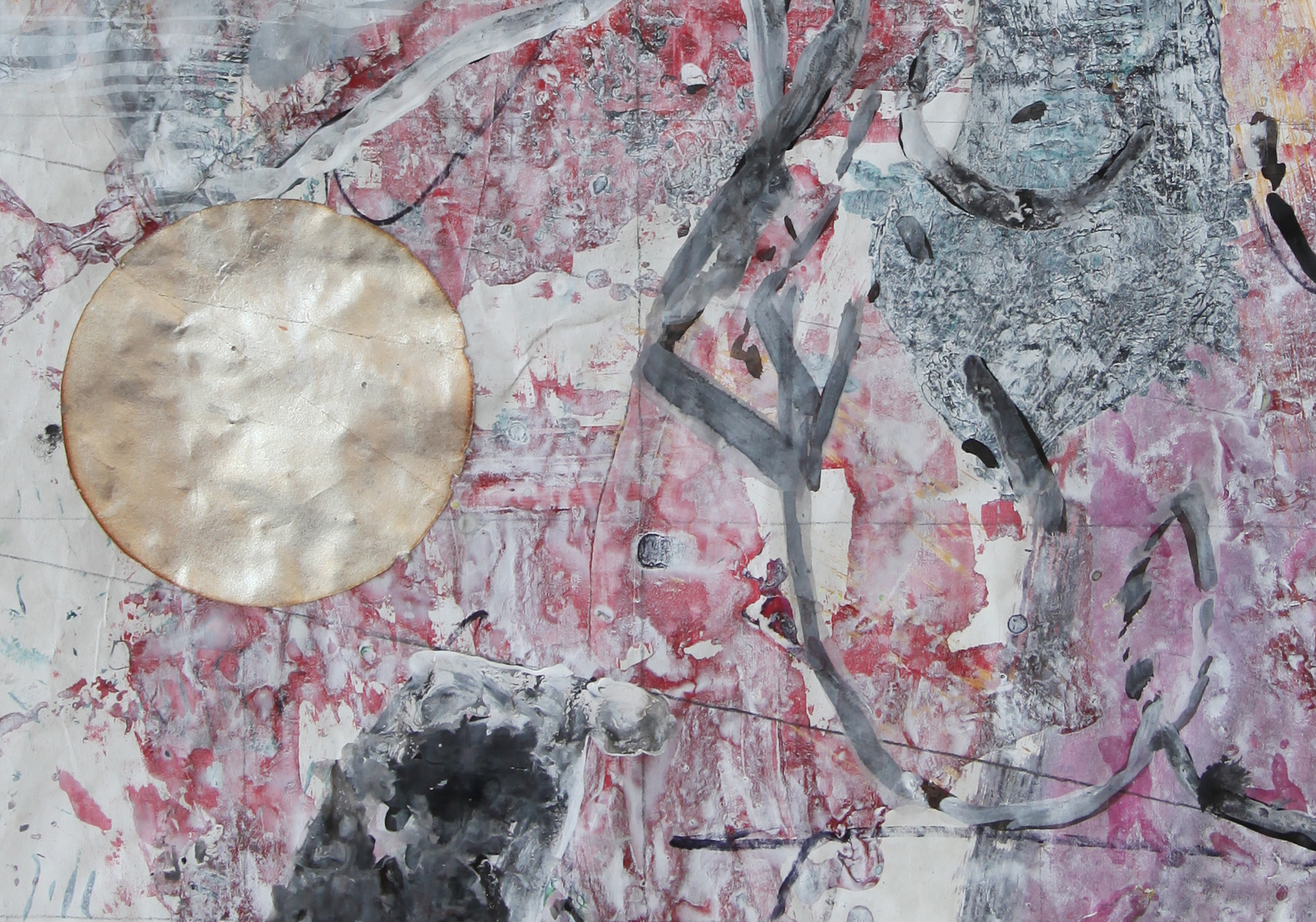 I do these studies on paper where I layer different colors of paint and then squeegee it to see how the colors combine together. So for this piece, I chose to white out the color to tone it down, and then I drew the black outline figure over it. And then I erased out the outline of the figure to soften it more, so that it becomes more abstract.
LACMA: Is that a shoeprint at the right?
TRAN: Yes! It's from my Adidas. The way I work with acrylic is through washes, so to avoid the drips I have to let it dry on the floor – so I often work on the floor. The shoe print is accidental.
LACMA: What's it like to work in dialogue with someone else's work?
TRAN: It's challenging! I asked myself, am I the appropriate person to respond to somebody who has such an illustrious career? But then I realized that when you respond to someone's work, you're almost taking care – you're tending it, caring for it in a sense. So it's an honor – you're honoring the work.