On Sunday, March 13, we'll be celebrating Nowruz, the Iranian New Year and festival of spring, with a full day of exciting activities throughout LACMA's campus. Nowruz begins at the exact moment of the spring equinox, and the festivities continue for 12 days.
We chatted with LACMA's director of graphic design, Michael Pourmohsen, who grew up in Iran before moving to the U.S. at age eight, for a personal take on Nowruz.
Tell us about Nowruz and your childhood memories of the holiday. 
I have clear memories of Nowruz from growing up in Iran. We were out of school for a good two weeks leading up to it, which was amazing. Similar to Christmas here, you knew you had time off, you knew you would get gifts and money from elders. The only bad part was that you were assigned so much homework over the break. The goal was to get it done the first week so you could go to your cousins' houses or hang out with your friends.
Iranian families welcome spring with sparkling clean houses and a new set of clothes to mark a new beginning. You're visiting people's homes. People are coming and going constantly, almost like an open house. I remember all sorts of good pastries and nuts, like pistachios, in people's houses. And everyone drinking tea.
The haft sîn is a big part of Nowruz; tell us about that.
A few days prior to the New Year, a special spread (sofreh) is laid out on a Persian carpet or a table, and this ceremonial table is called the haft sîn, or "Seven S's" table. Each item starts with the Farsi letter S and contains a special meaning, and the seven dishes symbolize the hopes for a successful and happy new year.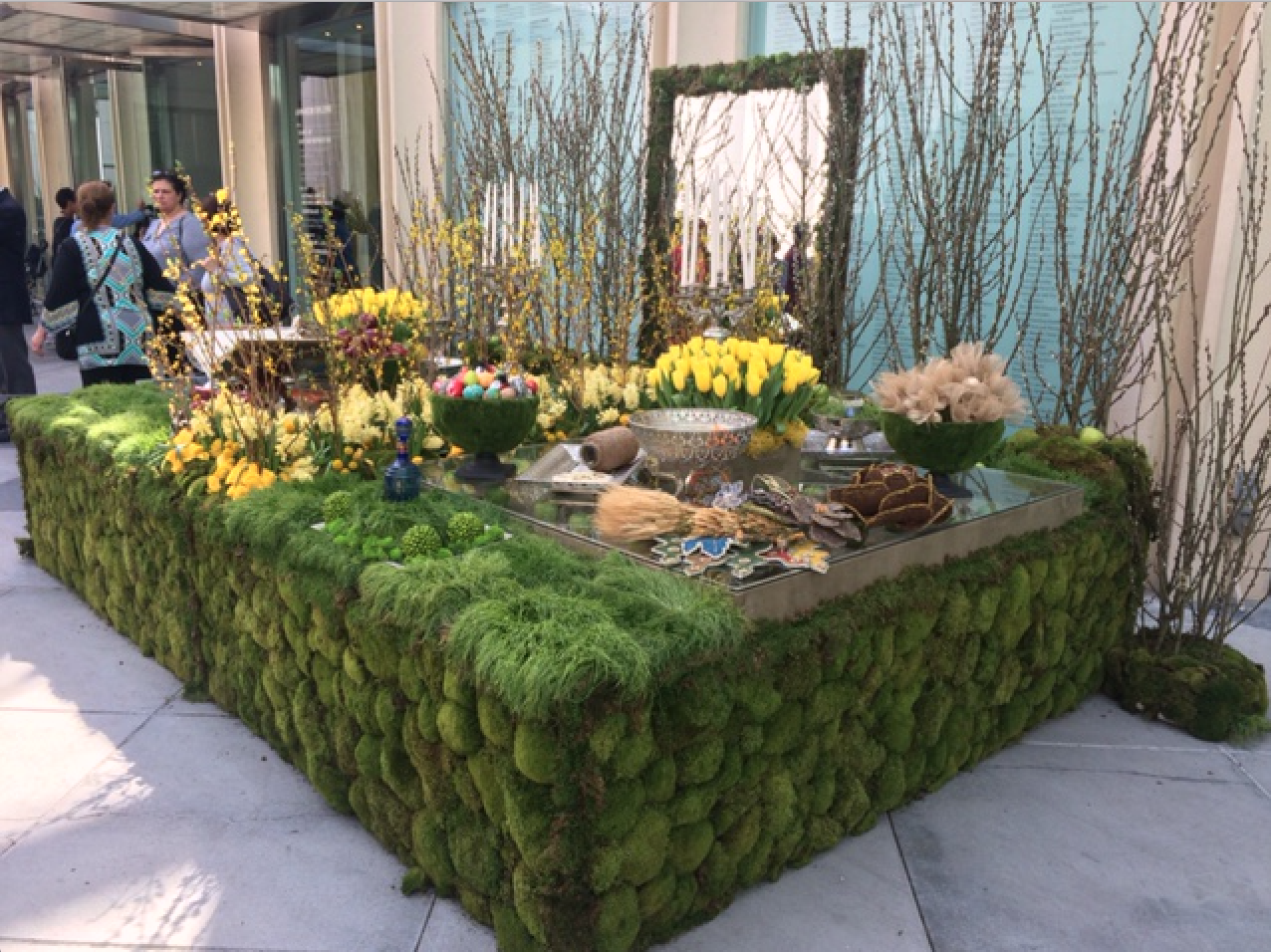 What are the symbolic items on the haft sîn?
There's senjed (sweet, dry fruit of the lotus tree), which represents love; seer (garlic), which represents medicine and protection against illness and evil; sabzeh (green bean sprouts), which represent abundance and rebirth; samanu (sweet pudding), which represents the sweetness of life; seeb (apple), which represents health and beauty; somaq (sumac berries), which represents the color of sunrise and the conquering of evil; and serkeh (vinegar), which represents longevity and patience. 
Other good luck symbols are also on the table. A few coins for prosperity and wealth, decorated eggs for fertility, an orange in a bowl of water for the earth floating in space, a goldfish in a bowl for life and to mark the passage from Pisces to Aries, rose water to purify and sweeten, a brazier for burning wild rue, a scared herb that wards off evil spirits, a flowering hyacinth (sonbol), a mirror to reflect the light of wisdom and creation, candles to represent enlightenment and happiness, and a book of poetry by the 14th-century writer Hafiz. Some families include a copy of the Koran, to signify prayers.
What was your favorite part of the holiday?
There's Baba Nowruz, an equivalent to Santa Claus—he dresses up in a suit and comes through to give gifts. As a kid, that was a big deal. The other thing was that elders gave you money. They'd go to the bank for crisp new bills. Often, they'd put the bills between pages in the Koran, so that they would be blessed for gift giving. The elders ask you to open it, and then read the page to you. We still do that. As an adult, it's fun for me to continue the tradition with crisp bills with my small nieces and nephews. And my aunts will still give me a new two-dollar bill and read from the Koran.
I have very vivid memories of Chaher Shanbeh Suri [the Persian festival of fire]. Several days before Nowruz, people build bonfires in the streets and alleys and you jump over the fire, singing folk songs. You're celebrating the triumph of light over darkness and saying goodbye to the old year. As a kid, you're constantly told, "Don't touch the fire," "Don't play with matches," so it's the one evening you're allowed to do something like that. Sometimes we'd go up north where there was a beach town, and on the sand, as far as you could see, there were bonfires. [The Iranian community here] does that; Orange County has a big thing, as does Los Angeles.
And 13 days after Nowruz, on the last day, you go out for a picnic with your whole family. The thirteenth day is considered a bad omen so it's a must that you spend it outdoors to avoid any misfortune. Now, we go to the park and bring food and celebrate, and the kids are running around playing. It's really nice.
Do you come to the Nowruz celebration here at LACMA?
This will be my third year coming to Nowruz. The great thing about the celebration here is that it connects what we used to do in Iran to what we do here. We still celebrate Nowruz, and my mom sets up a haft sîn, and we visit family, but it's a great opportunity to have it centralized at LACMA with such a grand haft sîn and all the programming. I invite the extended family and they all come. There's always a great exhibition in the Art of the Middle East galleries. For someone who works at LACMA, it's really nice to invite my family to my work, where there's this big celebration of our culture.
What are you looking forward to this New Year? 
Good health for the family. And spending more time with them. That's where the American culture is a little bit different: everyone's schedule revolves around work, and everyone has their own lives. You don't see family as much as you want to. I would love to make more quality time with the family in the New Year. And, of course, prosperity.
The conversation was condensed and edited for clarity.