I run LACMA's social media accounts. So you can imagine my extreme excitement at our Snapchat account being nominated—and then winning—a Webby Award, which The New York Times calls "the Internet's highest honor." The Webby Awards is the leading international award honoring excellence on the Internet, and this year marked its 20th anniversary (meaning they've been around almost as long as the Internet itself).
I've been at LACMA for just over a year, and I'm so proud of and grateful  for the accolades we have received for our social media strategy—especially for our Snapchat account. I inherited the strategy of pairing pop culture references with artworks from my predecessor, Martiza Lehrman-Yoes, and my former boss, Scott Tennent. Their brilliant minds cooked up the idea that got LACMA's Snapchat international press when it launched in 2014, so I had big shoes to fill! 
In 2015, I racked my brain and frequently tapped other colleagues for input to come up with dozens of Snaps featuring everything from Bohemian Rhapsody lyrics to a quote from Billy Madison. You can read more about my process in this Unframed post.
Here are just a few of my favorite snaps from this year: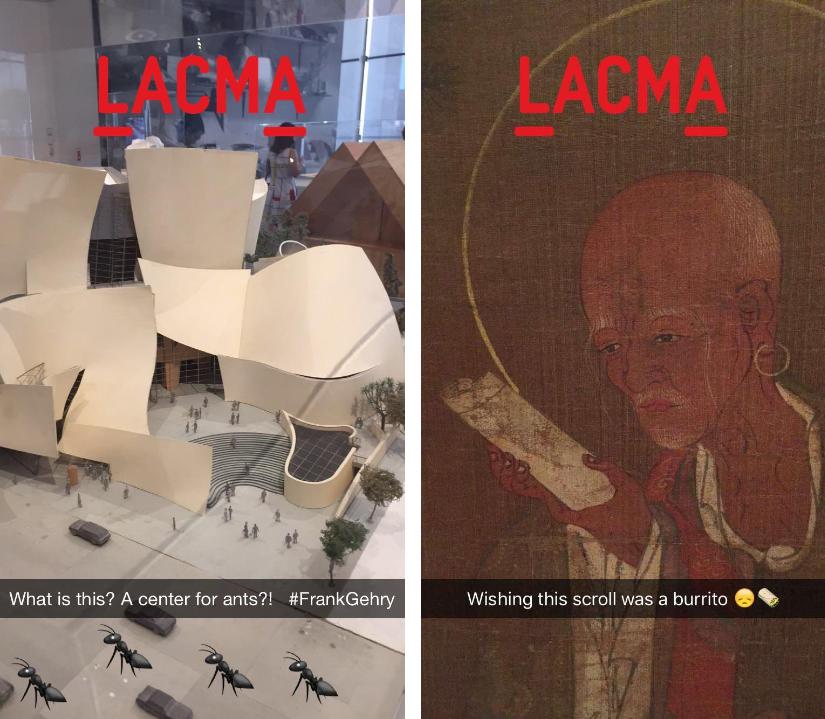 Last week I traveled to New York to attend the 20th Annual Webby Awards hosted by the hilarious actor Nick Offerman. The weekend was a blur of subway and taxi rides, champagne, euphoria, and celebration. I arrived first thing in the morning that Sunday, and in the afternoon I went to the Webby offices near Madison Square Park to give my five-word acceptance speech on camera. 
"All I do is win!" is a nod to DJ Khaled—he released the song in 2010, and has since become a Snapchat sensation with his "keys to success" and other musings. It's also a little inside joke for my younger brother who likes raise his hands up and down to the song after having a few drinks.  
Thanks to all of our followers who've made managing LACMA's Snapchat a total blast this year. I'm gonna keep on snappin'!
Follow @LACMA on Snapchat.