Wear LACMA is an art and fashion collaboration between the museum and Los Angeles's top designers that celebrates the museum's permanent collection. The Fall 2016 Wear LACMA Collection, launching next month, features one-of-a-kind fashion items by Oliver Peoples, Pam & Gela, and Lisa Eisner. We met up with Pamela Skaist-Levy and Gela Taylor of Pam & Gela to chat about their mini-collection of women's T-shirts and a jacket, for which they used motifs of cranes and blossoms found on 19th and 20th century ceramics from the museum's collection of Japanese art.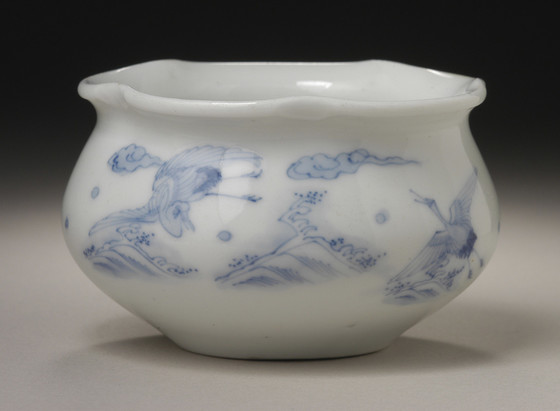 What objects in LACMA's collection were you inspired by?
Pam: We selected a Japanese porcelain bowl from the late 19th century. Blue and white, decorated with cranes. We are both obsessed with blue-and-white pottery. So going to the Pavilion for Japanese Art and seeing the pottery was just super inspirational and something that we love. 
Gela: The crane symbolizes happiness and longevity. We thought it was an amazing, beautiful bird that would be incredible when embroidered. Our obsession is embroidery right now. So we embroidered on a destroyed holey sweatshirt. We put the cranes on a silky Japanese souvenir jacket as well.
How did you get involved with Wear LACMA?
Pam: When Katherine Ross, the founder of the project, asked us to be a part of it, and we learned that Lisa Eisner and Oliver Peoples were a part of it, we jumped at the chance. LACMA is super meaningful to us. I've been going to LACMA since the early '60s with my parents and I just love it here.
Gela: We love LACMA.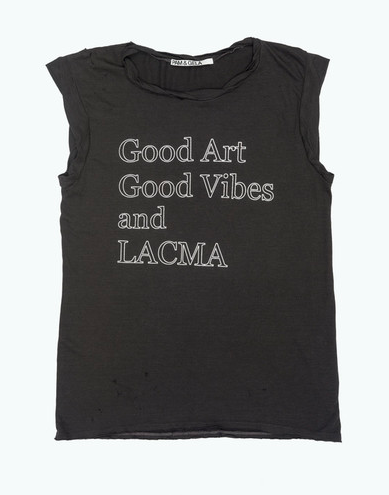 Can you talk about your design process?
Gela: Every designer looks for inspiration, whether the inspiration is from a late 19th century under-glazed bowl that has cranes on it or a club in downtown L.A. You apply it and twist it to whatever your mentality is. When you embroider on a destroyed, shredded sweatshirt, you're taking something that is old and very precious and making it into your own world, something you want to wear. We turn it into something that we think you are going to want to buy and wear, not hang on your wall. 
Pam: But you could hang it on your wall, too.
Wear LACMA is an initiative of the museum's Director's Circle. Shop the new Wear LACMA items at the LACMA Store and online beginning on November 7, 2016. All proceeds benefit the museum and its programming.