Wear LACMA is an art and fashion collaboration between the museum and Los Angeles's top designers that celebrates the museum's permanent collection. The Fall 2016 Wear LACMA Collection, launching next month, features one-of-a-kind fashion items by Oliver Peoples, Pam & Gela, and Lisa Eisner. Today, the eyewear company's CEO David Schulte tells us about the pair of sunglasses inspired by Chris Burden's Urban Light.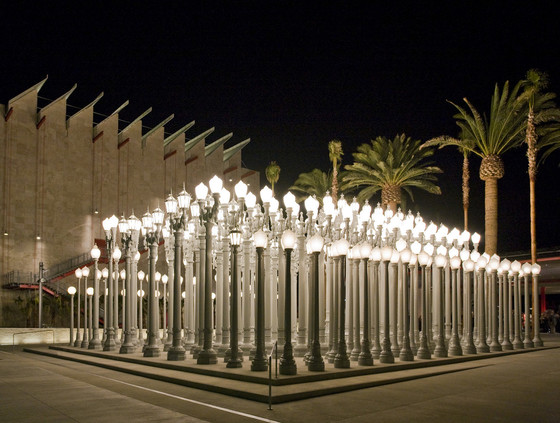 You chose Chris Burden's sculpture, Urban Light, as your inspiration. Why?
We chose Urban Light because we're inspired by it. We spend all of our days working in the context of light and the sun and somehow felt connected to it. Los Angeles, at its best, is about light and color, and the work is really a perfect, integrative fit with the city.
How did you get involved with Wear LACMA?
Katherine Ross called me and asked if we'd be interested. Of course I said yes because Oliver Peoples is a Los Angeles brand and all of us are fans and supporters of LACMA. It's an honor to be involved.
What was the design process like?
We went to our factory and worked on developing an exclusive mineral glass lens that reflected the color of the bulbs at night. We also included a breath logo specific to the museum and the acetate is unique to the project, meant to reflect the color of the posts. Obviously the result is a very humble attempt to associate with this great work—it's really more in honor of it. I hope people like it. We only made a very limited number of them...I asked for a frame today and was told no!
Wear LACMA is an initiative of the museum's Director's Circle. Shop the new Wear LACMA items at the LACMA Store and online beginning November 7, 2016. All proceeds benefit the museum and its programming.