How do you fit 68 artists into a single photograph? That was the challenge facing photographer Art Streiber when he was tasked by Vanity Fair for the December 2016 issue with recreating the famous "family portrait" of L.A. artists, designers, filmmakers, architects, and other friends of LACMA taken on the steps of the museum in 1968.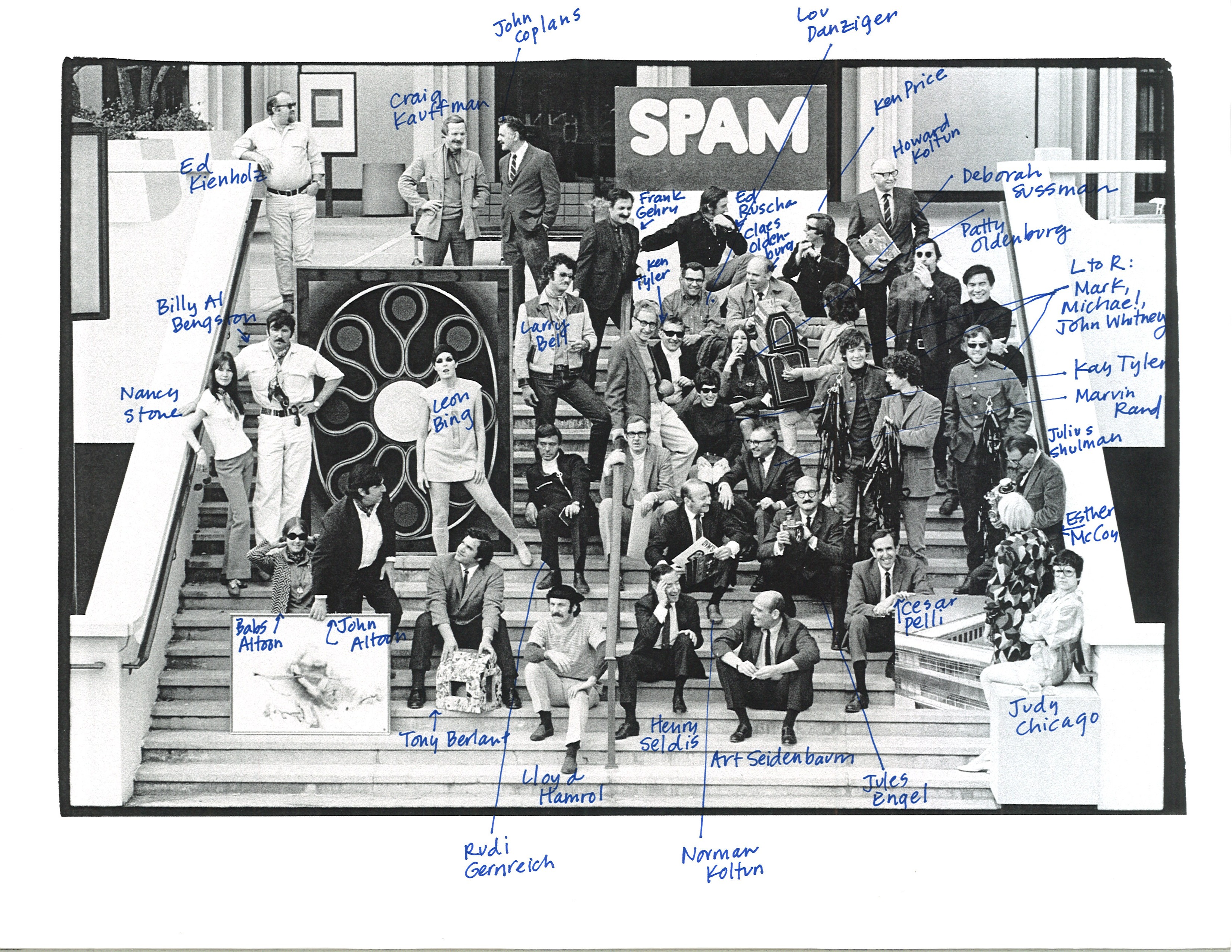 Because the steps where the original photograph was staged no longer exist, Art and his team selected a new site for the 2016 gathering—an intimate corner on the east side of the Renzo Piano-designed Resnick Pavilion, anchored by a palm tree from Robert Irwin's Primal Palm Garden. Once the site was chosen, however, the central question still remained: how many artists would fit?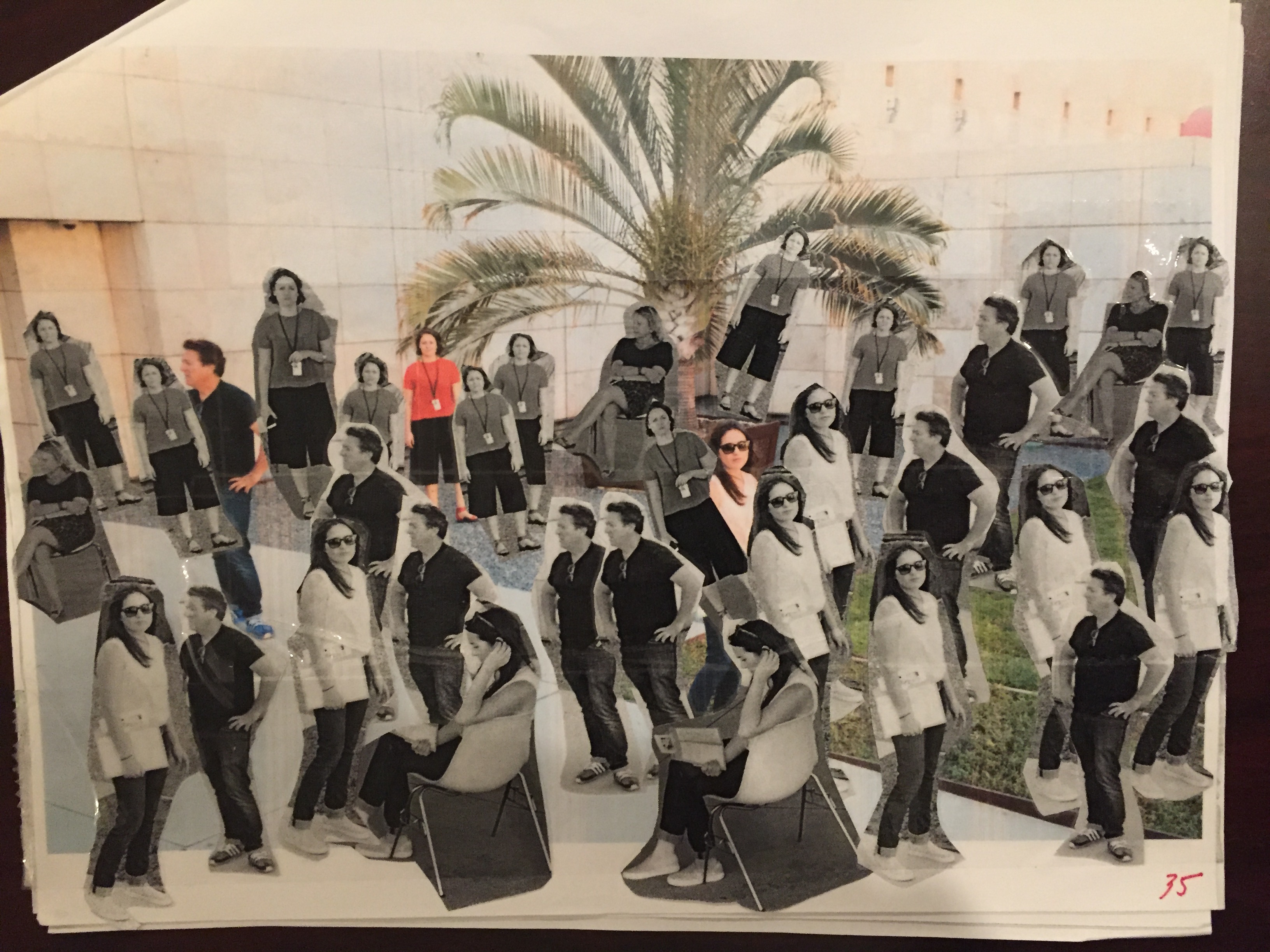 An initial cut-and-paste study by Art Streiber's studio suggested an optimal number of 35 (that's LACMA's event planner extraordinaire Carrie Montgomery in the red shirt, multiplied alongside set designer Nick Tortorici, Art's producer Elaine Browne, and LACMA's director of communications Miranda Carroll).
In the meantime, replies of "yes" to participate in the new photograph were rolling in from a new generation of LACMA creatives, quickly surpassing the target number of 35–40. Undaunted, Art turned to Nick, his frequent collaborator, to design an ingenious series of platforms, seats, and steps that would ensure all of the artists (now numbering close to 70!) would fit in the new image. One challenge still remained—how to arrange so many artists into a tight space with minimal chaos? With lots of planning, that's how.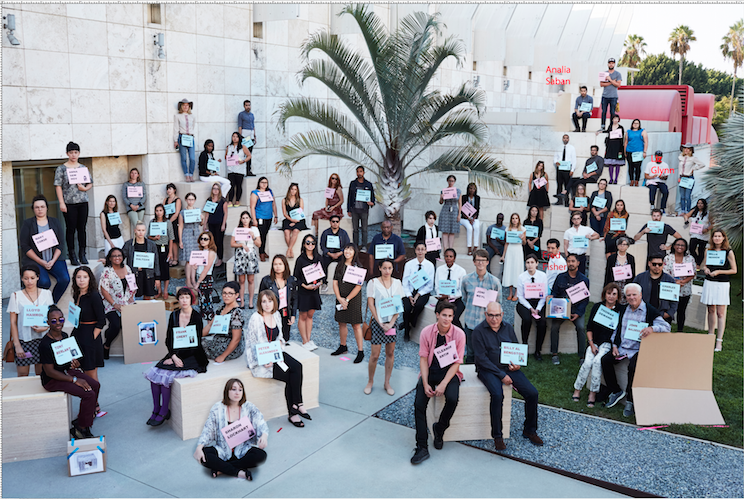 The day before the photograph was taken, a full mock up was carefully choreographed using LACMA staff as stand-ins for individual artists (if you're seeing double, that's because the dummy is stitched together from two test shots). Over the course of several hours, the stand-ins patiently sat, stood, climbed, switched places, scooted forward and back, as they were moved around at Art's direction. With not enough LACMA staff members on-hand, a few willing bystanders were even drafted to help.
The result? On September 8, the photo shoot was carried out effortlessly and without a hitch. In the spirit of the artists' picnic that was held after the 1968 photo shoot, the 2016 gathering was again followed by a picnic, replete with hamburgers, hot dogs, and red-and-white checkered tablecloths. The convivial spirit of the day is captured in this behind-the-scenes video produced by LACMA's Erin Wright:
As a final bonus, the picnic featured a "photo booth" where the artists and their guests could sit for individual and group portraits by Art.
All photo booth images by Art Streiber