Through photography and video, Judy Fiskin has, since the 1970s, addressed narratives of both visual and personal significance—from pictures of the California landscape to intimate reflections on her mother's mortality. Her precise art is deeply affecting and has provided a path-breaking model to generations of artists. The subject of solo exhibitions at MOCA in Los Angeles and the New Museum in New York, among other institutions, Fiskin teaches at CalArts.
For Artists on Art, LACMA's online video series featuring contemporary artists speaking on objects of their choice from our permanent collection, Fiskin selected Lee Friedlander's Statue – New Jersey (1971, printed 1973). Today, she speaks more about her connection to this photograph.
It takes a while to find the titular statue in Lee Friedlander's photograph Statue – New Jersey.
The statue, whose back is to us, is over on the right. It's one of the last things that you see in the photograph, even though it's in the title. Those things all have to do with Lee Friedlander's sense of humor. His playfulness is to confound you. I think the first thing you have to do with this photograph is orient yourself. 
In New Jersey?
Friedlander was interested in showing America. He did a lot of road trips through the United States. His predecessors, the most important photographers before him for his kind of style and activity, were Robert Frank and, before that, Walker Evans. They both made big statements about the United States. Robert Frank put a melancholy gloss over what he saw; and Evans—one of his big contributions was to make the everyday, the vernacular, monumental and worth looking at. But Friedlander was more playful. He shot this from the inside of his car. A lot of people were doing road trips. Stephen Shore was doing road trips. But nobody else was making the car part of it.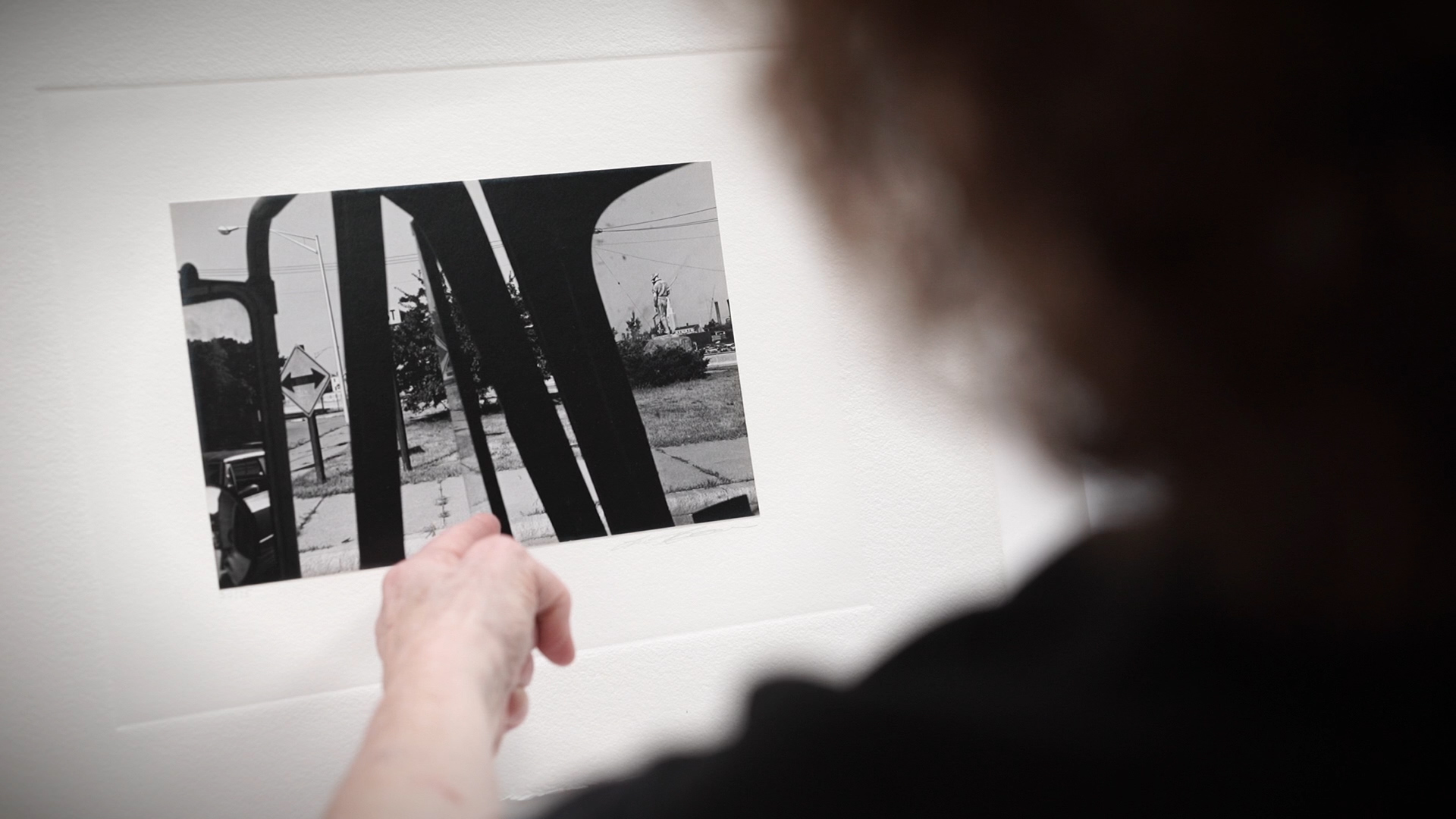 The image is disorienting. It's hard to figure out where we're looking at, and from what position. 
He made a decision in printing the photograph to let the elements of the car go black. When I first saw it, it looked to me like a big piece of black abstraction plopped over a nondescript landscape. What this does—letting it go black—is divide the photograph up into eight separate photographs. So you kind of have to ask yourself, why did he do this? Friedlander was interested in what was going on in his time in the field of photography. And there was something called "self-referentiality": you wanted to put yourself into the picture in some way. You wanted to remind your audience of your presence as the photographer, so that the audience would relate to the photograph not as a window onto reality. In the act of photographing, framing, and printing, and in the limitations of film, you've already abstracted the image—your point of view is in it in some way. Photographers then really wanted to bring this to the forefront, and I think you can really see it in this image. You have to figure it out, it's all a puzzle, but you understand that he is in the car and that the frame is the frame of the car. You are in the car with him, he is there.
I'm curious about what you mean by "limitations of film"?
This was taken before digital photography. Both black-and-white film and color film had certain limits in the colors or the tones they could produce, which could be altered and played with within the limits of the darkroom. You could make all kinds of decisions depending on how you exposed the film, what kind of developer you used for the negative, and how long you developed the negative; and then the same with the exposure in the enlarger, and the developer that you used to develop the paper that you exposed in the enlarger. All those things could give you different kinds of prints. With experience you could decide, for instance, I'm going to make the structure of this go black and still let the landscape have light. I'm not sure whether Friedlander decided on this when he was shooting, or whether he decided on it in the darkroom—every photographer is different that way. He really was interested in the kinds of things that the camera could do, and that he could do in the darkroom. Lee Friedlander had more than one way of confounding you.
The conversation was edited and condensed for clarity.