We are saddened by the death of Ricardo Blanco earlier this week. In honor of his life and work, we are re-posting an interview originally published on May 30, 2017.
As part of our ongoing Latin American design initiative, LACMA recently acquired a unique, one-of-a-kind version of the Plaka chair, an iconic piece by Ricardo Blanco. Blanco is a leading figure in the history of Argentinean design. In the early 1970s he became one of the first freelance designers in Buenos Aires, working with several businesses including Indumar—which first produced the Plaka. In addition to his ongoing practice, Blanco also collaborated in the creation of university design programs in Argentina and continues to be an active teacher, curator, and historian of design. Blanco first designed the Plaka folding chair in 1972 from a single piece of manufactured wood. Following the chair's quick success, in 1977 he reimagined the chair using a sole sheet of acrylic for a special exhibition. Marrying Blanco's innovative design with the impulse to discover the artistic and practical potential of the material, the acrylic Plaka chair demonstrates the intersection of art, design, and industry.
With Wustavo Quiroga, president and co-founder of IDA, an organization dedicated to the study of Argentinean design that has helped advise LACMA's research in this area, in May 2016 I had the opportunity to meet Blanco in his studio in the San Telmo neighborhood of Buenos Aires, where I saw the chair for the first time. What follows is an edited version of a later follow-up conversation with the designer about this exciting new addition to LACMA's collection.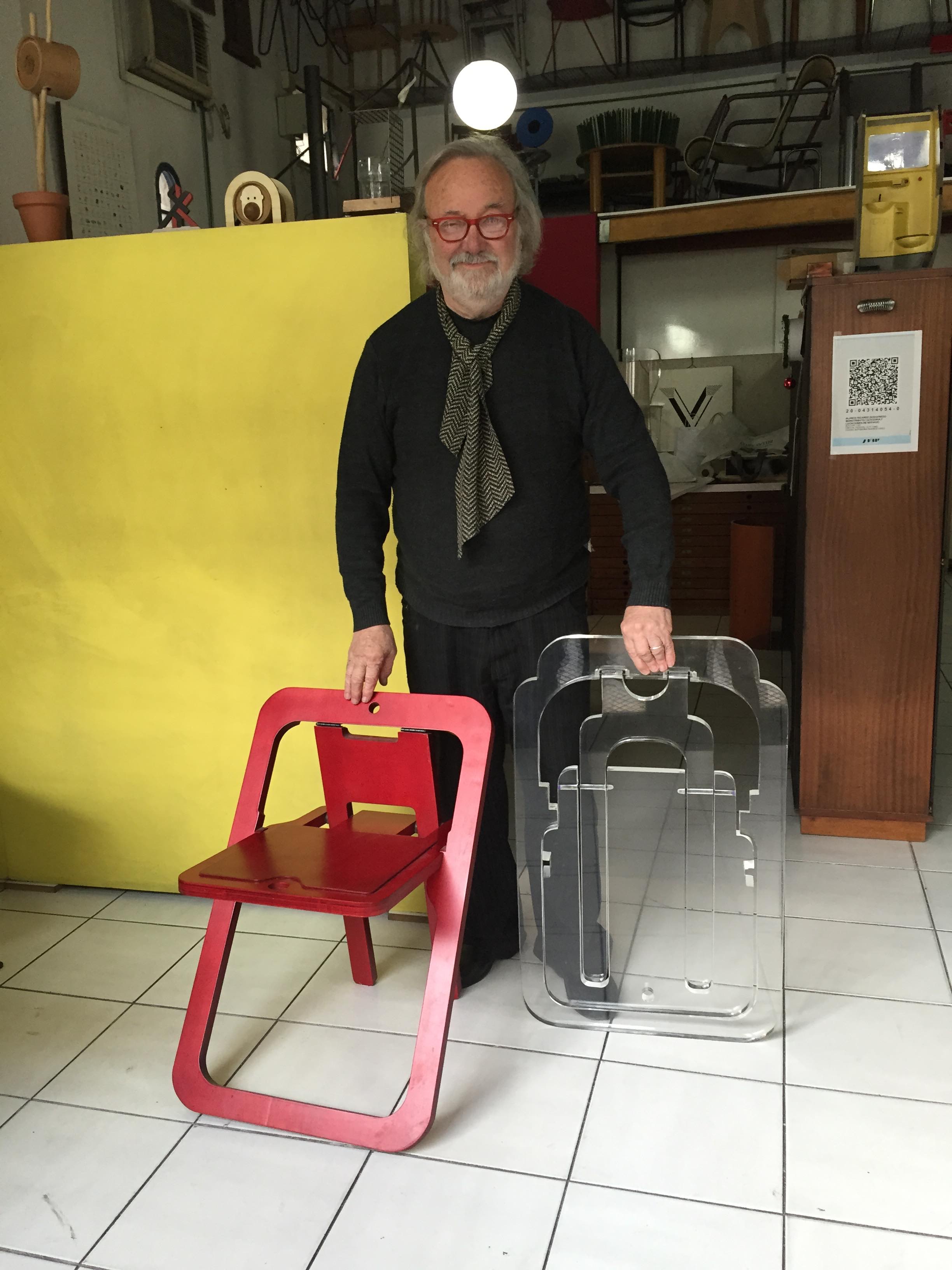 You trained as an architect. How did you begin your career as a designer?
Although I graduated with a degree in architecture, as a student I was already creating furniture to use in my interior designs. Although the furniture pieces were for these specific projects, I was already thinking of them in terms of industrial production.
How did you come up with the design for the Plaka chair? What were your motivations and inspirations?
The Plaka chair was born from my own idea to make a folding chair that would be as thin as possible and that would have minimal thickness when it was folded. I thought that if it all came from one plane, I would be able to achieve this objective. It was the product of a rational proposal and requirement: "If a chair is folded, it should be of the least thickness." Then I thought that it would be possible to hang the chair on the wall and so I was also interested in its graphic quality.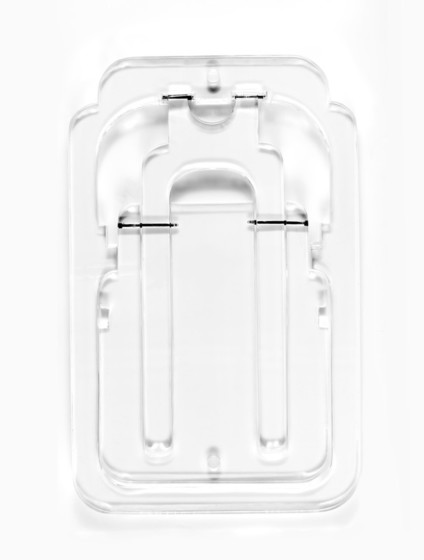 And why did you name it "Plaka"?
In Spanish, a sheet is a placa, a plane, and the multi-laminate wood from which I first made the chair was sold in sheets. I changed the letter "c" to a "k" to give the chair its own name (this was in 1972).
Today, the Plaka chair is very popular and is still in production. In your opinion, what is the importance of the Plaka chair in the trajectory of your career?
The Plaka chair in multi-laminate wood is now back in production after some time when manufacturing ceased following the closure of the original factory. It is popular today in part because it has been featured in many publications. It is a chair that I hold especially dear since it was through it that I became better known. And on a personal level, it achieved what I set out to accomplish at the time.
You created the acrylic Plaka chair for Paolini—a leading plastics firm in Argentina founded in 1964—using a sheet of their product. What is the relationship for you between art and industry? What were the difficulties or challenges of working with acrylic instead of multi-laminate wood?
The acrylic Plaka Chair was created for the Paolini acrylics firm's art gallery exhibition, the show Plástica con Plástico. For reasons of cost, it was made as a unique piece in acrylic; it was an expensive chair to produce because of the material and because of the manual labor required to make it. The relationship between art and industry is sometimes positive, other times necessary, and in other instances the relationship doesn't exist. In this case I think that from the outset, when I decided to carry out the design in acrylic, I was conscious that I was trying to make a design that was closer to art.
The title Plástica con Plástico is a play on the material used and the plastic or visual arts. Regarding the visual arts, you've designed many chairs that refer to masterpieces by Pablo Picasso, Marcel Duchamp, Man Ray, and so forth. Several of them were included in your 2005 exhibition Esto no es una silla (This is Not a Chair), the title of which makes reference to René Magritte's The Treachery of Images (This is Not a Pipe) [which is in LACMA's collection]. For you, what is the relationship between art and design?
The reference to Magritte's Ceci n'est pas une pipe or The Treachery of Images is a subject that is especially interesting to me theoretically lately. I am working on a book with other designs that I call El diseño otro (The Other Design), which reveals the treachery of the image. For example, you see an object that you recognize as a chair, but you can't sit in it.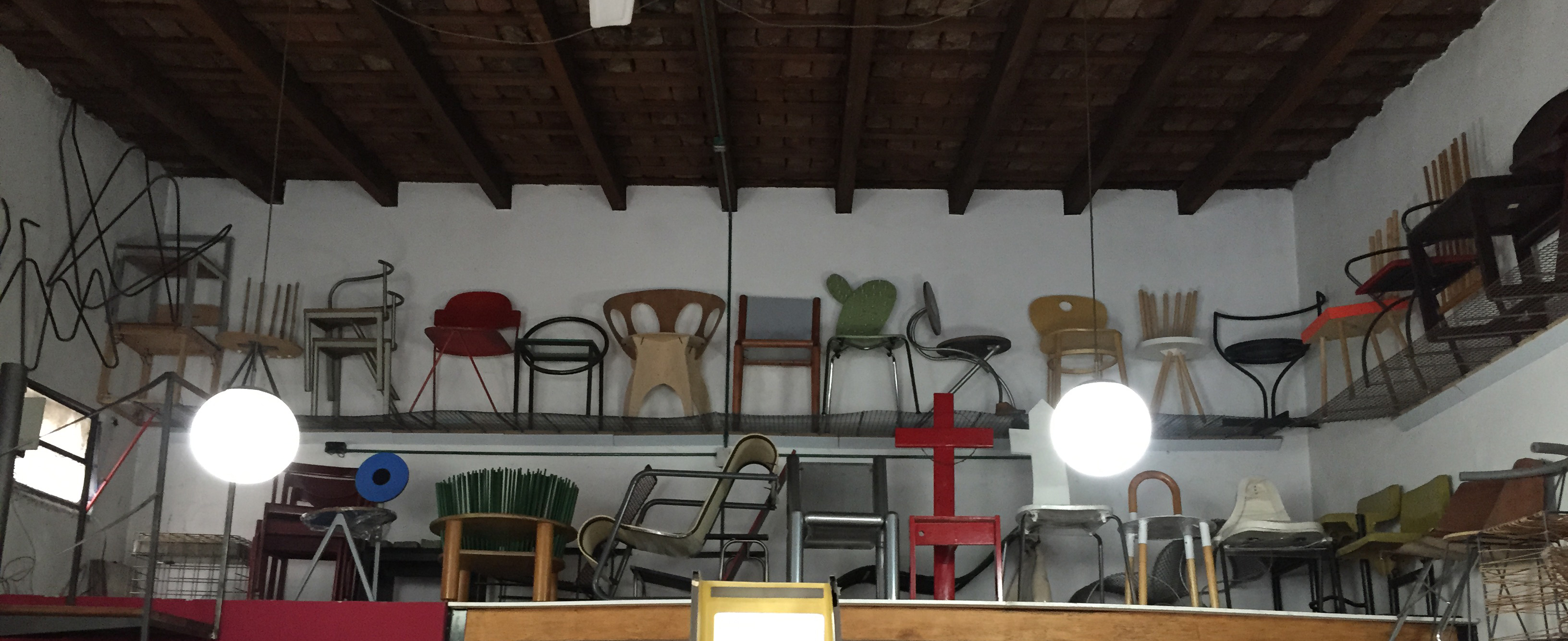 You've designed over 200 chairs. What is it about the chair that fascinates and interests you? 
A chair is a minimal structure, nothing can be missing from it and nothing should be superfluous. This is what makes it interesting for a designer. You can always make something different from the same old thing, and society today doesn't need another chair, but I, the designer, am compelled to design a chair.