John Baldessari's groundbreaking conceptual work makes him one of today's most influential artists, as both teacher and practitioner. The range of his work—from photography to paintings, prints, artist's books, and videos—has been celebrated internationally in numerous solo exhibitions, including the retrospective John Baldessari: Pure Beauty (2009–10), co-organized by LACMA. He designed the installation for and was included in LACMA's exhibition Magritte and Contemporary Art: The Treachery of Images (2006–7).
For Artists on Art, LACMA's online video series featuring contemporary artists speaking on objects of their choice from our permanent collection, Baldessari selected René Magritte's The Treachery of Images (This is Not a Pipe) (1929). Today, he speaks more about his connection to this painting.
Do you remember when you first saw this painting? 
Good question. I wonder when I first did see this. Probably some . . . Not a clue. It would have been an epiphany, certainly. 
Why was it an epiphany?
It's a picture of a pipe, okay, blah blah blah. It's still the idea of denial, that this is not what you think it is. I love that. That's the type of question that really intrigues me and informs a lot of my work. It's tricky.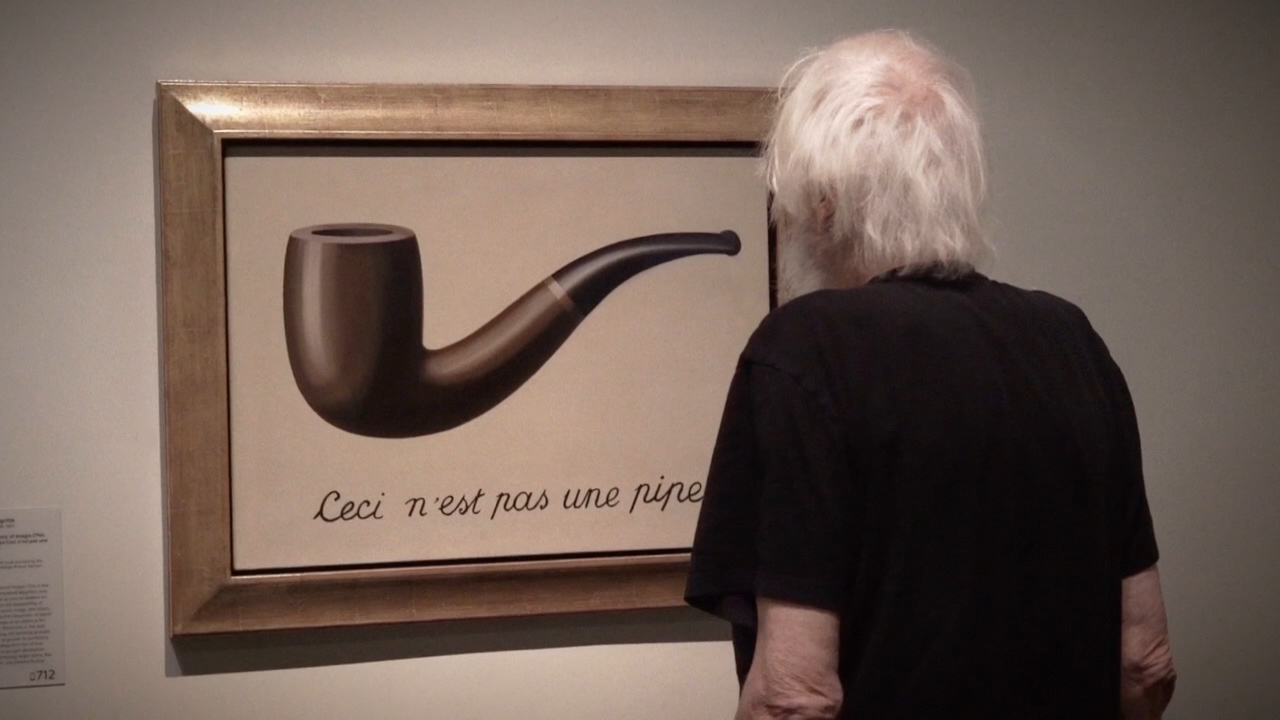 So you work with the notion of reality and non-reality, in language and image?
I guess I have that kind of mind, like Magritte's. I think about alternatives. What something could be, what it could not be. With this work by Magritte, is it a painting? Is it an illustration? It's like a commercial artist could have done it. I find it an incredibly intriguing painting because it has none of the earmarks of painting—there are no brushmarks. It could be a photograph. It brings up the whole question about what art is, absolutely. That's a classic pipe image; it's almost a clichéd image of a pipe. I have one pipe that has an amber mouthpiece. It's really quite beautiful. But this here is just an ordinary pipe. 
You have a pipe? 
I used to be a pipe smoker, so, yes, I have a whole collection of 50 or so pipes someplace in storage. It's all about feeling something, making the contact with your hand and that object, and holding something. I'm curious about the morphology of the pipe and all the variants, which is what an artist does—thinks about, why is one thing different than another thing? I started out smoking cigarettes. I was trying to be sophisticated in college, and, you know, they had to be French. A friend of mine, a painter friend in San Diego, sold pipes. So I bought a pipe. And before long I really got to be a connoisseur of pipes. 
Do you still smoke them?  
I don't at all. Well, cigars. I graduated. I don't know if that's more sophisticated or not.  
Have you ever been tempted to make a painting of one of your pipes? 
That's an interesting question. . . . I'm trying to think. I don't think so. 
René Magritte's The Treachery of Images (This Is Not a Pipe) is on view in the Ahmanson Building, Level 2. The conversation was edited and condensed for clarity.