Mark Grotjahn gained renown beginning in the 1990s for his "butterfly" paintings and drawings—deceptively simple compositions of radiating lines that at once suggest perspectival space and lie flat on a surface rich in chromatic and textural nuance. Grotjahn's interest in modernism is evident in his recent "mask" series of painted bronze sculptures. His work has been shown widely, with solo exhibitions at the Hammer Museum in Los Angeles, the Whitney Museum of American Art in New York, and the Portland Art Museum in Oregon.
For Artists on Art, LACMA's online video series featuring contemporary artists speaking on objects of their choice from our permanent collection, Grotjahn selected John McLaughlin's #26 (1961). Today, he speaks more about his connection to this painting.
You chose to speak on John McLaughlin's #26—why?
I like the straightforwardness. You know exactly what he's done: it's yellow, black, blue, yellow, black, blue. Rectangles inside a rectangle of white paint. And that's it. He doesn't play down to the viewer. McLaughlin's form of communication is very matter of fact.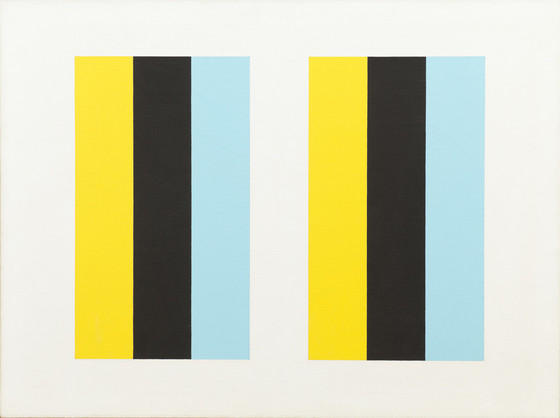 So you're most into the directness.
And his color sensibility. How does that feel, what does that mean? I don't know how he talked about his work, but the meaning could be as simple as, what does that feel like? Maybe he feels that he has taken himself out of the painting by setting up a structure, and he just becomes the workman. As if the idea, the set-up—once it's made it's no longer his. It becomes a given and he's just the workman doing it. He relieves himself of the paint stroke possibly so he doesn't have to see his hand there. Having said that, the thickness of the paint, the way one color meets another, the way it's laid is just . . . it's highly skilled. It's just unbelievable attention to detail. 
What is your overall sense of McLaughlin's body of work, having seen LACMA's survey John McLaughlin Paintings: Total Abstraction (2016–17)?
A real love of material. And then, he's fantastic at color and proportions. He's just not bored of it. For me, the whole body of work is good. I like where it starts—the circles and those kind of E shapes. You can see that, as he went on, he refined and refined the parameters that he worked in, and within those parameters I think he would break out. Like, he took out those E shapes, he took out the circle. I'm super okay with him taking the color out; I think his use of gray is just beautiful. I think the parameters got smaller and smaller, but he found the possibility within those parameters.  
Do you set up parameters for yourself as an artist? 
Why I originally got involved in art was because I loved color and line and proportion. I also wanted to find a single motif that I could exploit, and when I found that I made several drawings. I decided I could take them to paintings, and McLaughlin was someone I was looking at. I moved to Los Angeles in '97. I'm not sure if I knew of McLaughlin's work when I moved down here or not. But I know fairly soon after I was here, I got real familiar with the work. I remember learning that he was military, and that he started painting late, and that most of the paintings, the way I remember it, were done in Dana Point, near the beach. In the latter part of his career, his canvases were all store-bought. I wanted to figure out what my first size was going to be, and so I measured some of his paintings. That's how I started with my four-by-five-foot canvases.
You've really studied the material details of the paintings as objects. 
I sometimes see that there's an optical thing going on spatially, but for the most part, the way I look at painting, I'm a real materialist. 
The conversation was edited and condensed for clarity.