The paintings of Gajin Fujita, who was born and raised in East L.A., are epic mashups of the street tagging he did as an adolescent and traditional Japanese imagery and techniques. His work has been exhibited at LACMA (2005–06) as well as at the Belvedere Museum in Vienna and the Art Gallery of New South Wales in Sydney, Australia, among other institutions worldwide. 
For Artists on Art, LACMA's online video series featuring contemporary artists speaking on objects of their choice from our permanent collection, Fujita selected Tsukioka Yoshitoshi's Gojō Bridge, an Episode from the Life of Yoshitsune (1881). Today, he speaks more about his connection to this work.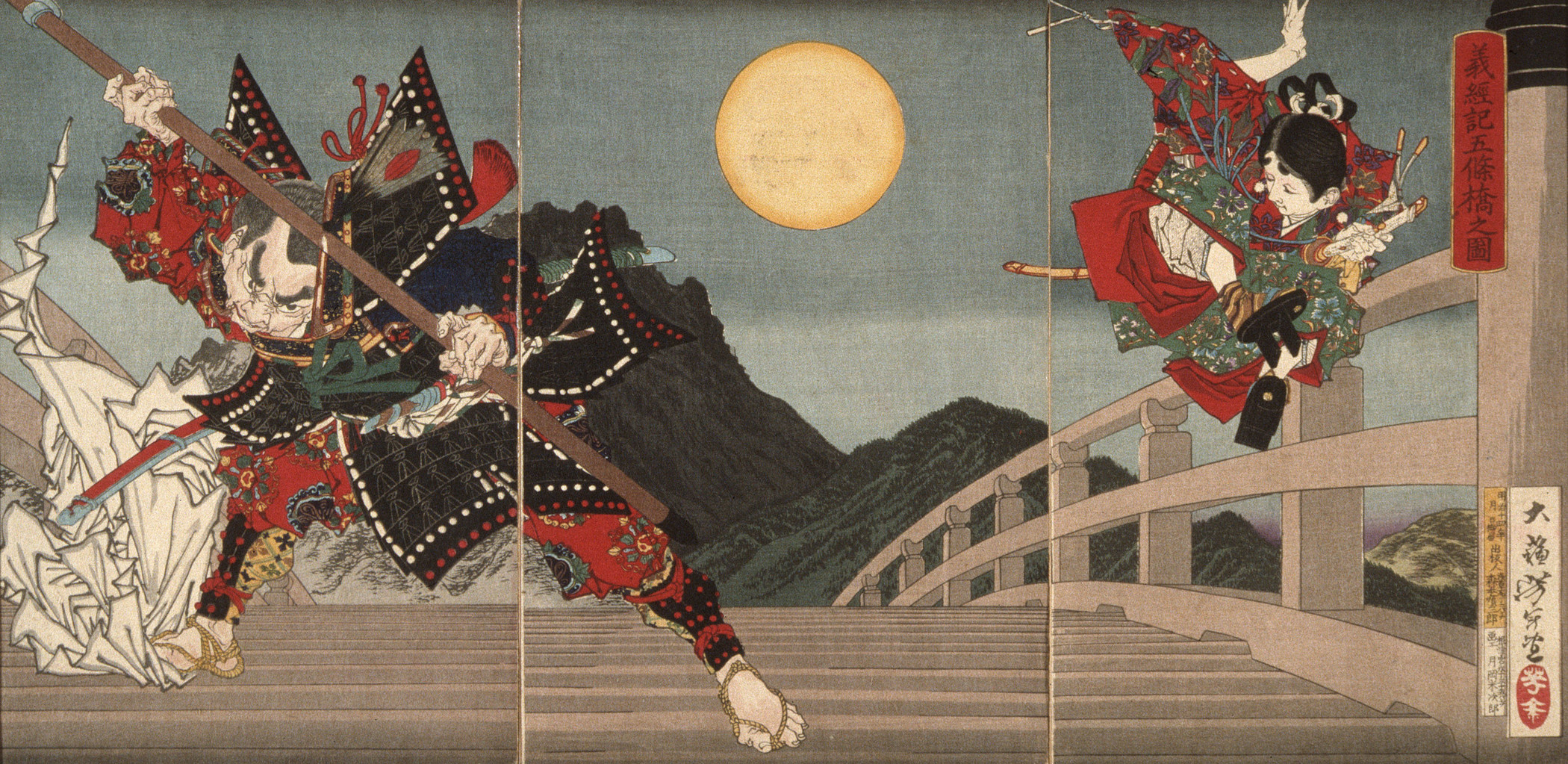 Why did you choose this work for Artists on Art? 
It's stunning. I can't keep my eyes off of it. The colors just jump right out at me. I almost want to go back into my own work and redo the colors. I just love how Yoshitoshi was able to compose all the contrasting colors and make it work. It's very skillful. It's also striking because the composition is a triptych of woodblock prints. In Yoshitoshi's day, the woodblock-print artists were the illustrators and graphic designers of their time. So these images that they drew and printed were used as comic books. They were very cheap. To pick up an image was the equivalent of buying a bowl of soba noodles from a street vendor. In that sense, this was art for the common folks; prints were not high art in Japan.
Can you talk about the relationship between high art and low culture, if you will, in your own work?
In my own work, high art and low art . . . I think my work is all low art! [Laughs] Actually, I think in my own work the inspirations did come from high art. Like the gilding that I do before I start painting was specifically from looking at partition screens, and at the Golden Pavilion in Kyoto, which was made for a retired shogun. My first visit out there was in '87, with my family. The gilding aspect of my work is probably the high art, and then the painting aspect is pretty much lowbrow. Because I stencil. It's very pragmatic, hands-on. In graduate school, I was out in Vegas. There were weeks of doing nothing in my studio and just thinking. I knew I had graffiti—that was one component of being provocative. I started to go back into my own personal history, so I thought, I don't think there is anybody out there that has gone out to the Golden Pavilion and tagged it or spray painted on it. I knew I couldn't do that. Then came making my own panels and just gilding them. I started off with the fake compositional leaf and just went to work. Through the years of gilding all these panels, I think I became very proficient at the craft.  
It was initially through your family that you developed a personal relationship to historical Japanese art?
Through growing up in a Japanese-American household. It helped that my father was a painter and my mother was a Japanese antiques conservator.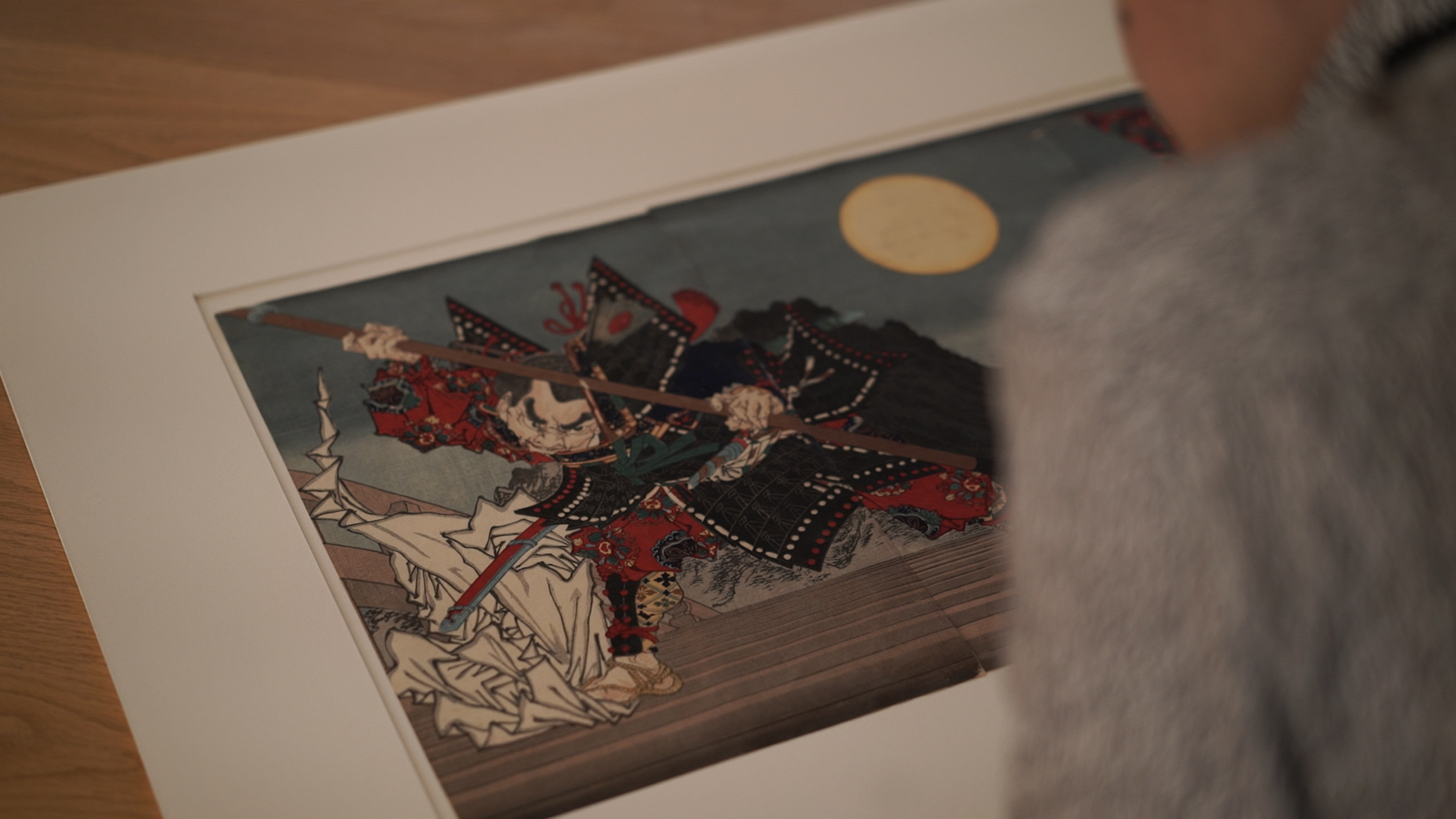 Tell us more about this warrior image, Gojō Bridge, an Episode from the Life of Yoshitsune.
Yoshitsune, the young fellow on the right—his name was Ushiwakamaru at the time—was the first to defeat Benkei, on the left, who was guarding a bridge in Kyoto. And this is kind of the story of the duel. Later on, Benkei becomes Yoshitsune's right-hand man and fights many wars with him. There are many of tales of warfare and combat and how Yoshitsune was very courageous. The myth is that he had trained with these half-man, half-bird goblins of the mountains. Yoshitoshi did such a vivid and great job on illustrating this scene that I feel like I can almost vicariously live through the image. I love the moon that sits just right in the middle. I sort of used this composition in my own painting where you see the bridge going over the river. I replaced the mountains in Yoshitoshi's work with the skyline of downtown L.A., and then, for the wooden bridge, I made it into a concrete bridge with asphalt. 
Do you do woodblock printing?
I have not had the opportunity yet. I'd love to. I've worked in lithography and silk screen, and I would love to go out to Japan and actually work with the artisans and craftsmen who carve the woodblocks. I know it's a dying art and there are not too many people doing it, but I think there could be a resurgence through young people going back into history. 
The conversation was edited and condensed for clarity.