Thomas Houseago, born in Leeds, England, gained early acclaim for his highly tactile figurative sculptures. Made with traditional materials and techniques and informed by art historical precedents, his hulking figures are enlivened by a contemporary, often eviscerating effect. Since Houseago moved to Los Angeles in 2003, his monumental works have grown in scale. Now competing with architecture, they remain human in impact.
For Artists on Art, LACMA's online video series featuring contemporary artists speaking on objects of their choice from our permanent collection, Houseago selected Tony Smith's Smoke (1967, fabricated 2005). Today, he speaks more about his connection to this sculpture. 
Do you remember the first time you saw Smoke?
I'm originally from the north of England. When I arrived in L.A., it was a really dramatic time in my life—a really big move from Europe to America. I was completely amazed and freaked out by L.A. Things like, I had no money, I was desperate. I was going to the museum to find some repose in this mad city of billboards and winding freeways. And I came to LACMA, saw Smoke, and got a kind of electric shock as opposed to repose. I wasn't reassured, I was thrown. Because it had no center. Like L.A. had no center. I couldn't figure out where I should go. I was one of these programmed European-art people. But this sculpture, in some ways, was a prophetic thing for me, because it was showing a path I was going to start taking in L.A. 
So Smoke changed your mindset about making sculpture? 
It has none of the conventional, formal payoffs of sculpture. It works because you can't quite orient yourself to it. What's the back? What's the front? What's the good view? What am I meant to look at? Smoke is in a bizarre dance with its architecture. It's completely at odds with its environment, yet you can't stop looking. It's a true, I would argue, 21st-century manifestation of sculpture. We are in a period of hyper-architecture, hyper-design, where the fantasy is that our lives are super pared down, compact, useful, pragmatic. In a lovely way, Smoke makes fun of the absurdity of order and of our ordered architectural life. It's like an architectural drama within an architecture—almost like that famous Shakespearean thing of a play within a play. 
Tony Smith is often associated with 1960s Minimalism, and Smoke was conceived in 1967. But you see it as a 21st-century sculpture? 
I see a unique need for sculpture right now to take architecture's place. And to take it impolitely.
How can Smoke upend architecture, then? 
You don't live in it, you can't have a coffee in it, you can't sleep in it. But it's big enough to be a house. And it's also both there and not there. It's off-center and off-balance and giant and strange. Smoke makes architecture look—and I say this with love—very ordinary. I've read that Tony Smith had wanted to be an architect. He had worked for Frank Lloyd Wright, had been fascinated by Le Corbusier, and was at one point going to make a church, but then couldn't do it because of the pressure from the client—to put a toilet in, and where was the air conditioning going to go? He just couldn't take it. So he ended up in this weird rejection of architecture and yet celebration of sculpture's architecture.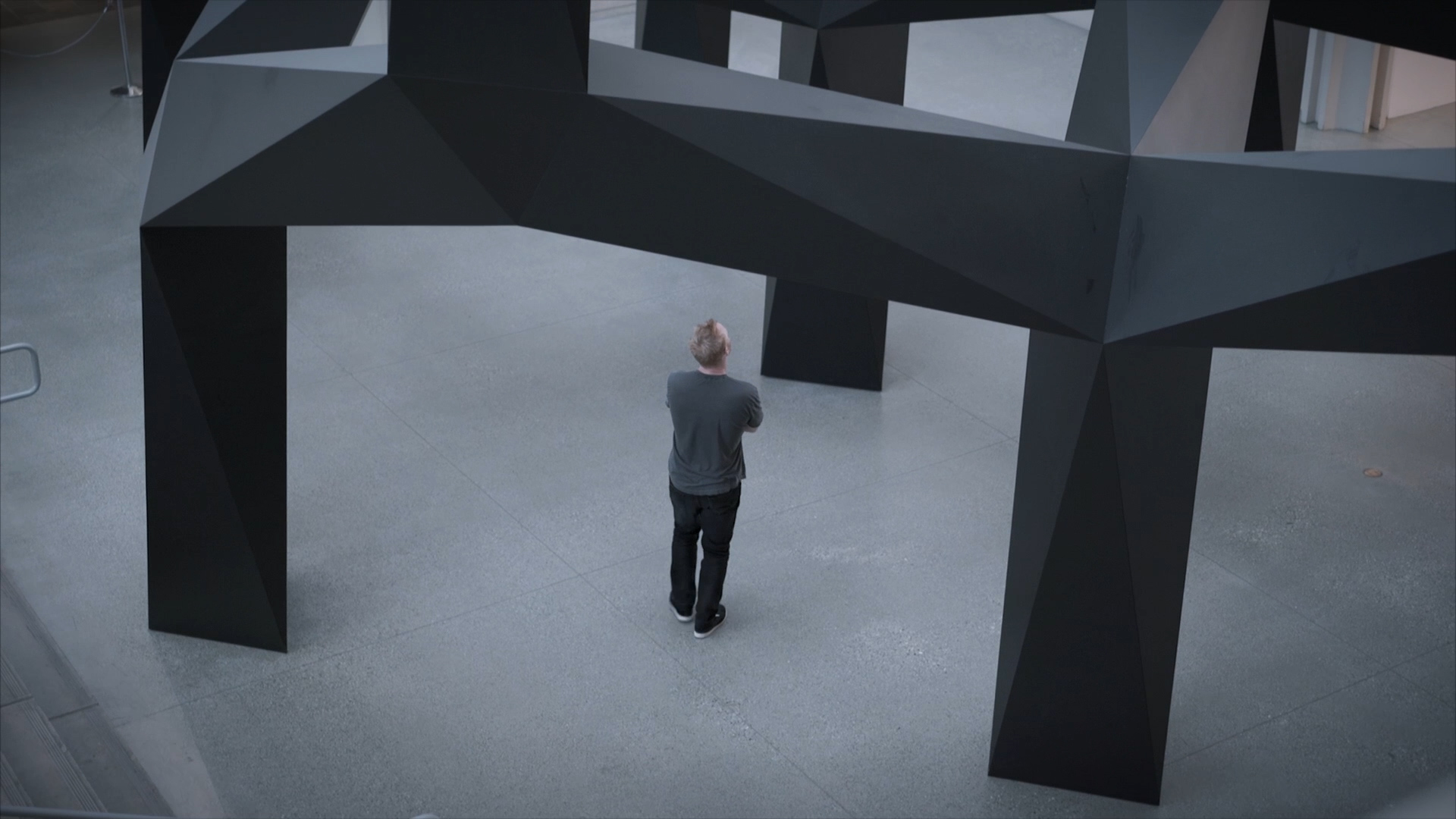 Tell us more about Smoke's unbalancing effect—why you've felt "thrown" by the work. 
Smith takes it back to the molecular and the organic, to the body in this odd way—to something awkward, unfinished, ungraspable, disturbing. When you look at many of his works, you can't help but think of a skeleton or bone structure or DNA. Smith takes the unit and a certain kind of simplistic purity, in the language of Minimalism, and makes it feel uncanny, surreal. I'll think there must be some really nice logic to this, a repeated form, something like that, but just as I get a rhythm going, it's gone. It's being turned. When you look at Smoke from above, it's like it's falling. It's not straight. It's slightly out of whack as a form. It's almost insect-like, but then it doesn't quite give you that either. It leaves you in an uncomfortable no-zone. I don't know even what to make of it, but it feels super vital to my practice. It feels dangerous and it feels subversive. It's a challenge. 
L.A. is no longer new to you, but you continue to feel challenged as a sculptor by Smith's example? 
To try to combat the established norms of where form is at . . . the act of making big sculpture is an act of insane love, in a way, for the world. Tony Smith, he makes this fantastic sculpture. It's arguing for form, it's arguing for experiences, it's arguing for emotional, physical complexity. It's this wide-open celebration of form and of the pointless magic of that. It's not like I make any work that looks like a Tony Smith. But his work pushes me—in terms of what people do, how people can stand in a sculpture, how they become part of it, and how there is no real right way to look at sculpture. 
Tony Smith's Smoke is on view in the Ahmanson Building, Level 1. The conversation was edited and condensed for clarity.