Mark Lee founded the Los Angeles architectural firm Johnston Marklee with Sharon Johnston in 1998. Johnston Marklee's innovative designs include the Menil Drawing Institute in Houston, the Pavilion of Six Views in Shanghai, and the planned UCLA Art Studios in Culver City, California. The firm's perceptive integration of architectural form, materiality, and new technology has earned them particular acclaim in their collaborations with artists and arts institutions. Johnston Marklee designed the much-praised installation for LACMA's 2017 exhibition Moholy-Nagy: Future Present. 
For Artists on Art, LACMA's online video series featuring contemporary artists speaking on objects of their choice from our permanent collection, Lee selected El Lissitzky's Proun 3A (c. 1920). Today, he speaks more about his connection to this painting.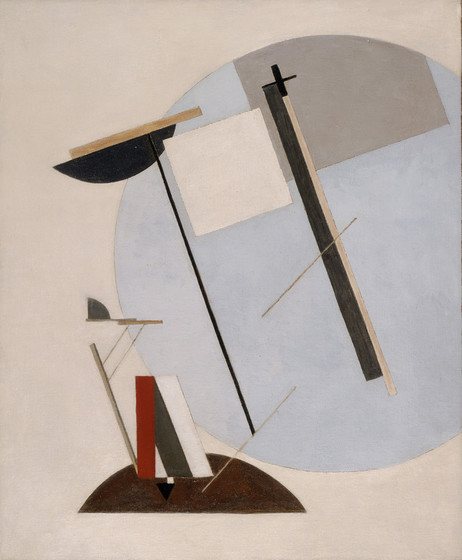 As an architect, you work with real three-dimensional space in mind. How do you relate to El Lissitzky's painting as a two-dimensional, abstract image? 
El Lissitzky has always been important for architects—for myself especially. Not just him, but figures from his time—the Suprematists and Russian Constructivists—were discussed a lot when I was at school for architecture. Lissitzky's work presents this type of tectonic that follows modernism's lineage but that also has a dynamism very different from mainstream modernism. But rather than seeing his work as a stepping-stone or a midwife for architecture, I think it has a kind of pureness.
Is it removed from reality?
Actually, I see a tactile quality that brings a lot more to the painting than what I see when it is reproduced in photographs, or on a screen. As a graphic piece, when it is removed from its context, removed from its scale, it still holds together. It's got that strength. I saw this piece when I was walking in from a distance of 50 feet. I like how it has a pictorial quality that holds the corner and holds the room very well. I can appreciate this piece from 50 feet and from here, two feet away. There is a richness to standing right in front of the piece.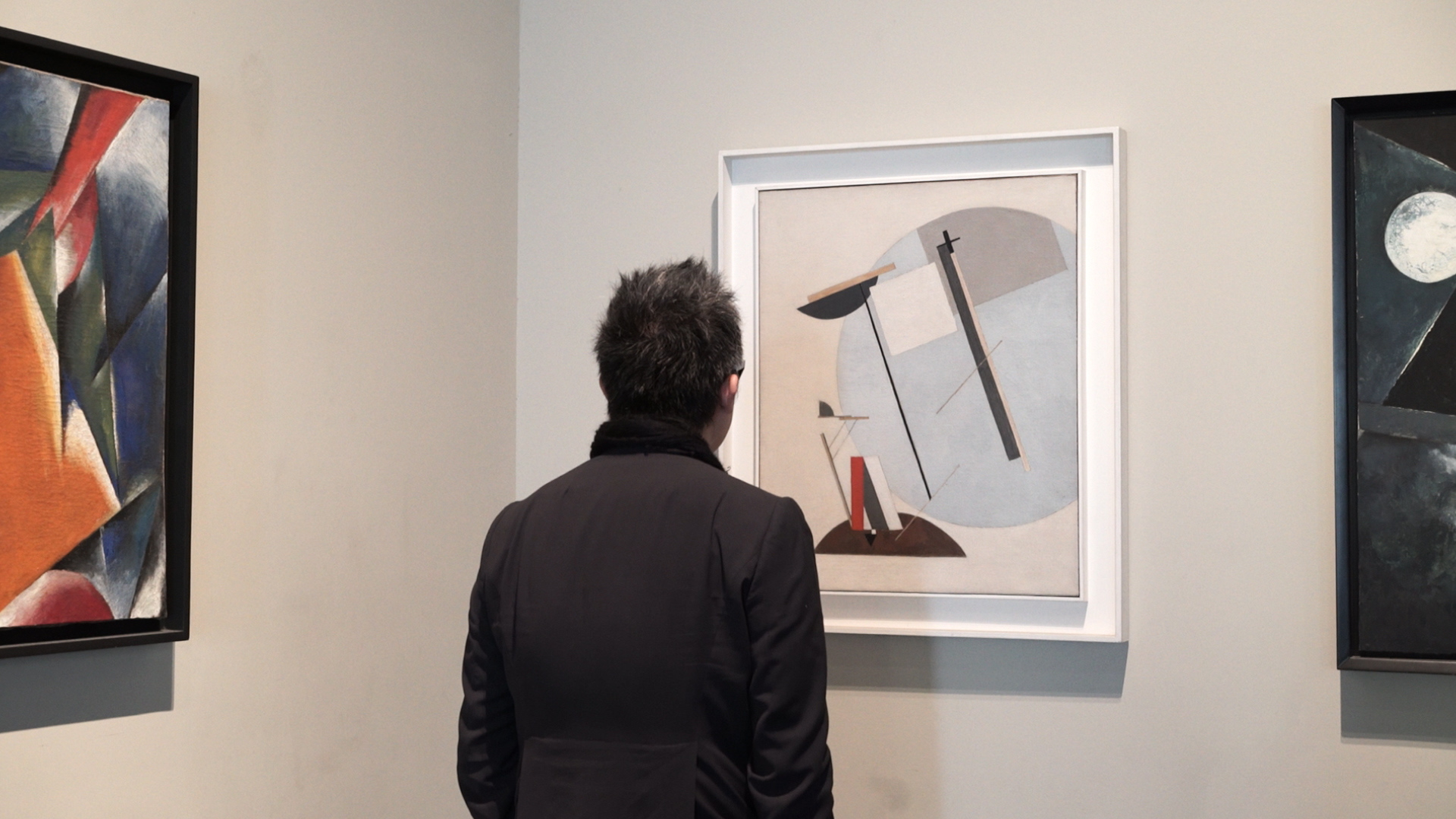 Tell us more about the painting's material presence.
The blue looks metallic, or like a silverfish. I'm fascinated by how this white color is on top of the blue; it suggests that the blue is in the background, but the white also seems to be a void. And I always think that white is so important for the Suprematists—as this color of infinity. For them, color is kind of coded. I remember reading about El Lissitzky's colleague [Kazimir] Malevich, how he had tried to reject blue as a color for infinity, because blue suggests depth, but then depth is still grounded to the earth, where there is a perspectival point. As architects, I think we see white not as a void, but as something that has a lot of material and a lot of thickness and depth to it; and in a way, this white square has that kind of quality to it too. The overall color scheme here . . . I like that the colors seem to come out of this world.
What about its hard-edged geometry, its structure?
The parallel lines suggest a certain projection of space that could be forwards or backwards. Or these parallel lines, you know, in a way, suggest a sort of flatness. But then one piece is in front of another piece, so there's a kind of depth at the same time. This is something, maybe, that we know we will never achieve as architects—having this complete lack of context. And perhaps this type of floating, all these objects floating in this space with some suggestions of orientation, allows all these dynamics to happen. I think for architects oftentimes this is a pipe dream that will never happen.
As an architect, have you ever started painting?
Yes and no.
El Lissitzky's Proun 3A is on view in the Ahmanson Building, Level 2. The conversation was edited and condensed for clarity.