LACMA is thrilled to announce that the Mellon Undergraduate Curatorial Fellowship Program will continue at LACMA, the Art Institute of Chicago, High Museum of Art, Museum of Fine Arts, Houston, and the Nelson-Atkins Museum of Art, and expand to include a new partner museum, the Philadelphia Museum of Art. From 2017 through 2022, the partnering institutions will host 270 students in Summer Academies and 36 students in two-year fellowships, all from historically underrepresented groups in the curatorial field. The recent $3.25 million grant from The Andrew W. Mellon Foundation is a continuation of the initial grant awarded in 2013. Here's a reminder of how the program works, why it is important for the art museum field, and the impact to date.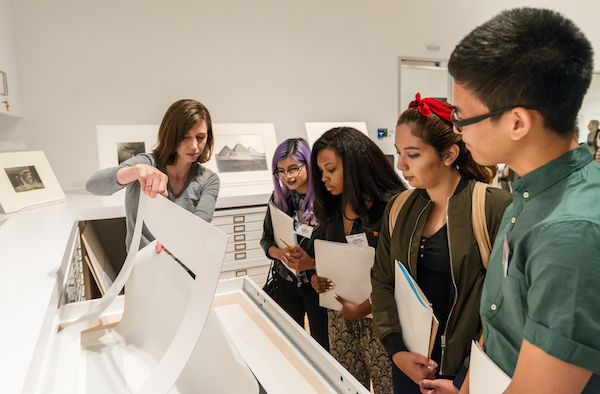 Students must first apply to a Summer Academy, held at each of the six partner museums. Summer Academies are one-week immersion programs designed to provide the 15 selected participants with a rich experience in the museum environment and expose them to career options related to art and art history. LACMA's Summer Academy includes a group curatorial project in conjunction with meeting museum staff from various departments for workshops, tours, and a field trip. The curatorial project entails the students co-organizing a rotation of objects from the permanent collection around a theme, researching the objects, writing object labels and gallery text, determining the layout of the show, and making presentations about the objects to peers and staff. During the program students meet with curators, collection managers, registrars, conservators, editors, educators, exhibition programs, graphic designers, communications and marketing staff, librarians, and preparators, among others, to understand the important roles of these individuals with whom a curator regularly collaborates. Additionally, throughout the week the students meet the current Mellon Undergraduate Curatorial Fellows to learn more about their experiences in the program before submitting supplemental material for fellowship consideration. Please refer to each museum's webpage to confirm the application deadline and Summer Academy dates. Upon the completion of each Summer Academy, two participants will be selected as Fellows.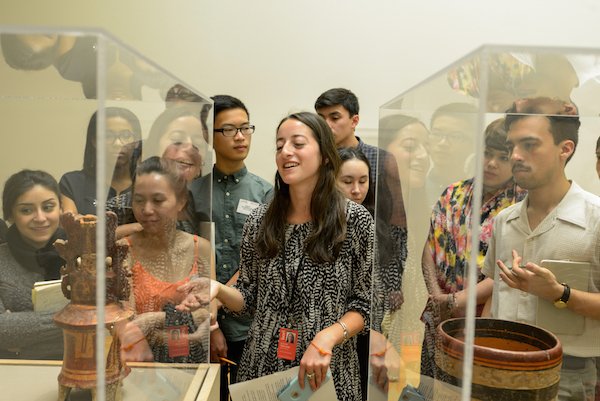 Fellows participate in The Andrew W. Mellon Undergraduate Curatorial Fellowship Program throughout their undergraduate career with the goal of entry into a graduate program. The two-year fellowships provide students with hands-on experience inside a museum setting, working with curators and staff on exhibitions, collections, and programs. Fellows are matched with a museum mentor/curator who works to enrich the academic experience and to increase exposure to the museum context while broadening a fellow's understanding of art and art history. Fellowships include regular engagement during the academic school year followed by full-time engagement at their host museum over the summer. Fellows receive a yearly stipend of $10,000 and professional development support.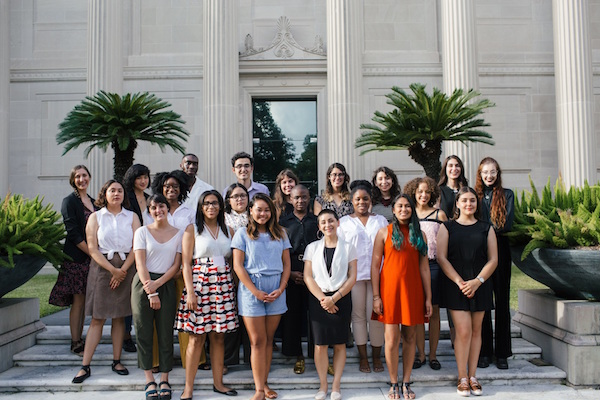 At the end of each fellowship year, all of the fellows gather together for a National Convening. At the National Convening, fellows establish a connection with their counterparts from across the country, make presentations about their research interests or fellowship projects, build their professional experience, and network with museum staff. Additionally, they are exposed to established and emerging leaders in the curatorial field as guest speakers, and explore the host museum's collection and city.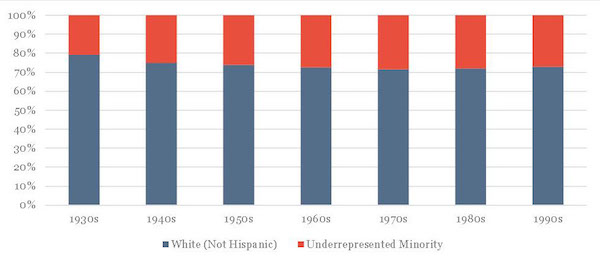 In July 2015 The Andrew W. Mellon Foundation released a report on the staff demographics of American art museums. The report found that "Non-Hispanic White staff continue to dominate the job categories most closely associated with the intellectual and educational mission of museums, including those of curators, conservators, educators, and leadership. In that subset of positions, 84% is Non-Hispanic White, 6% Asian, 4% Black, 3% Hispanic, and 3% Two or More Races." Also, "there is no 'youth bulge' of staff from historically underrepresented minorities in curatorial, education, or conservation departments. As the figure above shows, staff from underrepresented communities in these positions have been level at 27.5% across age groups born from the 1960s to 1990s. This finding suggests that diverse educational pipelines into curatorial, conservation, and other art museum careers are going to be critical if art museums wish to have truly diverse staff and inclusive cultures."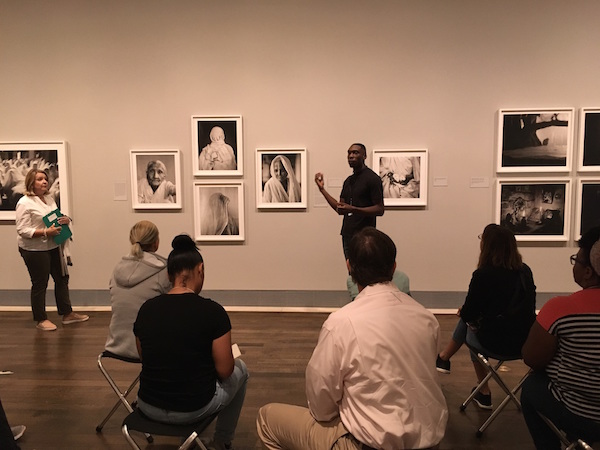 Since the pilot phase of the program began in 2013, the partner museums have shared insights into museum work with 218 Mellon Summer Academy participants and mentored 30 Mellon Undergraduate Curatorial Fellows in curatorial skills for their future careers. Of the 20 Mellon Undergraduate Curatorial Fellows who have completed the program, 13 are either enrolled in graduate programs, because a Master's degree is required and a PhD preferred for most curatorial positions in art museums, or working in the arts. We look forward to expanding the program's reach to students in the Philadelphia area, and continuing to make a critical impact on American art museums by increasing the diversity of their curatorial staff. We recognize that the canon of art history needs to expand to allow new voices and perspectives to be included in our shared understanding and appreciation of humankind's artistic legacy.