Rooted in his decades-long collage practice, Roy Dowell's paintings and sculptures, extraordinary for their range of color and form, combine modernist cues with other visual languages, from Oceanic tribal art to Latin American art to commercial ephemera. Made of paint as well as non-fine art materials, Dowell's highly personalized compositions are testaments to his extraordinary eye for the motifs, geometries, and patterns of the world's vast visual culture. His work is in the collections of LACMA, the Hammer Museum in Los Angeles, the Aspen Art Museum in Colorado, and The Drawing Center in New York, among others.
For Artists on Art, LACMA's online video series featuring contemporary artists speaking on objects of their choice from our permanent collection, Dowell selected a dance paddle made on Easter Island by the Rapa Nui people circa 1800. Today, he speaks more about his connection to this object.
You draw on non-Western sources in making your work, which frequently brings you to the museum. 
I am interested in Oceanic, African, pre-Columbian, and ethnographic material from all over the world, and I've been to see LACMA's Art of the Pacific collection many, many times. When I do take an interest in something, I do research. I try to be as responsible to it as I can. I'm not flippant about the way I use things. If an object has spoken to me, I want to know why. Not just on a personal level, but maybe on a larger level. What can I do with it to make it my own but that also doesn't contradict or declassify what it is?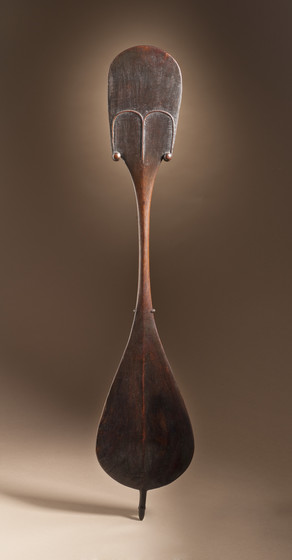 And you made a sculpture after seeing this Polynesian dance paddle in particular?
My sculpture doesn't really look very much like this, but it was taken from my impressions of this piece. I think the first time I saw this piece—its elegance and attractiveness—it stuck with me. It was the memory of it that I was working with, not any kind of literal depiction or translation. The basic shape was completely from memory. The piece I made is about the same size, though it might be slightly larger: a wood superstructure, cardboard and paper (like papier-mâché), and then paint. Mine has a textural quality to it that this doesn't have. This has a very beautiful, refined patina, whereas mine really shows the hand and the roughness. So there is a contradiction there.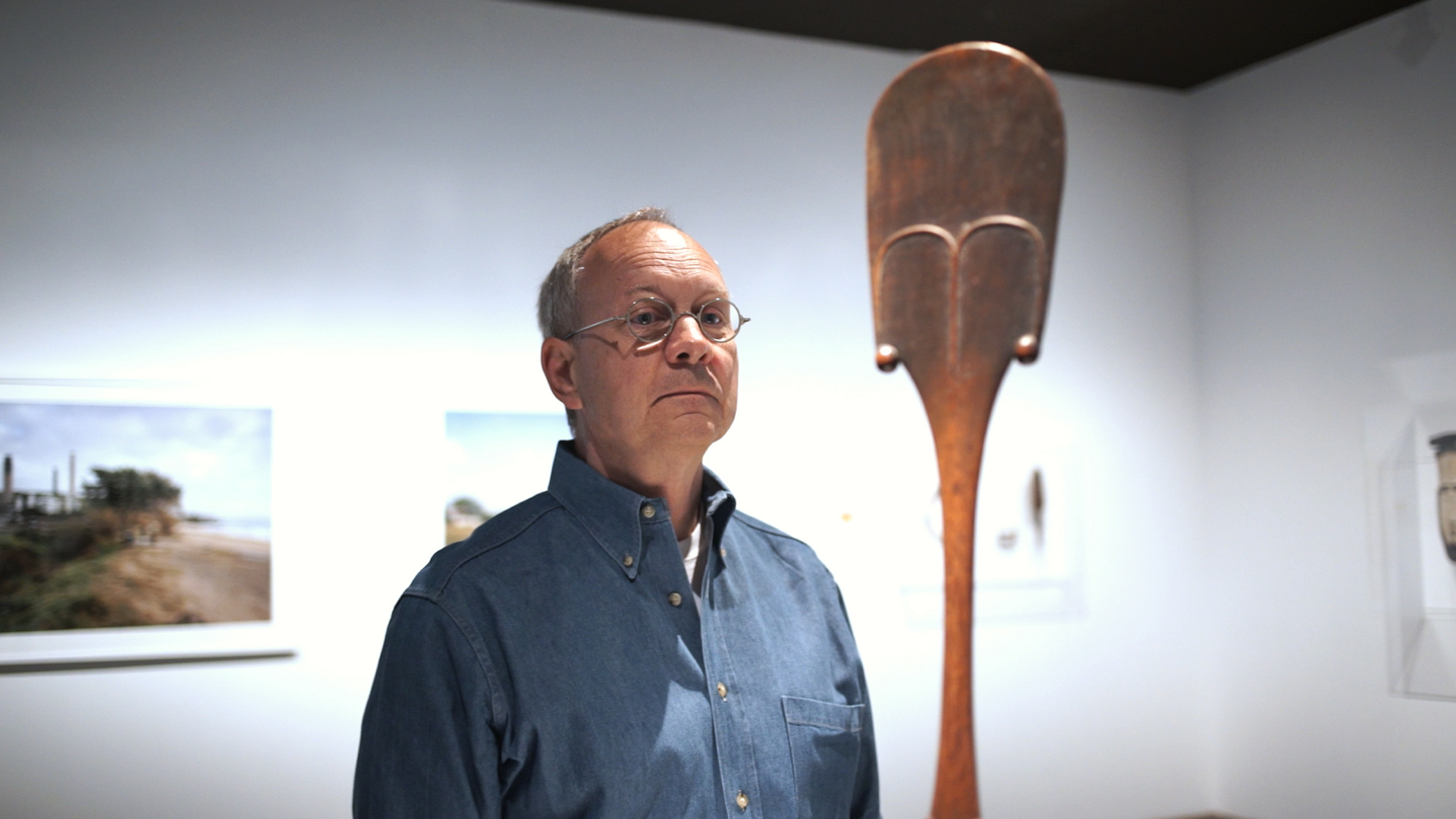 And what about the dance paddle strikes you now, as you stand in front of it?
I tend to look for abstraction in whatever I'm looking at. Because that's the language that I am most articulate in, abstraction. When I look at this, I see a very strong human presence: it has a head and ears. I guess it's minimal enough that it doesn't overpower my experience. I don't see it as just a representation of a person. That is something that I'm interested in—that things don't reveal themselves so quickly and so easily, that they could be interpreted as many different things.
Is that something that you strive for in making your own work?
Oh, yes. People interpret it through their own experiences and through their own associations. I don't tell them what it needs to be or what they should be experiencing or what they should get from it.
The conversation was edited and condensed for clarity.