A fascinating work in Painted in Mexico, 1700–1790: Pinxit Mexici is a folding screen (or biombo) depicting a fête galante (theme of the celebration of love). Biombos were imported to Mexico from Japan through the legendary Manila Galleon at the end of the 16th century, and by the 17th century they had become relatively standard in elite households—some painted by the best artists of the day. This screen, attributed to Miguel Cabrera (c. 1715–1768), stands out for its focus on the figures' costumes and depiction of an intriguing dance. LACMA curator Ilona Katzew and independent scholar James Middleton discuss some of the elements in this unique screen.
Ilona Katzew: James, I'm especially delighted to chat with you about the screen given your own background as director and designer of a Baroque opera ensemble in Minneapolis, and your current work on fashion in Spanish America. Let's start with your views on the different costume elements in the screen—ranging from the white caps that the men sport and were so popular in New Spain, to the rebozos (shawls) worn by some of the women, and the combination of European and Asian clothing elements.
James Middleton: I'm delighted to be asked! I came to art history after working for 25 years in 17th- and 18th-century opera. I had been crazy about Spanish colonial art since my first trip to Mexico in the 1970s, and my company, Ex Machina, did some critically acclaimed stagings of Latin American Baroque pieces. So choosing colonial art for my second act was very natural for me. Studying the clothes in colonial painting—so different from European clothes—grew organically from that.
In the U.S. we sometimes think of our colonial past in terms of virtue and plainness—so we look at sophisticated objects like this biombo and dismiss them as "too European." But objects like this are arguably more "American" than English provincial objects produced in Philadelphia or Boston. The scene of flying birds and blue volcanoes in the background is purely Mexican. Also, the clothes—a catalogue of New Spanish fashions—are all about Americans saying "no" to the tyranny of European fashion. This is revolutionary in the history of dress.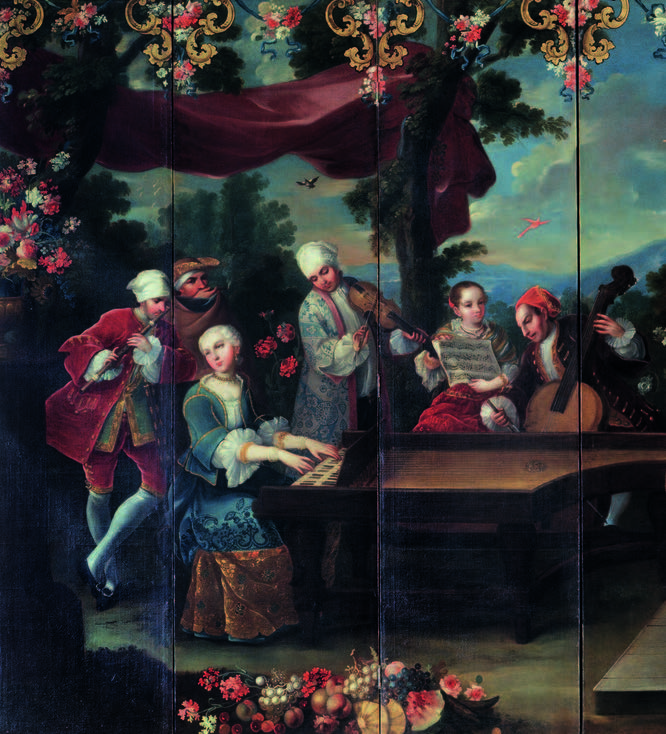 Ilona Katzew: You make such an important point here. For example, Francisco de Ajofrín, the well-regarded Spanish Capuchin friar who traveled in Mexico between 1763 and 1766, noted in his travel diary: "In all of Spain there are not so many [caps] as in Mexico City alone. Young and old, rich and poor, they all wear their sharp cap." I love the word "empingorotado" in Spanish to describe how "smart" and "flashy" these caps (or gorros) were. What was so unusual about them?
James Middleton: Most of the men wear (mostly white) informal caps. Europeans and Anglo-Americans only wore these at home when they took their wigs off (though it was stylish to have your portrait painted in this informal look). But Mexicans wore them in public!
Ilona Katzew: What other costume elements stand out as typically "American"?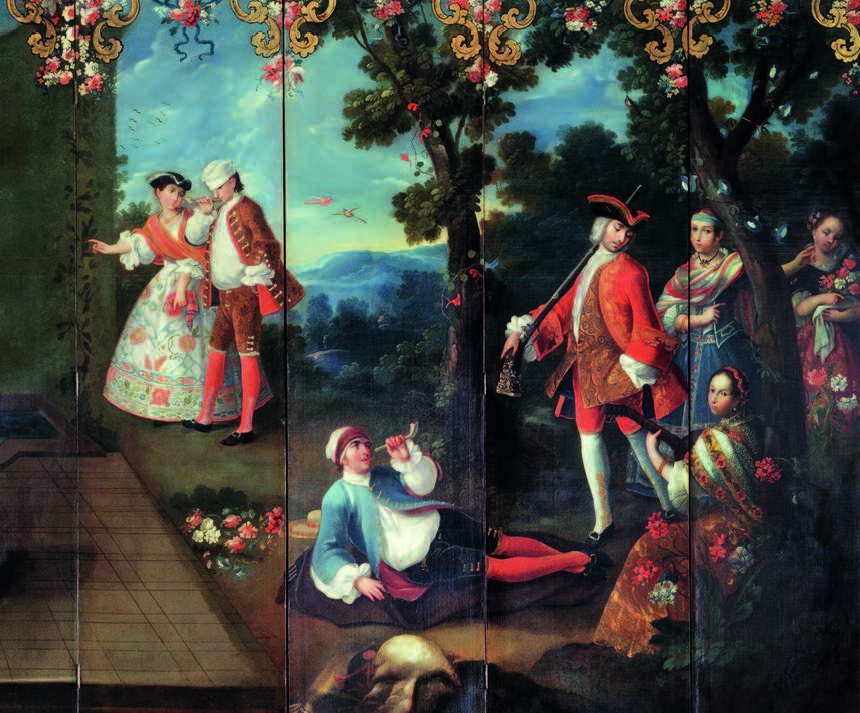 James Middleton: There are only two proper three-piece suits among the men, as most wear an informal jacket, which in Europe would have been a servant's dress. But in Mexico, made of luxurious textiles, these became the world's first upscale sportswear!
If I wanted to go out on a limb, I would say that there is something going on between the most informal figure, the man on the ground looking up at the most formal figure—the only man in a wig and a proper hat—who enters the composition from the right. It is as if the reclining man is saying, "Where did you come from?" And you have to wonder if the woman in the saucy male tricorne (or three-cornered) hat is some sort of comment on the staid European!
Ilona Katzew: That's one way of looking at it, but since the screen depicts a fête galante (theme of the celebration of love), we could also see the three-cornered hat that the woman wears as a symbol of the playfulness of their courtship. Plus the women next to the formal man with the hunting riffle could even hint at the success of his expedition or conquest ploy.
And even the man on the left enveloped in the long cape and hiding under his broad hat (chambergo), which derives from the Spanish popular majo type, points to his questionable identity and intentions, right?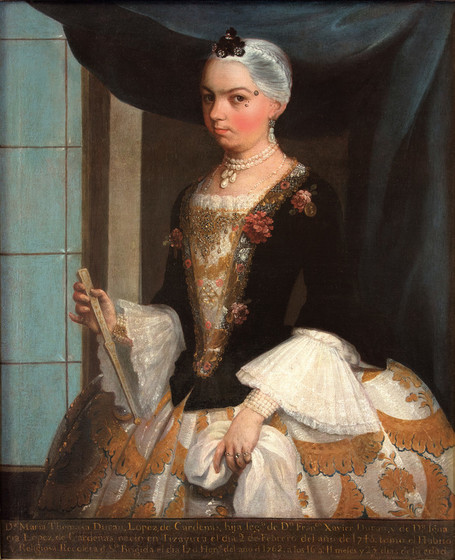 James Middleton: There are definitely some hidden meanings and innuendos at play here, as you note. As to the man's round chambergo, it morphed into the sombrero sometime in the early 19th century; wearing a hat over the white cap as he does was very common. But let's get back to some of the other clothes: the women also say "no" to Europe by choosing a different shape for their hoop skirts. Here they wear the cone-shaped underskirt called sacristán rather than the dome-shaped European pannier. The pannier was known in Mexico—the girl in the Pinxit signature image above is wearing one—but biombo and casta paintings tell us that Mexican women preferred their own style.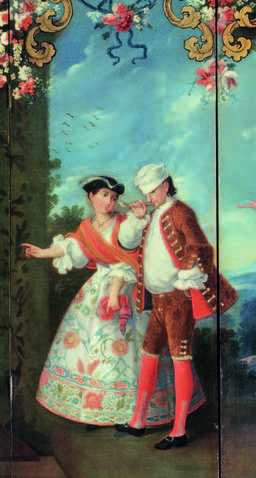 The women also sport the Mexican style of a white bodice (the form-fitting upper garment) worn with a vividly patterned skirt. This is another Americanism; in Europe, bodice and skirt almost invariably matched. Several of the skirt textiles are clearly Asian in origin, and the woman in the fourth panel from the right, shown above, wears one of indianilla, an inexpensive printed cotton made in India (and copied in Mexico). The cheap-and-cheerful indianilla skirt was another of the era's most pervasive fads, and may have been the first style in the Atlantic world to percolate up from the lower classes.
And as you noted, most of the women also wear local rebozo shawls. These also originated as low-status garments (upper-class women wore the black mantilla veil), but by the mid-18th century, they were being made in luxurious up-market versions.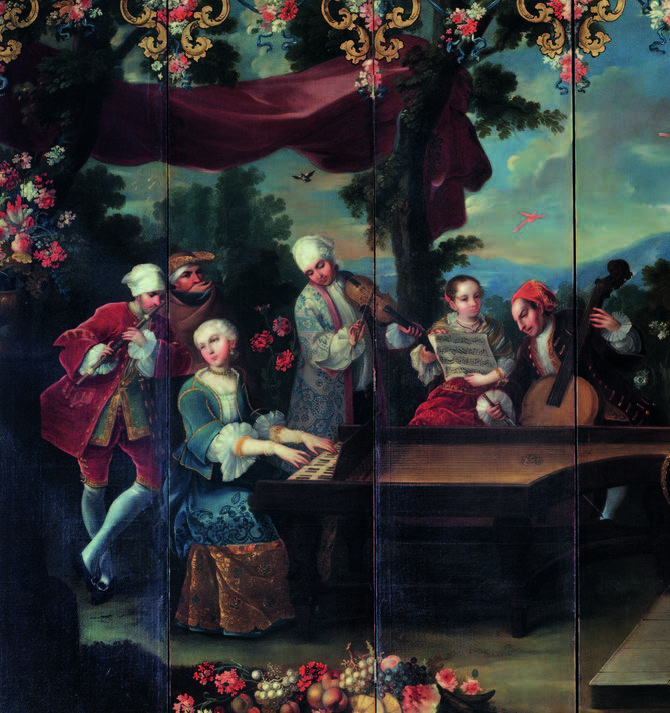 Ilona Katzew: What about the morning cape with a blue serpentine flower pattern that the violinist wears? Was this also a clothing element that became more pervasive in New Spain than elsewhere in Europe and the Americas?
James Middleton: The banyan! Banyans were loose, T-shaped robes. These were originally Asian, and this one is also made of indianilla. But by the 18th century they were made everywhere, and worn by middle- and upper-class men throughout the Atlantic world. Like the informal men's cap, in Europe and Anglo-America it was strictly an at-home garment (and popular for deluxe, informal portraits). You see it in casta paintings, but it frankly surprises me to see it here. Perhaps it indicates that its wearer is the host of the fête? In any event, it's another element that shows elite Mexicans au courant with European style trends.
Ilona Katzew: But didn't you just say that New Spaniards were rejecting European style?
James Middleton: That's a good point! The important issue here is that Mexicans were aware enough of current international fashion to pick and choose what they liked from it, but only what they liked; exactly what you're trying to communicate with the exhibition.
Ilona Katzew: Why did Asian garments become so popular in Mexico in the Early Modern period?
James Middleton: It's important to note that Mexico City was the mid-point in the trade between Manila and Europe. About half of Europe-bound trade goods from Asia came via Mexico aboard the famous Manila Galleon, and Mexico had the first choice of these desirable objects.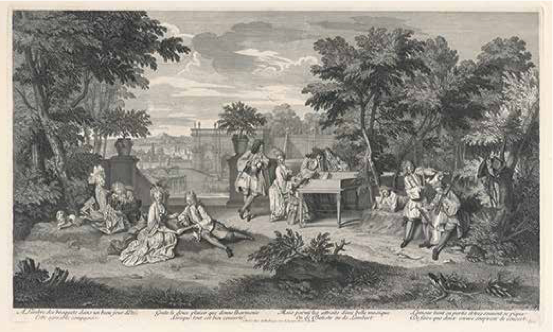 Ilona Katzew: Switching gears, the painting clearly references the print Grand concert dans un jardin by the French printmaker and publisher Bernard Picart (1673–1733), who enjoyed enormous success in Parisian courtly society. It was originally published in 1708 and ranked among Picart's three most popular engravings—the composition was even copied in pitchers and cups!
The central group—which consists of a female cembalist, flautist, and two recorder players—is displaced to the left edge of Cabrera's composition, and some of the figures are combined with the instrumental duo (violin and viola da gamba) seen in the far right of the Picart print. Curiously, Cabrera added a female figure holding up a music score to the gambist, who interprets the notes intently. The score is perfectly legible, and you have a very specific idea of what it references.
James Middleton: The score's inscription, "Amable" refers to an air from André Campra's 1700 opera Hésione, Aimable Vainqueur, which was one of the century's greatest hits. It was choreographed and published in 1701 by the French dancing master Louis Guillaume Pécour (1653–1729) in a notated version that is well-known among early music performers today. By the time Pécour published his famous ballroom duet it had already become disconnected from the opera (Who sang it to whom? In what situation? Who cares!), and had become a popular tune on its own.
Ilona Katzew: Why do you suppose this tune and dance remained popular at this late date in New Spain?
James Middleton: Certainly not because it had gone out of style in Europe and came to die in the New World! As one of the greatest hits of the 18th century, its appearance in Mexico is an example of the cosmopolitan sophistication that you are exploring in Pinxit.
The tune was published in Spain with notated choreography by two different dancing writers, in 1745 and c. 1762 (both based on Pécour's original choreography), and it appears in at least two Mexican manuscript sources, the 1734 Codex Saldívar and the 1770 García/Chalco/Hague MS (which has changed names three times since I first heard of it in the 1980s), either as "El amable," or simply "Amable" as it appears on the biombo.
Ilona Katzew: Returning to Ajofrín, in his travel diary he talked about a type of dance that he saw performed by the elite. He says: "There is a tradition in Mexico, on special occasions, of performing dances . . . which among the elite are very honest, decent, and gentle, first including some dances and minuets of the land (propios del reino) that are very elegant and light, and then those from Europe, which they alternate with songs and lyrics from Mexico and Europe."
I find this description very intriguing because it ultimately speaks to the way in which many European traditions were transformed on the other side of the Atlantic. Was the "Amable" a common tempo at the time, or is it conceivable that the melody is here so changed that what we have is a new tune and dance altogether, as Ajofrín implies?
James Middleton: Both different and the same: think of the difference between Dolly Parton and Whitney Houston singing I Will Always Love You. The Houston version is so virtuosic and ornamental that it might as well be a different piece, but it's not—and part of its appeal has to do with the fact that it's a variation on a well-known song. It's much the same as what Cabrera has done with the famous Picart engraving that you mention; part of the tradition of New World artists doing "covers" of European engravings. Until recently that practice has been thought of as a deficit of American imagination, but we are now understanding the essential creative act of taking and changing a known image. I Will Always Love You is also like "Amable" in that it is a hit song from a forgotten show!
One thing that would be fascinating to know is what happened in performance in Mexico. The internet versions that we can more easily access are all played and sung according to our knowledge of French practice, which—like jazz interpretation— involves very specific ways of stretching and ornamenting certain notes. The French style that early musicians use today would have sounded bizarre to 18th-century New Spaniards.
Recording by Morgan O'Shaughnessey; special thanks to Elisabeth Le Guin, UCLA Herb Alpert School of Music
Ilona Katzew: Yes, that would be great to know! In the meantime, readers can listen here to a recording of the biombo's score (and the original 1701 tune by Pécour) and imagine how 18th-century audiences experienced the tune and dance, or at least get a small glimpse into that world.
Visit Painted in Mexico, 1700–1790: Pinxit Mexici through March 18 to view this spectacular biombo and decode its many meanings.
Further reading:
On the screen discussed here: Ilona Katzew, ed., Painted in Mexico, 1700–1790: Pinxit Mexici, exh. cat. (Los Angeles: Los Angeles County Museum of Art; Mexico City: Fomento Cultural Banamex, A.C.; Munich, London, and New York: DelMonico Books-Prestel, 2017), cat. no. 71, pp. 314–15. Available in the LACMA Store
On the tradition of biombos in New Spain: Gustavo Curiel, et al., Viento detenido: Mitologías e historias en el arte del biombo; Colección de biombos de los siglos XVII al XIX del Museo Soumaya, exh. cat. (Mexico City: Museo Soumaya, 1999).<
On New Spanish fashion: James Middleton, "Reading Dress in New Spanish Portraiture: Clothing the Mexican Elite, circa 1695–1805," in Donna Pierce, ed., New England/New Spain: Portraiture in the Colonial Americas, 1492–1850 (Denver: Denver Art Museum, 2016), pp. 101–146.
On the construction of Spanish majismo: Tara Zanardi, Framing Majismo: Art and Royal Identity in Eighteenth-Century Spain (University Park: Penn State University Press, 2016).