A 35mm print of classic horror film The Man Who Laughs (1928) will screen on April 3 as part of LACMA's ongoing Tuesday Matinees series. It is the first in a month-long selection of films co-curated with LACMA's film department and Landon Zakheim, festival co-director of The Overlook Film Festival. Film critics have called The Overlook Film Festival "America's Most Exciting New Horror Film Festival" because of its distinguished programming, creative settings, and innovative exhibitions. Zakheim is a Los Angeles native and long-time attendee of LACMA's film program. In honor of the April matinee collaboration, we asked Zakheim a few questions about horror films and his love for the Bing Theater.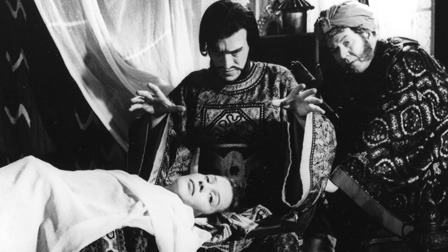 What interested The Overlook Film Festival in collaborating with LACMA's Tuesday Matinees?
Classic film screenings are an important part of a festival program, especially at a genre festival where there is so much shared love and passion for the films that made us fans. As Overlook has evolved, our focus has turned to new independent voices presenting fresh work, but we always love being able to share old favorites—and the chance to work with one of the city's most prized venues and show these scary treats on 35mm was a dream come true.
Do you have a favorite LACMA moment?
There are just so many to choose from! I grew up in Los Angeles and the incredible repertory cinema selection was my strongest film education. I was privileged to see so many classics projected on the Bing screen for the first time. I often used to wait to catch a must-see epic until it popped up on the calendar, because I knew it was only a matter of time. From my first viewings of films as varied as Kieslowski's Three Colors Trilogy, The Conformist, Ben-Hur, His Girl Friday, the bulk of William Wyler's filmography, Rio Bravo, I really can't pick just one. Whether it was taking rows' worth of friends to catch a 70mm screening of Lawrence of Arabia, spending several hours with 1900 on my own, forcing my father to take me to see Man With a Movie Camera and making him sit through it with me, or being introduced to the 24-hour spectacle of Christian Marclay's The Clock, the Bing Theater has played an important role in my life.
How important is the experience of watching films in a theater?
Exceptionally so! Nowadays more than ever. The chance to watch a print in a theater is a rare gift that allows you to experience the film as those who made it intended. I remember being told once by a passionate professor that there's a special kind of magic that happens when the light shoots through film onto a screen, which then bounces from the screen to your eyes so you can perceive what you're watching, and that becomes fundamentally more enchanting than digital information going directly from a small screen to you without that interplay of light. It connects you to the experience in a very tactile and enriching way.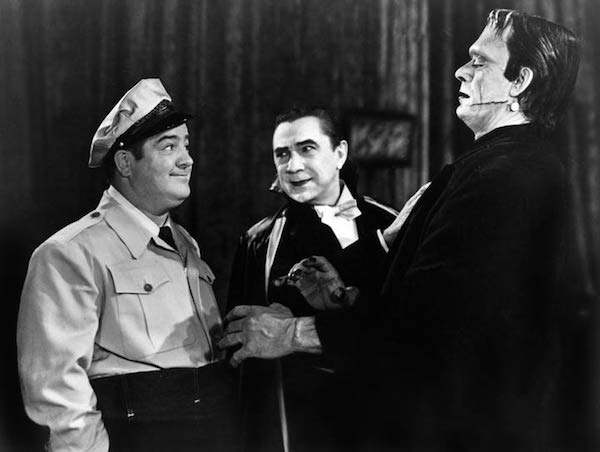 What was the motivation behind choosing these four classic horror films to screen as part of the series?
We very much wanted to capture the feeling of what makes The Overlook Film Festival a unique horror experience, while also working within the exciting challenge of staying true to the classic mission of the Tuesday Matinees and the criteria that make the regular selection so great. So we decided to take a bit of a chronological tour through some of the anniversaries of rarely screened haunted classics. 
Abbott and Costello Meet Frankenstein is an incredible example of the kind of horror comedy that has something for every kind of audience—it parodies and simultaneously revives what was at that point the waning age of the Universal Horror Monsters that had dominated the '30s with one of Abbott & Costello's finest offerings—it's still incredible to watch.
We end with The Haunting, one of the most subtly scary movies ever made—one that still frightens and inspires and is so rarely screened in a theater. This is also a bit of a selfish pick as I have yet to see it on a big screen myself, and it's high time that was rectified.
Can you tell us more about The Overlook Film Festival and how the festival is tied to its Los Angeles roots?
The Overlook Film Festival is a four-day celebration of all things horror held in iconic locations that evoke the spirit of Overlook Hotel, the genre's most notorious haunted house. Our next edition will be held in New Orleans, America's most haunted city, from April 19 to 22, 2018.
Presenting superior film programming with an expanded focus on experiential events, the festival showcases exciting work in new and classic independent horror cinema alongside the latest in interactive and live shows for a fully immersive weekend. As a summer camp for genre fans, The Overlook is a community event bringing the best of horror in all its forms to an enthusiastic and appreciative audience within an intimate and inspirational environment.
Most of our collaborators met each other while working for various Los Angeles based film organizations and festivals. Many of the live shows and immersive experiences that have become the signature of the fest come from L.A. artists. Los Angeles is a town that loves horror and loves Halloween and there is always some wonderfully macabre secrets that we can seek out that will inspire so many facets of our spooky festival.