In December 2013, while David was visiting the Calder and Abstraction exhibition at LACMA, he asked me if I would like to come up to his studio so that he could paint my portrait. I knew that he was painting a series of similar-scale portraits, and I was thrilled to say yes. I have known David since the late 1970s and have had the privilege of sitting for him before, in the 1980s and 1990s, but those portraits were executed relatively quickly and were smaller in scale. This would be something quite different. David asked for a commitment of three consecutive days, to give him what he called a "20-hour exposure." The appointment for the sitting was confirmed by Hockney's studio manager, J-P Gonçalves de Lima. I was asked to appear at 10 am and stay until the early afternoon, and was invited to join the Hockney team for lunch.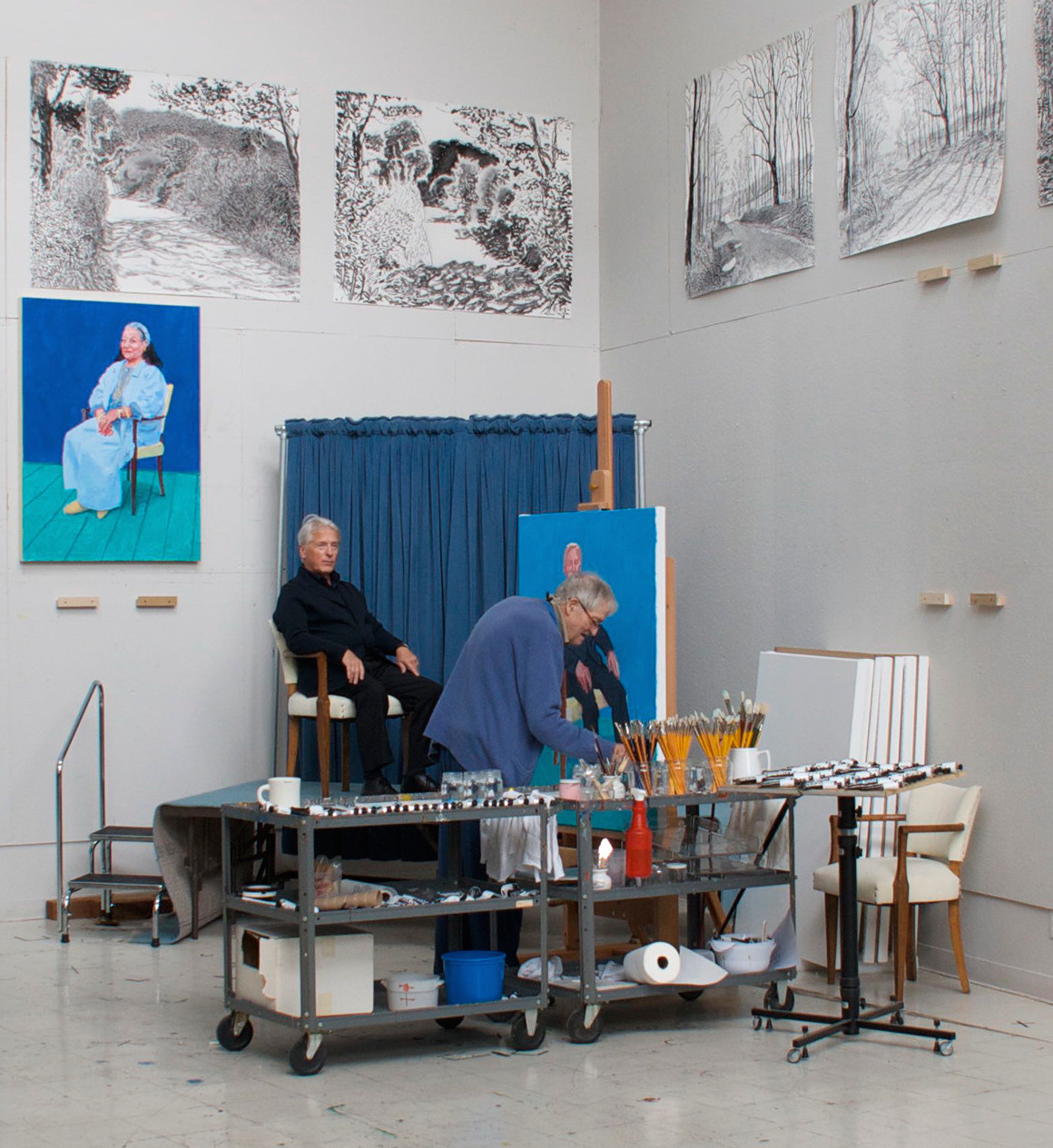 It was up to each sitter to determine what to wear for the session; having seen several portraits David had completed in the months prior, I noticed that strong colors definitely stood out, and I decided to wear something red. Upon arriving at his tranquil, sunlit Hollywood Hills studio on the morning of January 7, 2014, I was warmly greeted by David. A freshly primed canvas rested on the easel, and clean brushes, tubes of paint, and palettes were arranged on a table to its right. David took note of my outfit—which he liked—and invited me to take my place on the low riser just to the left of the easel, and to find a comfortable position in the armchair. Realizing that I would be committed to this pose for the next few days, I experimented and tried to assume one I could manage without squirming or changing position. David observed the position, made a suggestion about moving the chair slightly for a better composition, and we were ready to begin. The studio was silent, and beautiful sunlight streamed in through its skylights. It was exciting and the air was charged with the anticipation of beginning a new work.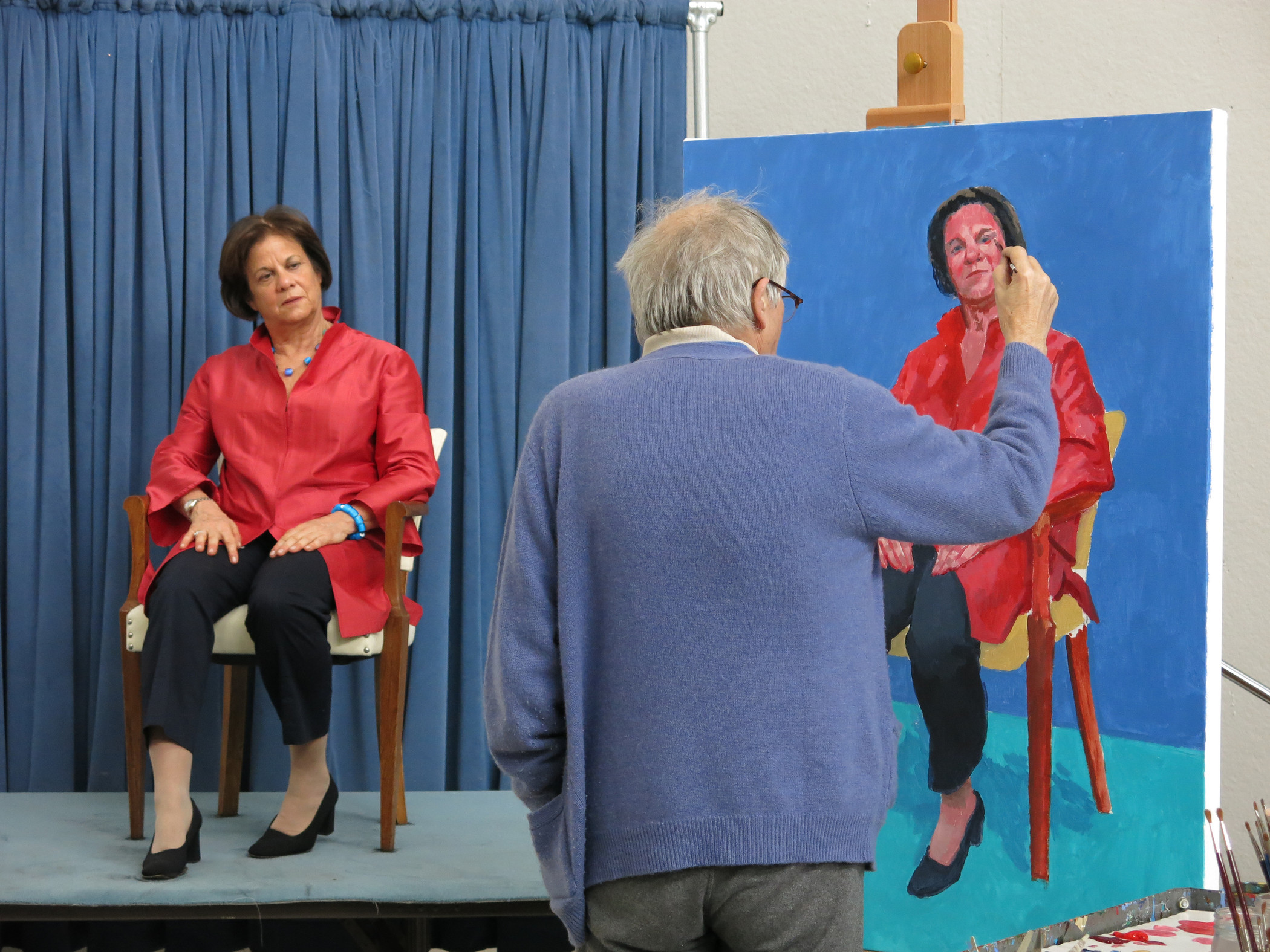 The first hour or so was incredibly intense: working quickly with charcoal, David sketched directly onto the canvas, fixing the outline of my head, my body, and the chair in order to capture the freshness of my pose. His intense gaze and careful scrutiny were a bit daunting at first, but after a while I eased into a state of thoughtful observation. David worked intently and moved his hand quickly across the canvas so that by the time we took our first break, after about ninety minutes, the pose was locked in and he had made a first pass at painting my face, my hair, and some of my red tunic. All the portraits in the series were executed in slow-drying acrylics, so that over the course of three days he was able to adjust and refine the faces of his sitters to make them more nuanced.
Before we took that first break, a studio assistant placed blue tape on the floor where my feet were, so that I would know exactly where to position my shoes when we resumed. I couldn't see the canvas while I posed, so only during our twenty-minute breaks—when we would chat and drink coffee while David smoked—did I have a chance to observe my portrait taking shape. David contemplated the painting in progress at each pause, and we discussed books we were reading and shows we had seen. By the time we broke for lunch a few hours later, he had painted the background. Lunch was convivial, served family-style around the table in David's home. Afterward, we returned to the studio for another session, during which he added in my dark-blue trousers and made some adjustments to my red tunic and my face. We said goodbye and set a time to meet up the following day.
It wasn't easy being subjected to such intense scrutiny; it made me wonder how my thoughts were being transmitted to David, and how he was capturing this on the canvas. His observation is unrelenting: his portraits are never meant to flatter, but he does "get" his subjects.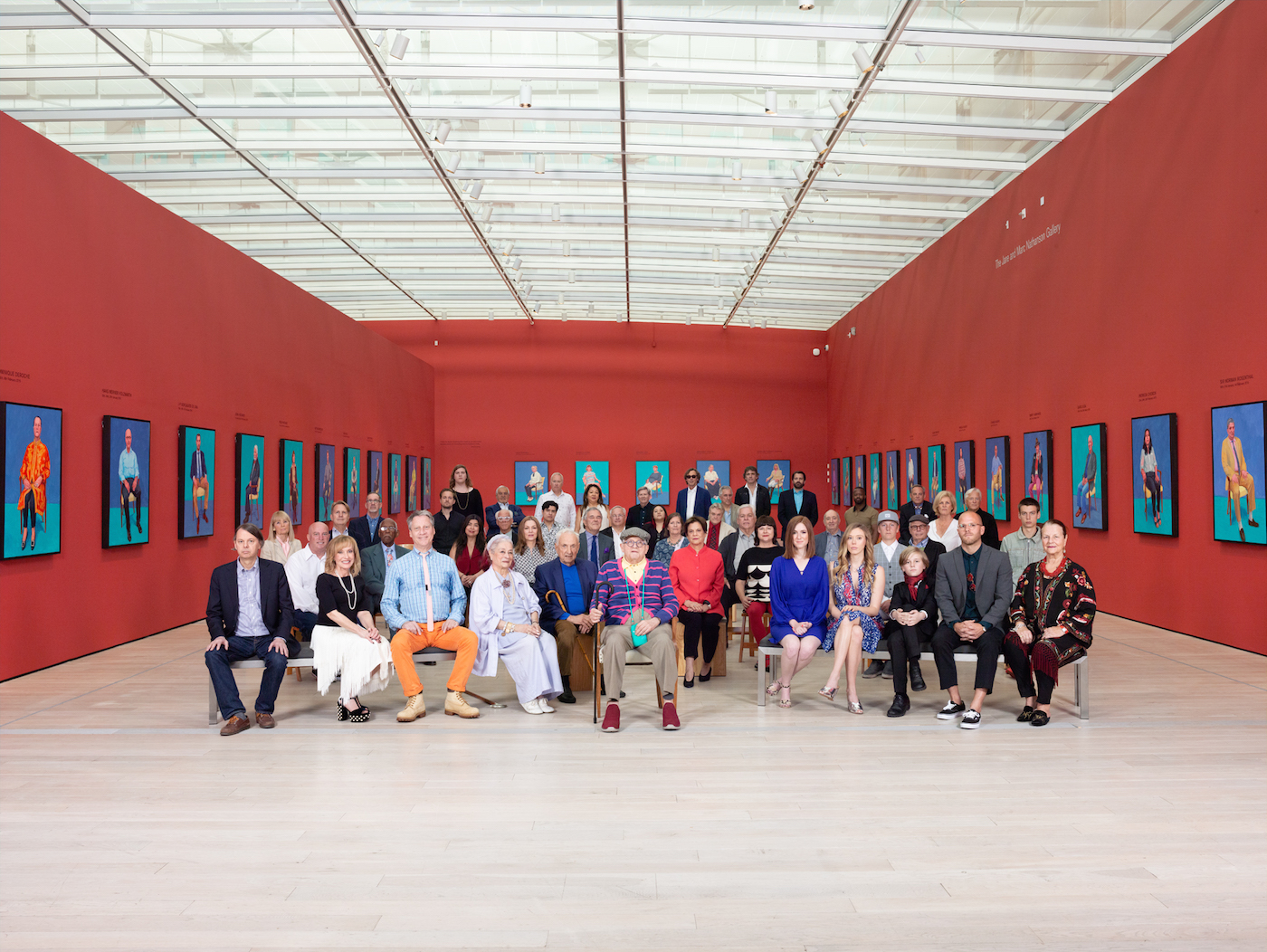 I've organized and coordinated several Hockney shows since the 1980s, and this experience provided me with unprecedented exposure to his working process. As a curator, it was an absolute privilege to observe the creation of this portrait. I found the process absorbing; it taught me a lot about portraiture and how artists work. Seeing how quickly he worked—and was able to capture my pose, expression, and clothing details within the first ninety minutes—was a revelation. And then seeing how he returned several times to my face, hands, and feet during the three days was also fascinating.
The next morning was a bit harder: instead of spontaneously assuming a pose, I was now committed to the previous day's position. But I soon settled into it. David spent time on my face, feet, shoes, and hands, refined the shadows, and continued to work at the red silk top, trying to capture how the light fell on its shiny surface. Before lunch his assistant hung the painting on the wall so that David could see it as part of the series. After lunch he added the detail of my turquoise bracelet and continued to work on my face and hands. By the time we parted on day two, the portrait was almost completed. On the morning of the third day, David added my necklace, then finished the painting. It was once again hung amid the other portraits on the studio wall, and we talked about it and the process. I was enthralled, exhausted from the concentration, and immensely honored by the whole experience.
It occurred to me that painting these portraits allowed David, whose hearing is significantly compromised, the opportunity to have serious, good conversations with his friends one-on-one over the course of three days, in the intimacy of his studio. His joy at the exchange and the work was contagious. I left absolutely exhilarated by the process and the result.
Visit David Hockney: 82 Portraits and 1 Still-life in BCAM, Level 3, Nathanson Gallery, through July 29, 2018.