Writer and director of community at "The Black List," Kate Hagen recently penned an article, "In Search of the Last Great Video Store," which begins with a craving—to see David Anspaugh's Fresh Horses (1988)—and goes on to discuss the tension between the unparalleled immediacy of online content and the relative inaccessibility of titles outside streaming sites' limited collections. She leads her readers on a quest for a video store that satisfies our desire to unearth unanticipated gems and relate to films that we choose to take home through interactions with others. Maggie Mackay, board chair and executive director of Vidiots, approaches this issue of film accessibility from the helm of her video-store-turned-non-profit, where she runs a film organization and library dedicated to preserving, expanding access to, and educating in film.
On July 19, LACMA is screening Fresh Horses  on 35 mm, preceded by a conversation with Hagen, Mackay, and film critic and moderator April Wolfe, to satisfy the craving that initiated Hagen's search, and to celebrate films that fall outside the limited queues curated by online platforms for profit. We watch this film in a shared space, in community, to celebrate the relationships that introduced us to, and that continue to enrich our experience of, film. We've asked Hagen and Mackay some preliminary questions to contextualize this upcoming screening in relation to their work preserving accessible social spaces devoted to film.
Kate, you begin your article with a craving. What does it mean to crave a movie, and why satisfy those cravings?
KH: To me, craving a movie means that nothing can fulfill the specific need that a certain movie has created within you until you watch that movie. I think it's important to satisfy those cravings because, at least for me, most of the time when I'm "craving" a movie, it means I'm trying to process a larger emotional state, and the movie becomes the conduit to do that. And there's something so satisfying about finally sitting down to a movie you've been seeking for a long time—it feels like visiting with an old friend. 
You've emphasized the necessity of video stores by asserting that they create film lovers. Why do we need to make film lovers, and how are film lovers made?
KH: We need to create new film lovers because film is an essential tool that unites everyone around the world—movies are a language everyone understands. Roger Ebert said that movies are a machine that generates empathy—when we can share films that teach us something about what makes us human, we all become better, more engaged humans. Film lovers are made in all sorts of ways, but it only takes a small spark—a beloved Disney film, a trailer for a movie you've never seen, watching Psycho with your grandmother—to set viewers on a lifelong journey of loving film.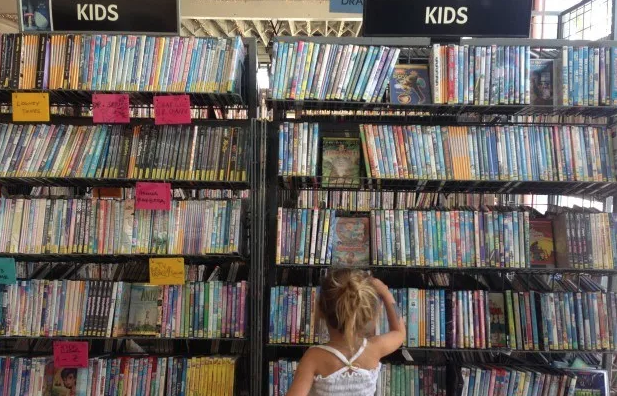 Maggie, you have discussed envisioning Vidiots as a space where "everyone feels like they belong." What kind of non-belonging are you protecting against, and how is a space of belonging made?
MM: First and foremost, we believe that brick-and-mortar spaces, open to the public and offering people of all ages and income ranges unfettered access to an extensive film library curated with inclusivity, not profit, in mind, are essential to maintaining and growing a passionate, diverse, and dedicated community of film lovers. With the fast decline of public, affordable film spaces like movie theaters and video stores, film has become increasingly marketed and directed toward people in higher income brackets and people who are naturally inclined toward this kind of technology. We also believe that inclusive spaces are built from the ground up. Vidiots was founded by women, is helmed by women, and when we relaunch the physical space, it will be staffed by women and people of color.
You both discuss the community-oriented component of the video store. Why talk about film and relate to films through interactions with others?
KH: So many of our experiences are becoming based only in technology, and we're isolating ourselves in the process—I don't think anyone fully understands what the long-term effect of this kind of self-imposed, digital isolation is going to look like. By returning to the video store instead of, y'know, endlessly staring at a black screen, you're a much more active participant in the viewing experience, and as I've found, thus become more invested in what you're watching. I also think that's an essential human element that video stores provide—if you haven't shot the breeze with a video store clerk in a while, I highly recommend it!
MM:​ We find that the experience of physical browsing and interacting with film lovers of all types, ages, and demographics increases one's ability to make new discoveries, find things in common with people they might otherwise not have an opportunity to interact with, and have a more fulfilling experience than they might have without these interactions. Video stores, libraries, record stores—so many of these brick-and-mortar spaces are staffed by experts in their fields whose job it is to engage with a customer or visitor​ and help them not only find what they're looking for, but perhaps more importantly, what they don't know about yet. Discovery is one of the most important experiences one can have when it comes to pursuing the arts, and no algorithm can ever compete with a human expert when it comes to aiding in that experience.
Why is it important to see films like Fresh Horses in theaters and public spaces?
KH: The communal experience of seeing a movie in a dark theater is the closest thing to a religious experience many of us actively participate in on a regular basis—it should especially be celebrated and cherished in the age of streaming. It's essential that we don't only screen great, popular, or important films publicly, because there are lessons in every film—even (and especially) in bad ones! To love movies means that you should appreciate all kinds of films, and that appreciation must extend beyond simply loving movies—if we want to assure that they'll be around for future generations, we have to work to make them accessible via home media, public screenings, and archival preservation of as many titles as possible.
MM: One could go on extensively about why public spaces and experiences are fundamentally important to maintaining and growing healthy communities invested in the arts, but in the most simple terms, they're fun, they make us think, they make us grow, and they enrich our lives.
Fresh Horses will be screened at LACMA on July 19, 2018. Purchase tickets now!