The work of Heather Rasmussen is currently on view on the screens at Stark Bar. For this presentation of four time-based media works, she created two new works made in 2018, Still life Buddha's hand on mirror (two views) and Movement in studio on teal (three views), while also adapting two existing works Legs and Legs Movement #1 (two views) (2017) and Scanning legs #2 (1 view) (2015) for three screens. In all of these works, Rasmussen turns the camera on herself and uses choreographed movements to create altered representations of her body using objects such as mirrors, plaster casts of her legs, or an evolving still life with the creature-like citrus fruit Buddha's hand. We caught up with her to ask a few questions about her installation and process.
What was your process for developing a work like Movement in studio on teal (three views)?
When I was first approached by Erin Wright and Rita Gonzalez at LACMA about exhibiting work on the Stark Bar screens, we spoke about a single channel video I had made in 2017, and how it would be great to display a similar piece. I decided I would like to make it three channels, for the three monitors at Stark Bar. I set up three cameras at three different angles in my studio, to capture three different views of the same movement—one directly in front, one from the corner, and one through a reflection in a mirror. Because the image in the mirror is flipped, the bodies on the screens look like they are dancing with each other. I knew I wanted to interact with a stool I had recently found—the base of the stool was a chrome letter Z and had shape reminiscent of a body. I also had a long, skinny mirror that felt like it could be a stand-in or mirror of a leg because of its length. I was interested in moving with these objects in the space. Each camera is turned on sequentially—seen as I walk around the room to do so. A still camera is also set up, and I use a remote control to trigger the shutter. While the video is recording I move to a position and take a photograph and the camera shutter is heard. The clicking becomes rhythmic, almost like music for the movement happening.
Your use of mirrors has an element of potential danger as you position them around yourself. Is that something you consider when you are making your works?
The danger element is not really on my mind. I guess it's something that I do have to consider as the floor of my studio is cement so I have to be careful when the mirror comes into contact with it. I've chipped corners but never broken anything. However, the placement of mirrors can be seen as violent objects in my work—often it looks like the mirror is slicing up the body into pieces, hiding parts and revealing others.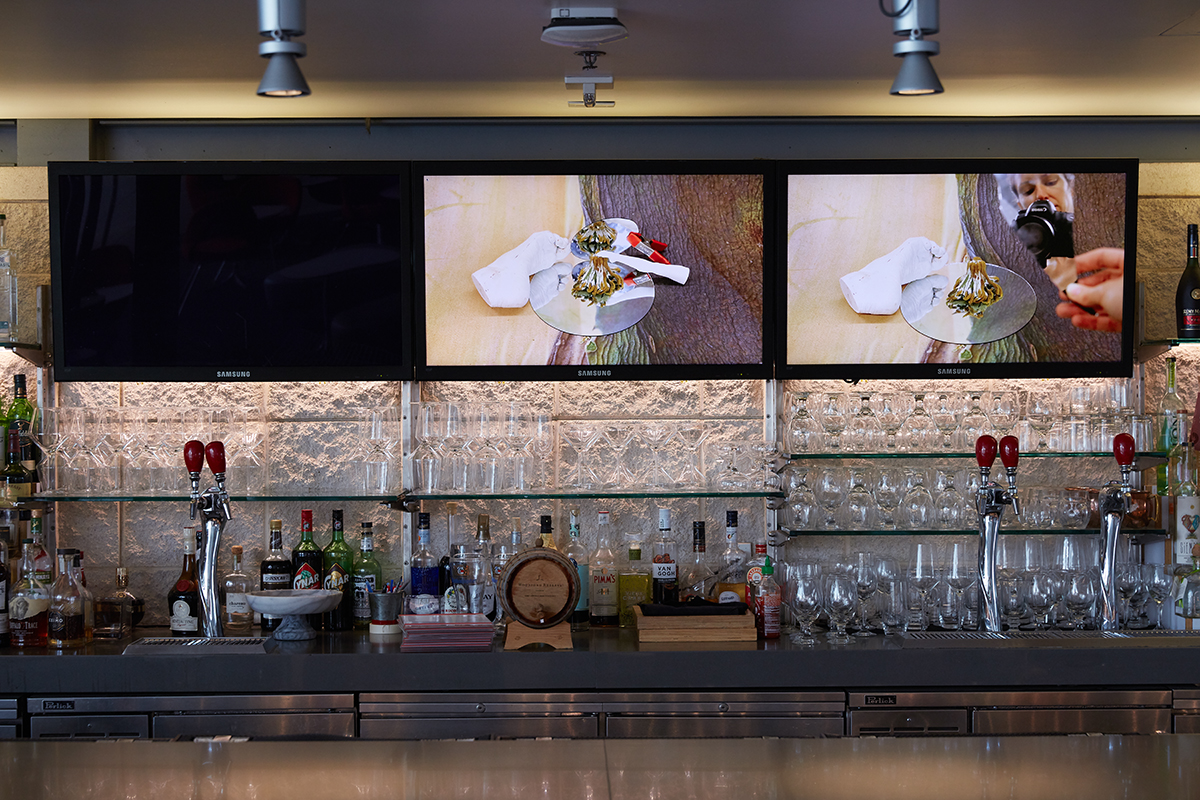 Sculptural fruits and vegetables are often in your work. What has drawn you to working with these objects? What significance, if any, do they hold outside of their shapes?
I remember picking lemons off of our tree when we lived in Angelino Heights many years ago and two of the lemons looked like their skin was twisted. I thought they were interesting looking and photographed them on a white seamless background in my studio. I forgot about them and they molded, so I continued to photograph them. This way of working, documenting the decay of the lemons, became something I was drawn to over and over. Sometimes I would see the repetition of a body part in their shapes like two pointed feet in an oversized daikon radish. This visual similarity between the vegetables and flesh led me to start using my body to interact with them in photographs. For a time, I assisted an artist who worked out of a home studio, and her wife had a community garden down the street. A 20-inch zucchini appeared in the kitchen, and sat there for a week. I asked if I could photograph it and was told I could take it home. For six months I photographed that zucchini in my studio, as it changed color, softened, molded, liquified. Then tiny sprouts came up through the broken skin—an incredible life cycle. I like the significance of the transformation from death of the zucchini into new life. More recently, I photographed my pregnant and postpartum body, which continues this idea of the changing body and growing life.
In addition to being a visual artist, you have a background in dance. Do you think of the works as documenting a performance in some way?
Performance is a loaded word for me—I relate performance to classical ballet performances, on stage, with makeup, costumes, and a cast. The performances were always a let-down, so much work put in and it was over so fast, and only sometimes did everything go right. I always put on a different face for performance. In my current work, I feel genuinely myself—not playing a part, and without the need to perform FOR someone. So no, I do not see the work as documenting a performance. I see the video works as a document of the movement that happens in-between still photographs.
It's funny: for dance, some teachers use the example of posing for a picture as the ideal moment to reach for, but dance is actually about the movement that it takes to get to that picture moment. Because I end up making multiple takes of the videos, the end result becomes like a choreographed dance that I've learned from repeating the movements each time. Dance has become a tool for me to be able to create shapes, pictures, and movement with my body—taking dance class becomes the training to condition my body for the studio.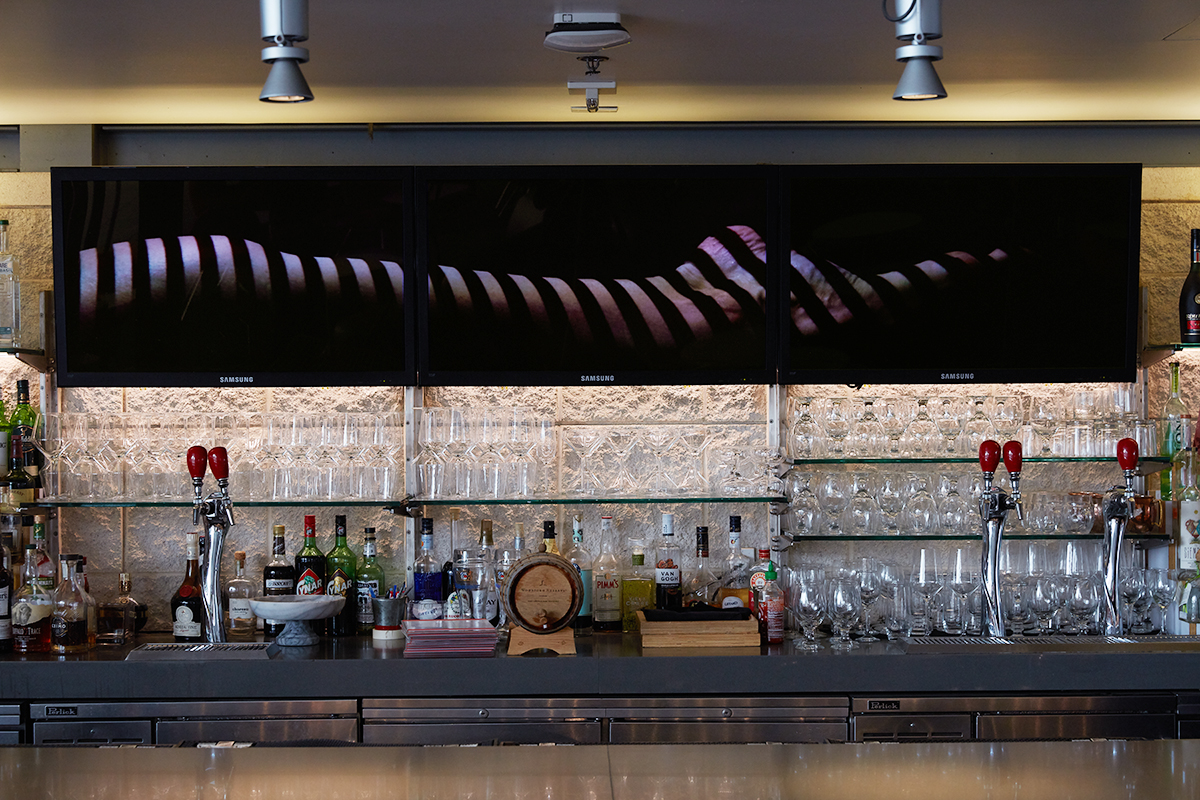 Who are some of the artists that you've taken inspiration from or feel an affinity with?
André Kertész, Yves Tanguy, René Magritte, Hans Breder, Michiko Kon, Simone Forti, Eleanor Antin, Lucas Samaras, Carlo Mollino, Judy Fiskin, Eliot Porter, Zsuzsi Ujj, Ana Mendieta, Lygia Clark, Jo Ann Callis, Whitney Hubbs, The Bechers, Weegee, Sharon Lockhart, Merce Cunningham, Roe Ethridge, Talia Chetrit, Sarah Charlesworth, Barbara Kasten, Paul Outerbridge, Hannah Wilke, and Irving Penn.
Are there current or future projects in the works you can tell us about?
I'm making an installation of photographs and a sculpture for a group show called These Creatures, at the Wignall Museum at Chaffey College, opening in September 2019. I was recently interviewed by Brainard Carey on Yale Radio about the show which is curated by artist Cindy Rehm, and is in conversation with Nancy Buchanan's 1979 video titled These Creatures. I'm also going to be in a group show of works on paper at The Pit for one week in August, and I currently have a selection of photographs up at The Table at Neuehouse Hollywood, through July 12.
Heather Rasmussen's time-based media works are on view at Stark Bar through August 6, 2019.