Andell Family Sundays in August draws inspiration from the comprehensive (and gorgeous) exhibition Beyond Line: The Art of Korean Writing. It is the first exhibition held outside of Asia to focus on the history of writing and calligraphy in Korea, and due to the rarity of several of the international loans, it will only be on view at LACMA. Lucky us!
You may want to start your visit by seeing the art firsthand. A great way to do that is by going on a tour led by educator Sofia Gutierrez. Her tours are interactive and flexible to include everyone from toddlers to grandparents! Sofia will lead families to look closely, and discover together. To take the tour, meet at the Andell Family Sundays welcome table on the Zev Yaroslavsky Plaza at 1, 2, or 3 pm. Also in the galleries, stop by the sketching cart where educators will provide pencils (including colored pencils) and paper, and offer helpful drawing tips.
Drawing on the examples of books in the exhibition, teaching artist Jenny Ziomek leads a bookmaking workshop. Kids can decide to make either an accordion fold book or sew the book binding. Once the book is constructed (easy peasy!), kids are welcome to fill the book with illustrations, stamps, and writing. Young poets are encouraged to write a sijo poem—a Korean poetic form that was meant to be sung. Fun fact: the sijo form of poetry predates haiku! But like a haiku, each line has a determined number of syllables.
Want to write your own? Here's the form: 3 or 6 lines in length, averaging 14–16 syllables per line (for a poem total of 44–46 syllables).
Line 1 introduces the situation or theme of the poem.
Line 2 develops the theme with more detail or a "turn" in argument.
Line 3 presents a "twist" and conclusion.
Here's a poem by children's author Linda Sue Park:
Pockets
What's in your pockets right now? I hope they're not empty:
Empty pockets, unread books, lunches left on the bus—all a waste.
In mine: One horse chestnut. One gum wrapper. One dime. One hamster.
Teaching artist Peggy Hasegawa was inspired by the beautiful calligraphy scrolls in the exhibition. According to the dictionary, calligraphy simply means artistic, stylized, or elegant handwriting or lettering. In this workshop, kids are first asked to think of a word that is important to them. It could be connected to their family or friends, or an inspirational word. Once they decide on a word, they write it as beautifully as they can. Once the calligraphy is done, they mount it on a bigger piece of paper and decorate around it. Voila!—an inspirational artwork ready to be hung!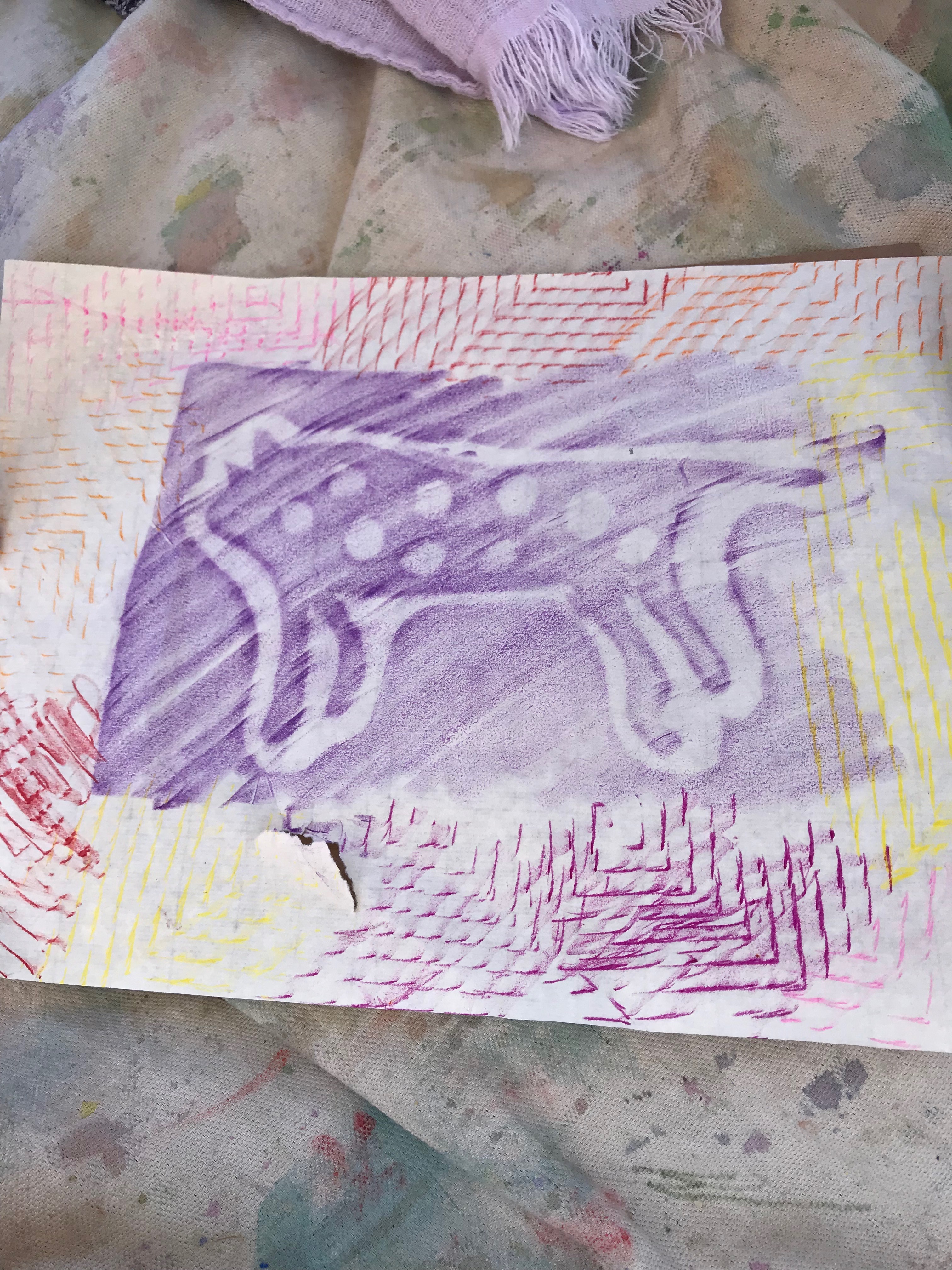 For our visitors who are five years old and younger, artist Eszter Delgado found inspiration in the exhibition's large rubbings of monumental ancient pictographs. Using layering techniques, multiple textured surfaces, and images that Eszter made, toddlers can tell their own stories in various colors.
All the art workshops are held outside on the Zev Yaroslavsky Plaza. Your family can participate in Andell Family Sundays activities from 12:30 to 3:30 pm on three upcoming Sundays: August 11, 18, and 25. We hope to see you there!