Many of LACMA's extraordinary exhibitions, particularly those centered on permanent collection objects, benefit from behind-the-scenes collaborations among LACMA's conservation, curatorial, and science departments. These joint projects advance the analysis and interpretation of our collections in a broader art historical context.
For many years, Paintings Conservation has studied the materials and techniques of the 17-century Dutch paintings that constitute the Mr. and Mrs. Edward Carter Collection, a group of still lifes and landscapes assembled by Edward William Carter, LACMA's first board president and a driving force in the independent formation of the museum in the early 1960s, along with his wife, Hannah. The catalogue, published on the 10th anniversary of the Carters's historic gift, and now available online, offers new scholarship, supported by technical discoveries made by our conservation team in collaboration with the science department in the Conservation Center. X-ray and infrared reflectography (IRR) revealed many interesting alterations and previously unknown techniques implemented by the artists during the painting process, which tell us much more about the artist's thinking as he created a picture.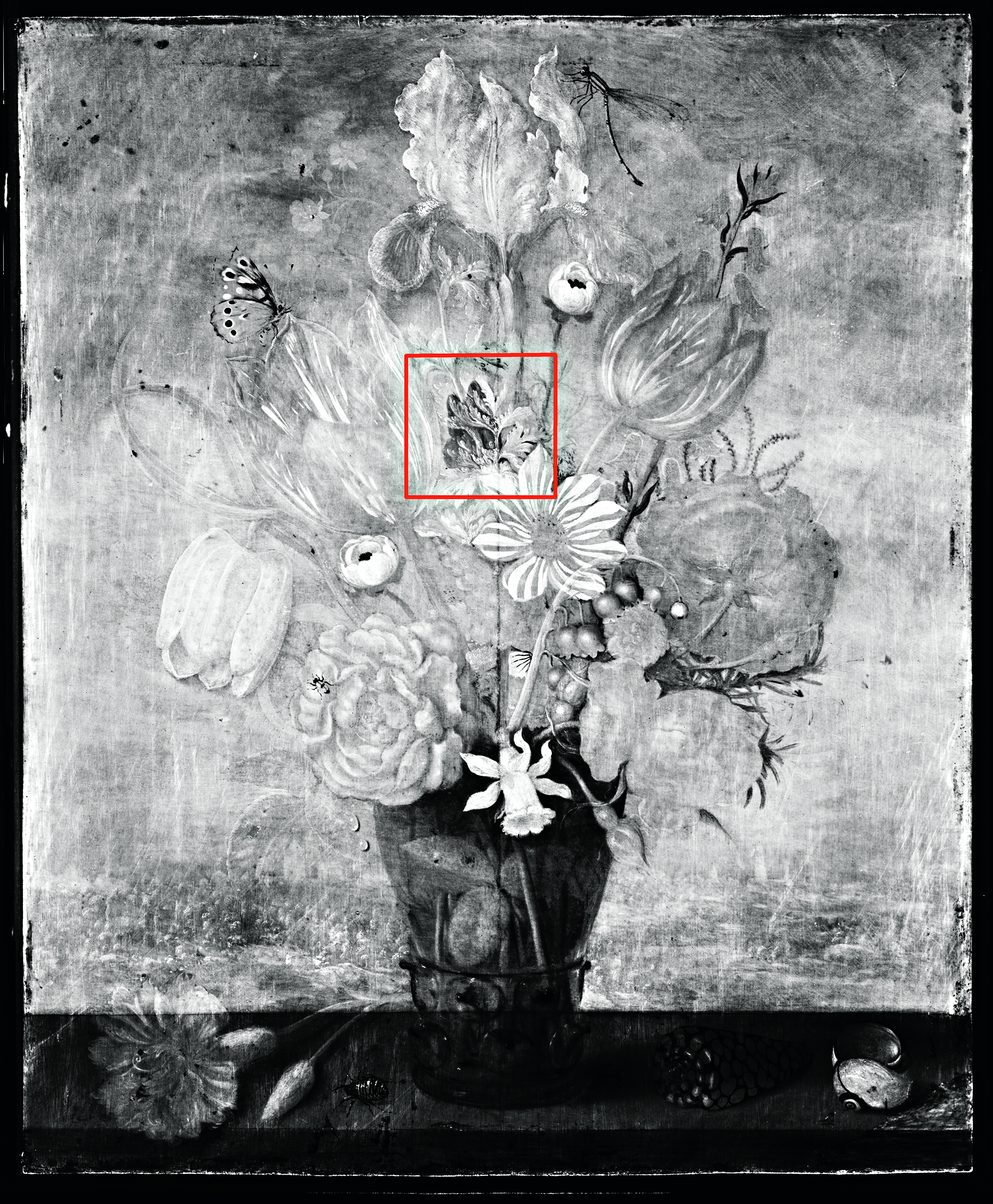 One example can be found in Aelbert Cuyp's The Flight into Egypt, where the artist decided to paint a horse with Mary and Jesus over his first painted image, the back of a man riding a horse. With this pentimento, or change, Cuyp may have given the painting, one of his few religious works, a completely different meaning. Technical examination of Bouquet of Flowers on a Ledge by Ambrosius Bosschaert the Elder revealed the artist creating even as he painted, although the immaculate surface, made possible in part by the hard copper support, suggests otherwise. One surprise found with IRR was the pentimento of a butterfly in the center of the painting. IRR also revealed an elaborate underdrawing that included horizontal and vertical guidelines for him to follow while applying colors on the light-colored ground (a layer applied to the support in preparation for painting). Further, a technique called "pouncing" was found in one of the flowers. Pouncing is a transfer method where tiny perforations are made in the lines of a preparatory drawing which is then placed over a prepared canvas or panel, and a pigment is dusted through the holes to transfer the design. These and other discoveries are included in the new publication.
This article was first published in the Fall 2019 issue of Insider.