The LACMA team is working together from our respective homes to bring you interesting content and creative activities while the museum is temporarily closed to the public. We may not be able to gather together, but we can still create something beautiful.
Inspired by Maya vessels in LACMA's collection, I experimented with making paper-mache cups at home. You too can create your own vessels using materials you may already have!
Tip #1: This project will take two days. Day one you'll make your cup. After it is dry, the next day you can decorate it.
Tip #2: This project is messy! Ask an adult where you can work on your cup.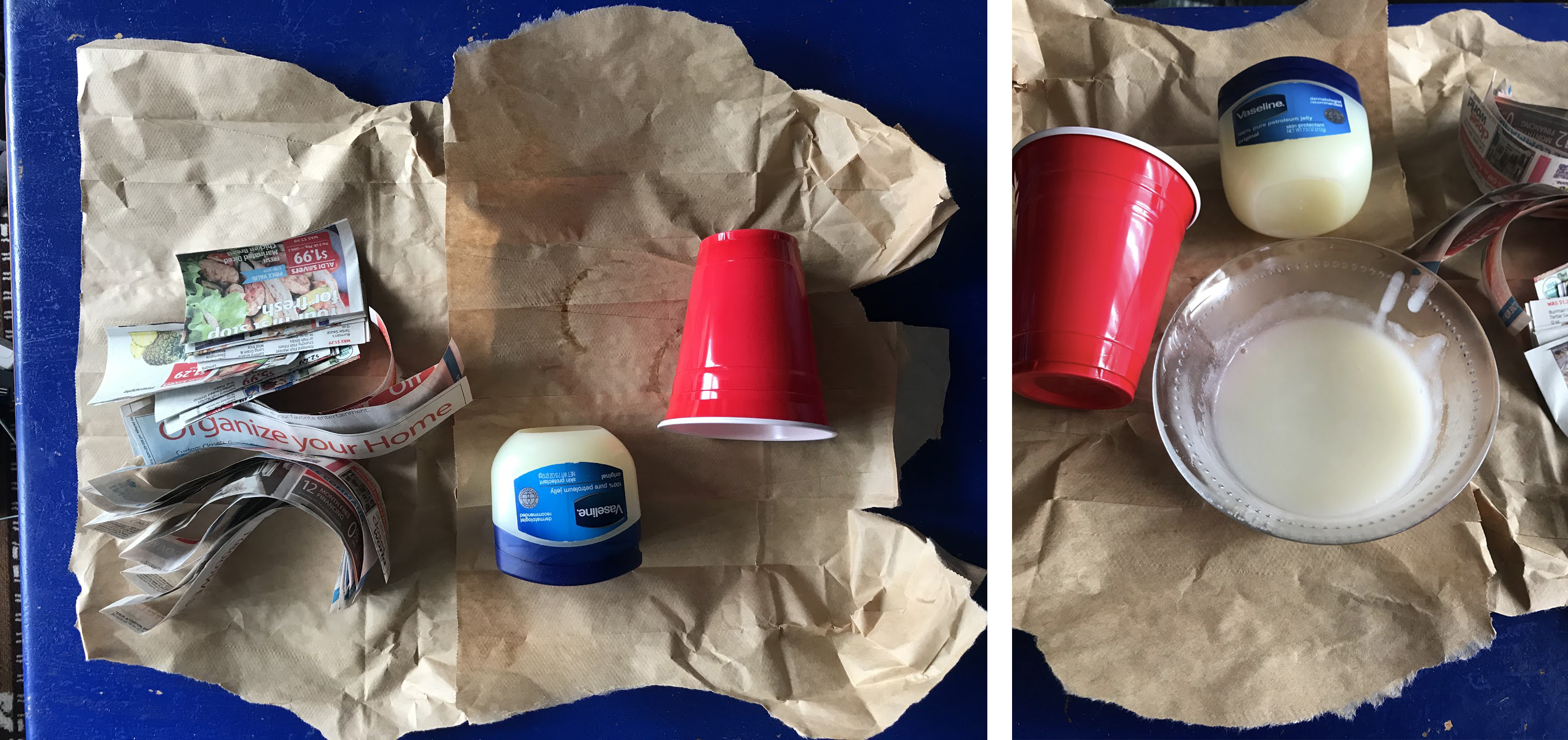 Step 1: Gather your materials.
Supplies:
Newspaper/Paper
Tear the paper in strips. Make enough to layer your cup at least 5 times. Keep one piece of paper whole to sketch your ideas.
Something to make a mark
Pencils, crayons, markers, pens, highlighters, pastels
Paint (just enough to cover the outside of the cup)
*If you don't have paint at home, you can use thin brown paper bag strips or plain paper strips as the final layer.
Wheat Paste/Glue
Follow this Wheat Paste recipe or use watered down glue as a binder
Petroleum jelly (so the paper-mache cup won't stick to the plastic or glass cup)
Plastic (or glass) cup as a mold for the vessel
Bowl for the wheat paste/glue
Paintbrush or you can use your fingers! (Warning: your fingers will get sticky!)
Step 2: Get inspired!
Look at two vessels from LACMA's collection. They are over 1,000 years old!
Notice how one tells a story? It almost looks like a panel in a comic book! See if you can find the characters in the scene. Now, take a close look at the border above the scene. The row of images at the rim of the cup are glyphs that tell us who owned the vessel and how it was used! Glyphs are symbols that represent words and sounds that make up the writing system used by the ancient Maya people.
The other vessel depicts an open hand. The row directly above the hand includes glyphs, and the row above that is a patterned border.
How are these two vessels the same?
How are they different?
Both of these vessels have designs that go all the away around them. Visit LACMA's online collection database to view photos showing the entire vessels.
Step 3: Browse.
Search through more vessels in LACMA's collection to get ideas for your cup.
See if you can find the following:
Animals—Name the different animals and write them down for inspiration later.
People—What do you notice about the people you find?
Patterns or Borders—Find a border that you think has an interesting pattern and draw it.
Step 4: Grease your cup to prevent sticking.
Tip: It's easiest to smear the petroleum jelly with your fingers. Be sure to wash your hands when you are done. They'll be greasy too!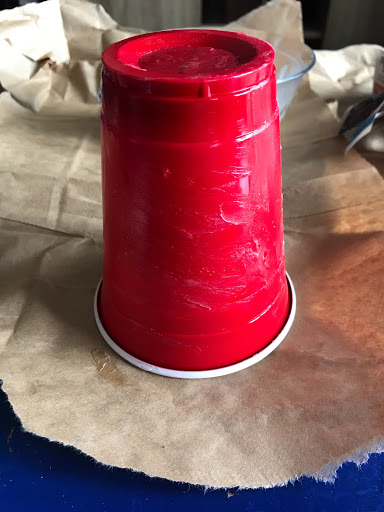 Step 5: Paper-mache!
Paper-mache is a process where you build up layers of paper with a gluey substance between the layers. When the paper dries it becomes hard and can be painted or decorated. Paper-mache is named after the French term for "chewed paper" (papier-mâché)—but don't eat it!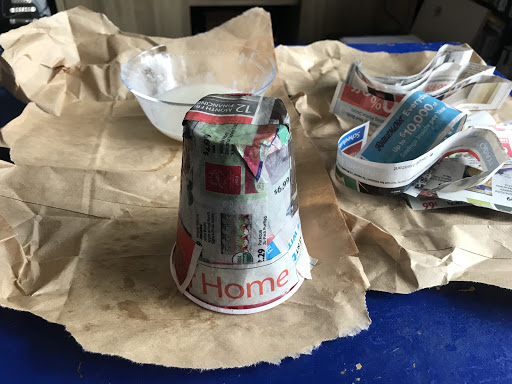 Dip strips of paper in the wheat paste mixture (or glue) and evenly spread the strips over the cup. Make sure to air dry between layers. Create at least five layers.
Tip: If you are not going to paint your cup, make sure you use plain paper for the last layer so you will have a blank surface to decorate.
**Warning: Do not pour the leftover wheat paste down the drain. It will clog the sink! Either toss it in the trash or make another project.**
Step 6: Let it Dry.
When you are finished, leave the cup overnight to dry completely. Weather may affect the time it takes to dry. It will take longer to dry when the weather is cold and rainy.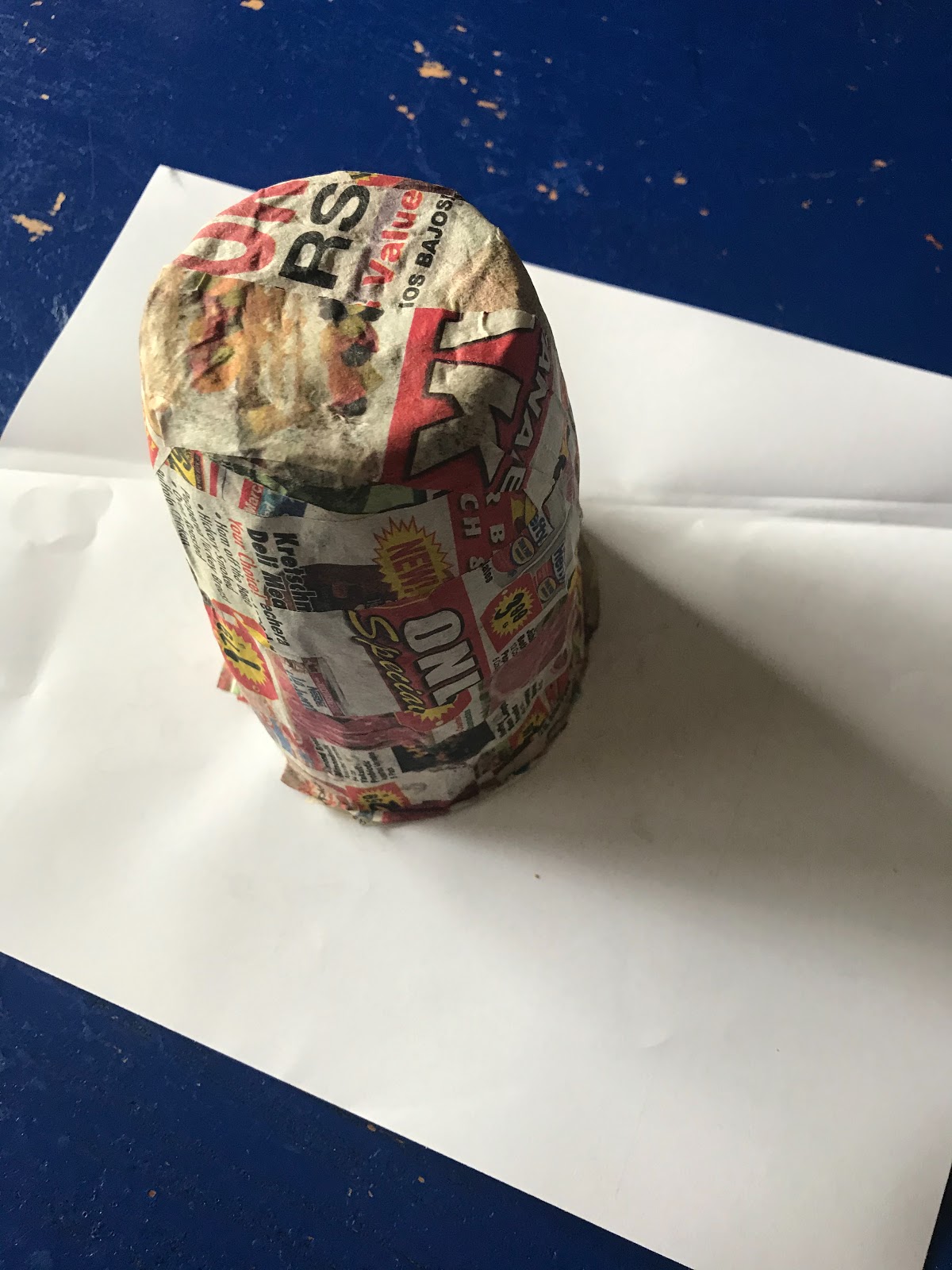 *Tip: Wait at least 24 hours for the cup to completely dry. If the paper-mache is still not completely dry, remove the plastic or glass cup, and stick your vessel in a warm oven at about 150 degrees (warm setting) for 5 minutes at a time until dry. **(Do NOT put the plastic or glass cup in the oven.)**
Step 7: Remove the plastic (or glass) cup.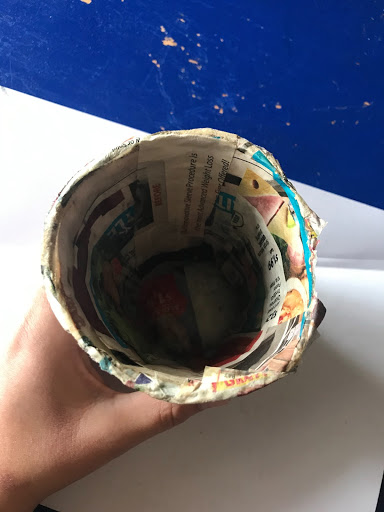 If your vessel was completely dry without using the oven, you may remove the plastic or glass cup now!
Step 8: Paint!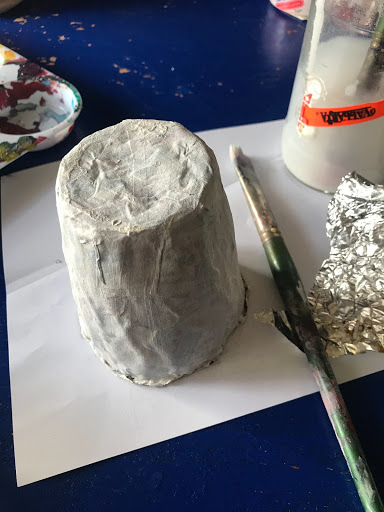 Allow time for your vessel to dry in between layers of paint.
Step 9: Decorate!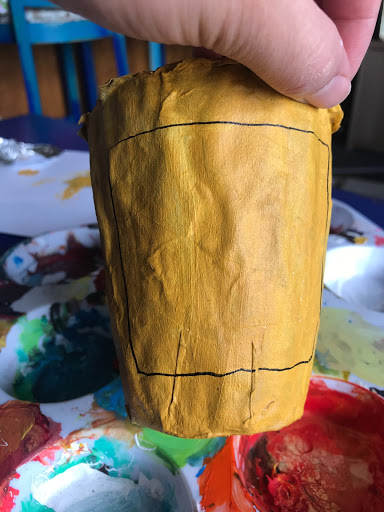 Draw three rectangles. Choose your favorite border or frame from the vessels you saw in LACMA's collection and replicate here.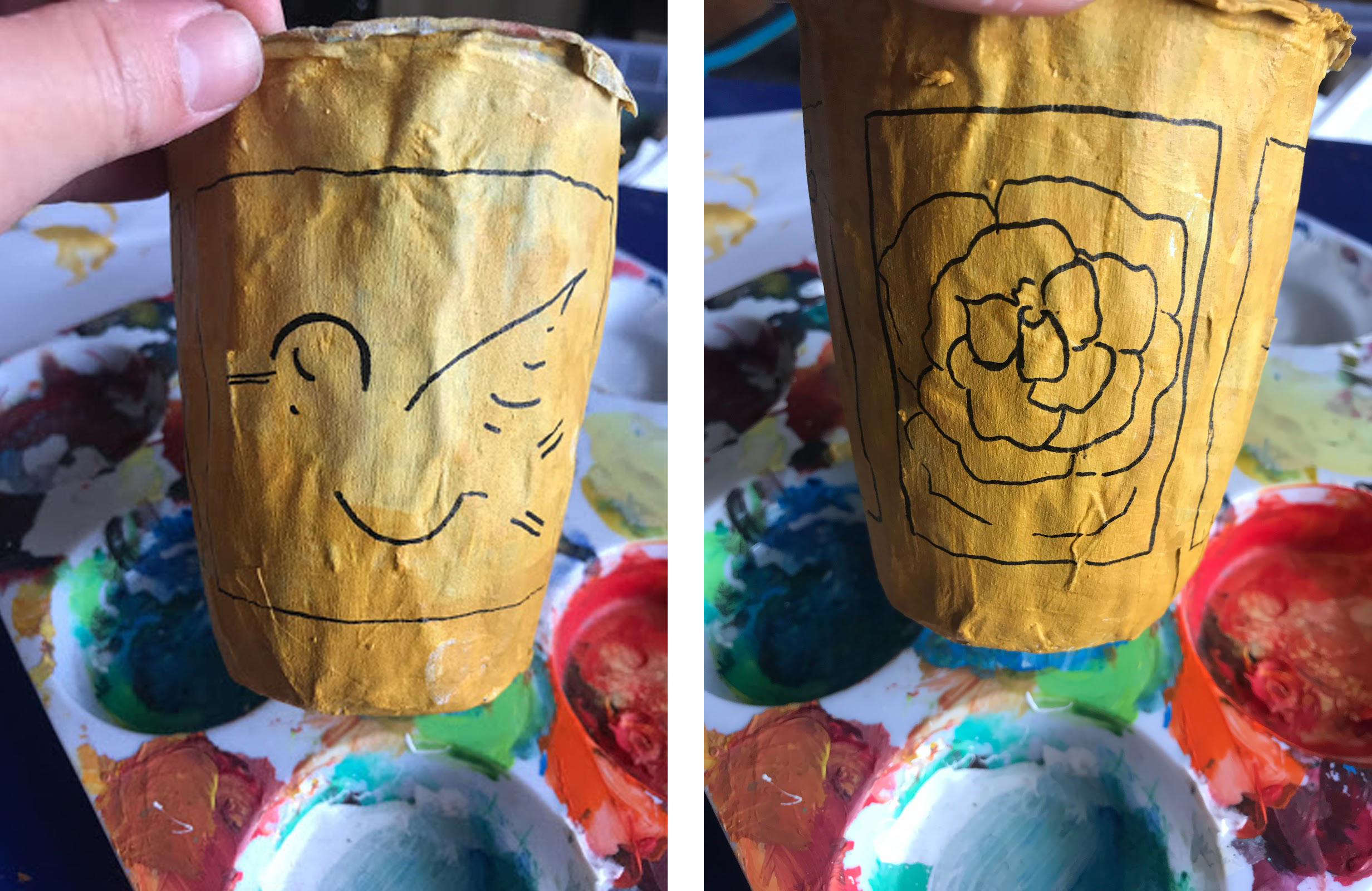 Draw animals, plants, or people that you saw on the Maya vessels, or create your own design.
Step 10: Use or Admire.
Maya vessels were used to drink from during rituals or ceremonies. Often they were used for drinking chocolate! Since these are made from paper, we will not be using them to drink, but there are plenty of other options. How will you use yours?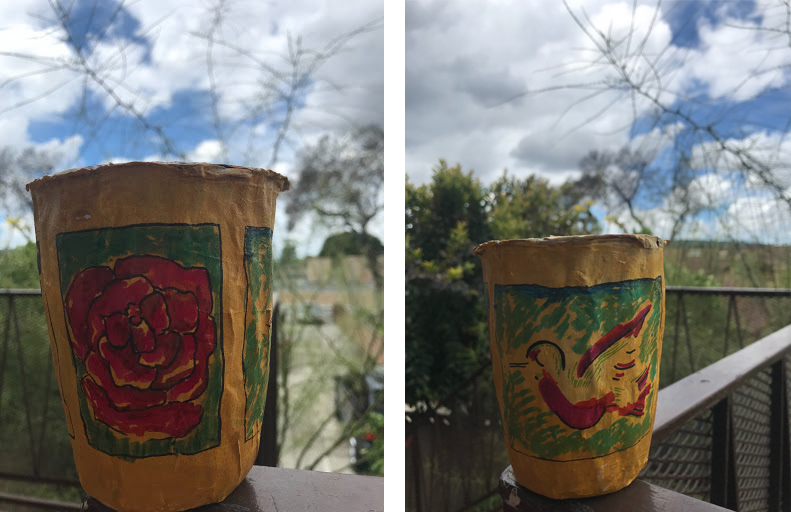 *TIP: The container is decomposable and can be used as a planter.
We would love to see your artwork! Have an adult post your creation to social media and tag @lacma.