With the widespread closure of museums during the COVID-19 pandemic, many of us are finding ways to explore and connect with works of art via virtual platforms, including myself. LACMA, an encyclopedic museum, maintains a rich online collection database with over 140,000 objects, dating from ancient times to the present. Nevertheless, as an educator who has been working at LACMA for less than a year, the thought of searching for works of art in the museum's vast database was a bit daunting to me at first. Where do I start?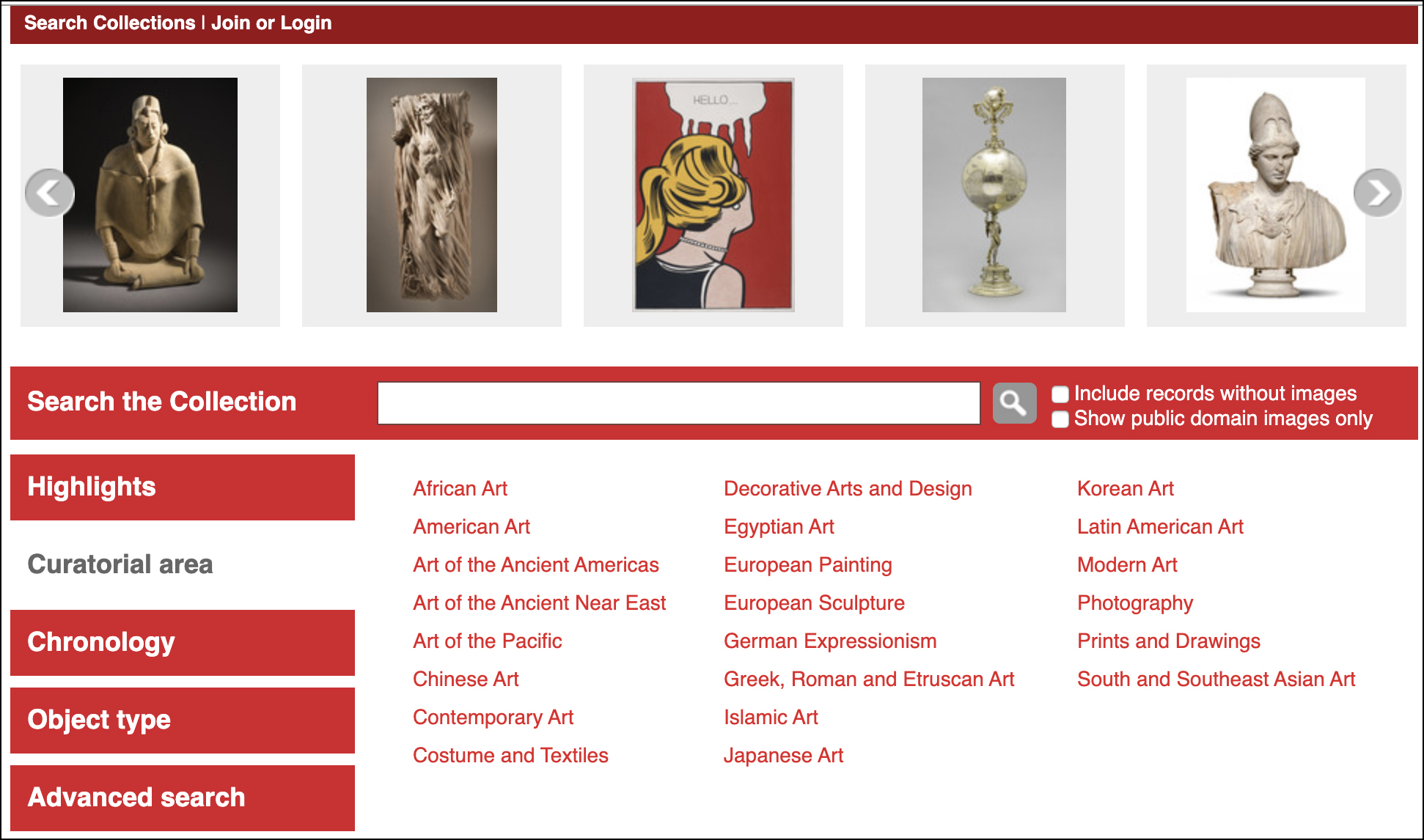 I browsed through the curated highlights, tried out different functions, and experimented with a variety of keywords. It took me some time to get the rhythm of the website, but gradually, I found my way around this large maze full of "treasures" and inspiration. Before I knew it, an hour had passed!
Tips I Learned from Exploring LACMA's Online Collection
Start with a type of art you like: Do you have a specific type of art that you gravitate toward? Click on "Curatorial area" (on the left of the page) and pick a category from there.
Be specific with keywords: For example, if you are interested in animals, search with keywords like "cat" or "tiger" rather than the broad term "animals."
Try variations of a term: For instance, if you want to search for cat images, try "cat," "kitten," and "feline."


Focus your search results: Check the box "Show only results with images" to focus on objects with an image on file.
Discover connections: Find something that intrigues you? Click on the artist's name (in red) to see if the artist has any other works in the collection. You might be surprised!
Recommended Highlights and Keywords
Consider how artists have been exploring similar subject matters and genres throughout history and across cultures.
My Serendipitous Discovery—from Cats to James Turrell
I invited my partner, who would probably not identify himself as an art enthusiast, to explore LACMA's collection with me. We started with the keyword "cat." Intrigued by the geometric shapes of the work with two cats, we clicked on it for a closer look.
We talked about the sleek lines used to emphasize the cats' elegance and noticed the nuanced patterns indicating various planes.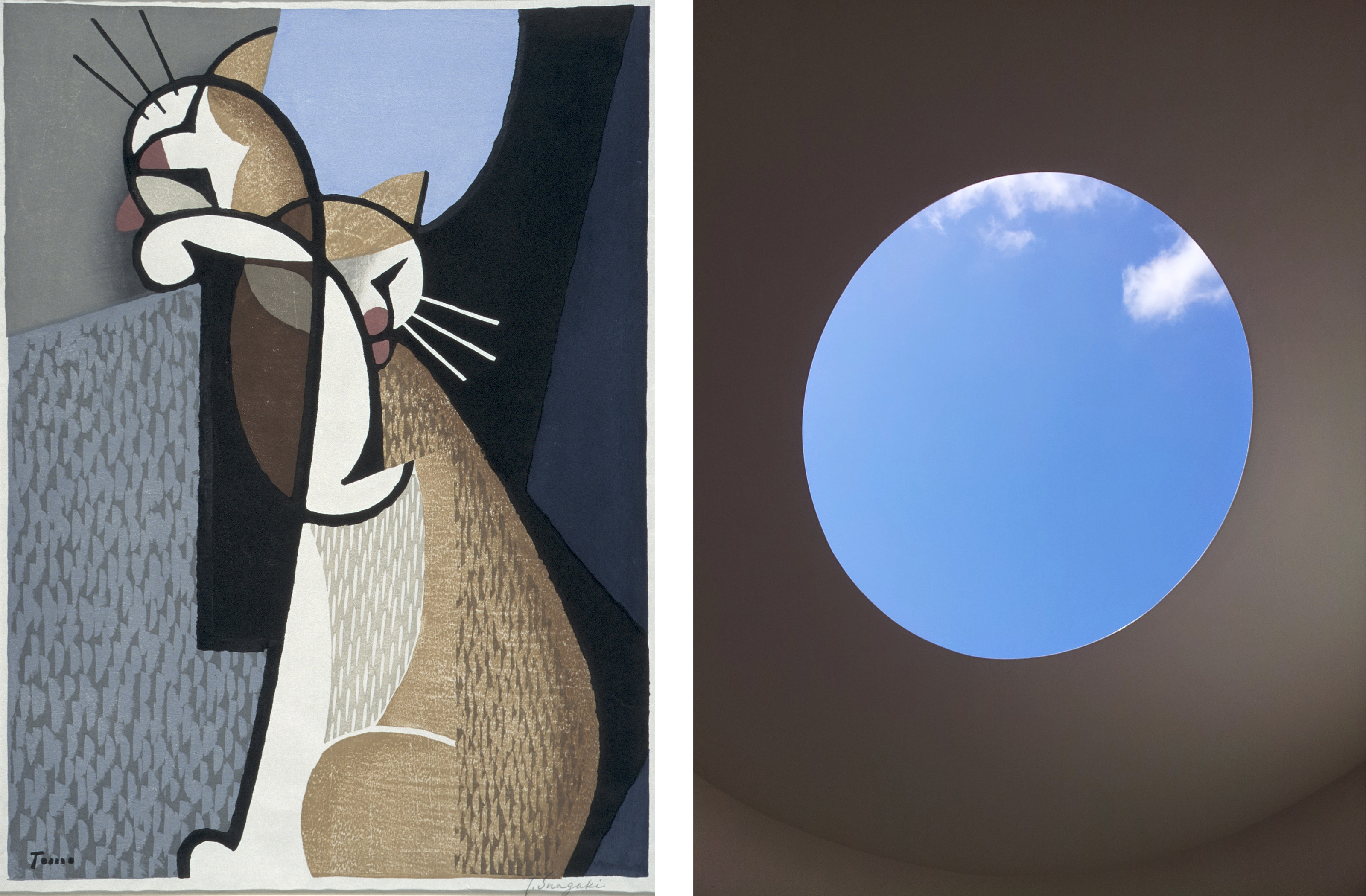 He then mentioned the light blue circle in the background reminded him of something we had both seen before—artist James Turrell's The Color Inside in Austin, Texas. He was right! I immediately recognized the similarity after he called it.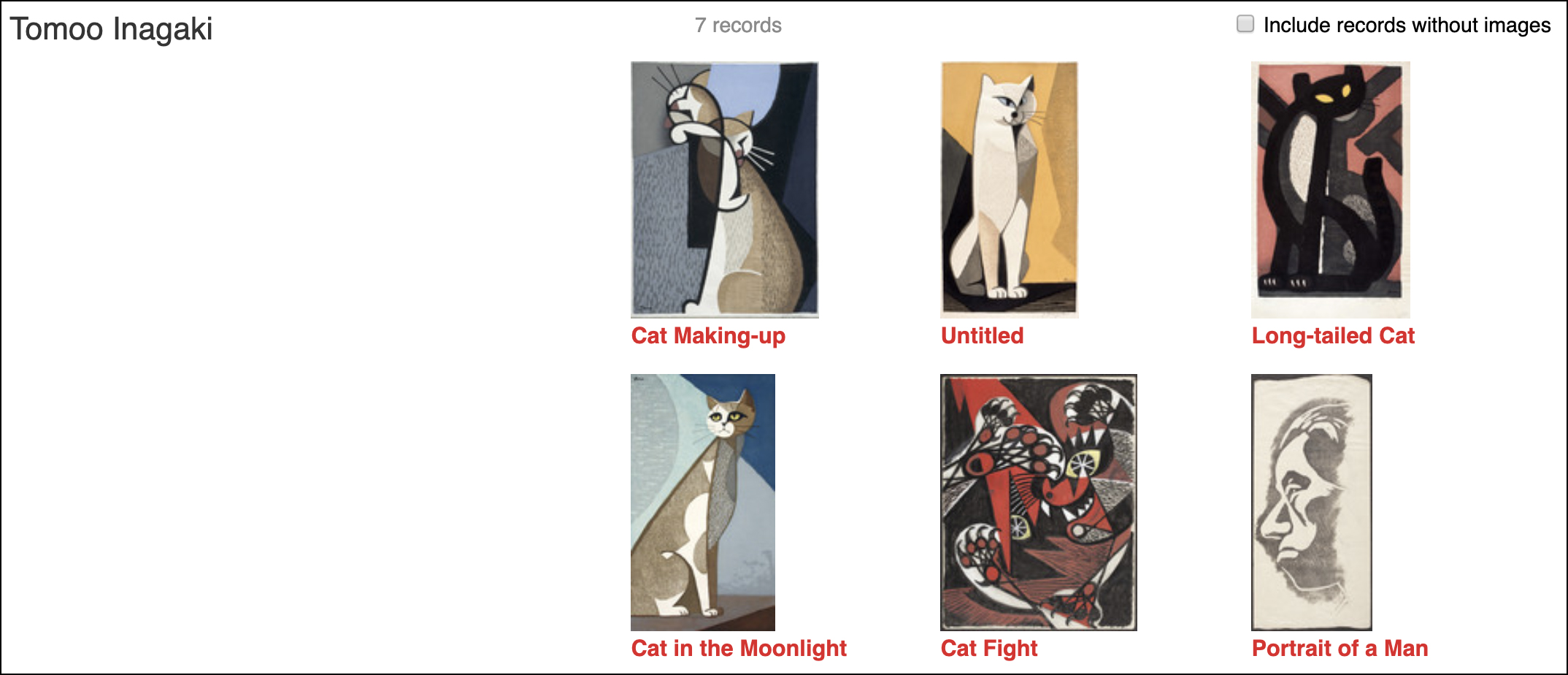 Lastly, out of curiosity, we clicked on the artist's name to see what other works Inagaki Tomoo has in the collection. What we did not expect was discovering four other works portraying felines by the same artist, and in four very distinct styles. What a fascinating discovery!
Different from visiting museum galleries in person, touring the database online offers a unique opportunity for us to summon, mine, and view the collection through customized lenses.
Ready to dive into LACMA's collection to find inspiration and uncover your own connection to works of art? Visit LACMA's online collection.
Share your discoveries with us at educate@lacma.org or tag us (@lacma) on social media. We would love to hear from you.