In January of 2020, shortly after the public opening of the exhibition Rufino Tamayo: Experimentation and Innovation, LACMA mounted the exhibition's first program at the Charles White Elementary Gallery: TamaYoga. At first glance one might assume that yoga would be the focus, but what is not immediately apparent is that this was a participatory artwork, with social implications and an embodied learning process, designed by the Los Angeles-based, interdisciplinary artist Teresa Flores whose work examines identity and wellness and includes drawing, video, and social practices.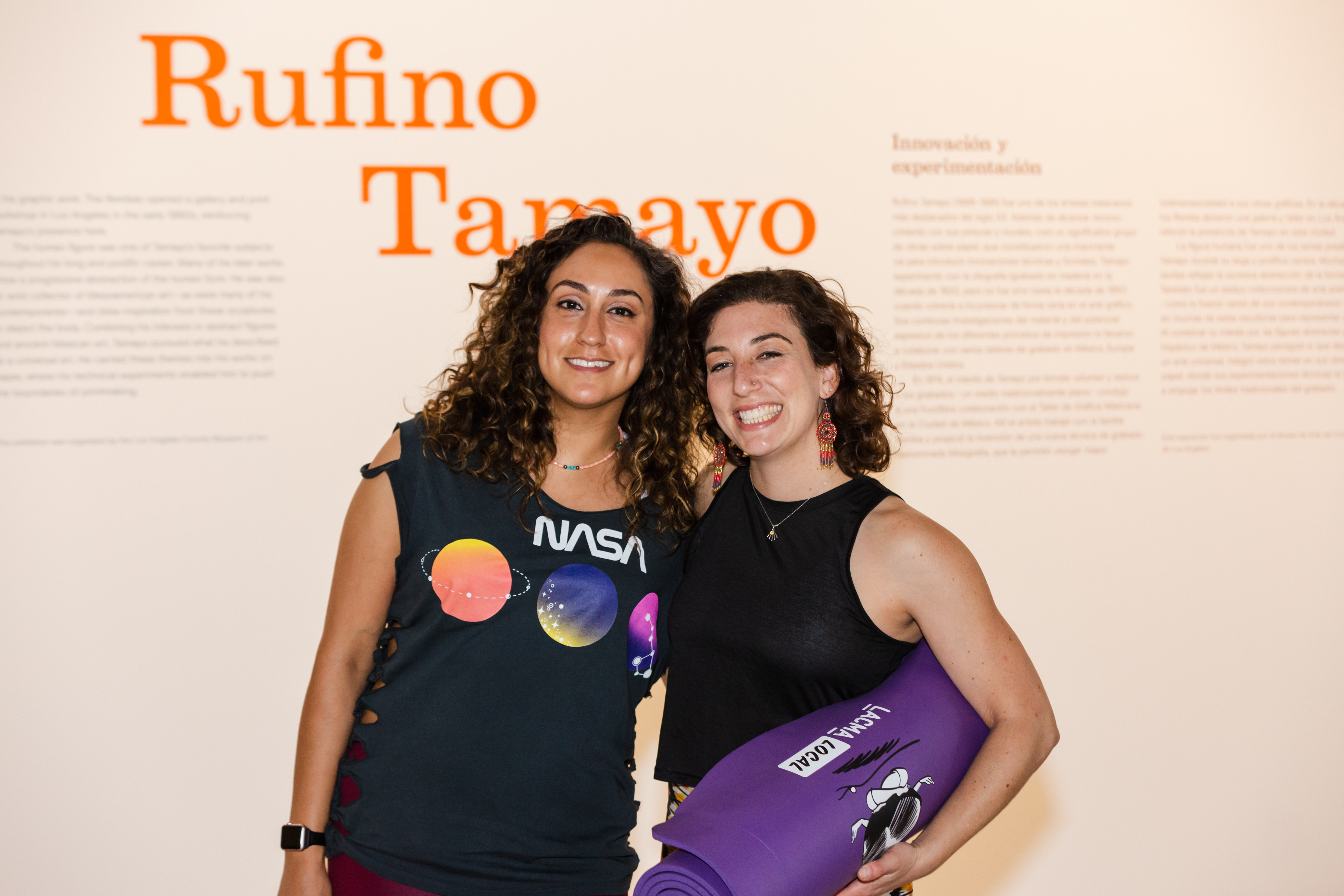 Tamayo used the figure to connect body, spirit, and land. Flores believes that weaving Tamayo's practice into yoga is a way for people to experience his work in a deeper, physical way. Flores's response is to use a "framework" of yoga to challenge how westernized forms of yoga have evolved into a practice only for the few, whereas her audiences are diverse in age, ethnicity, and social backgrounds.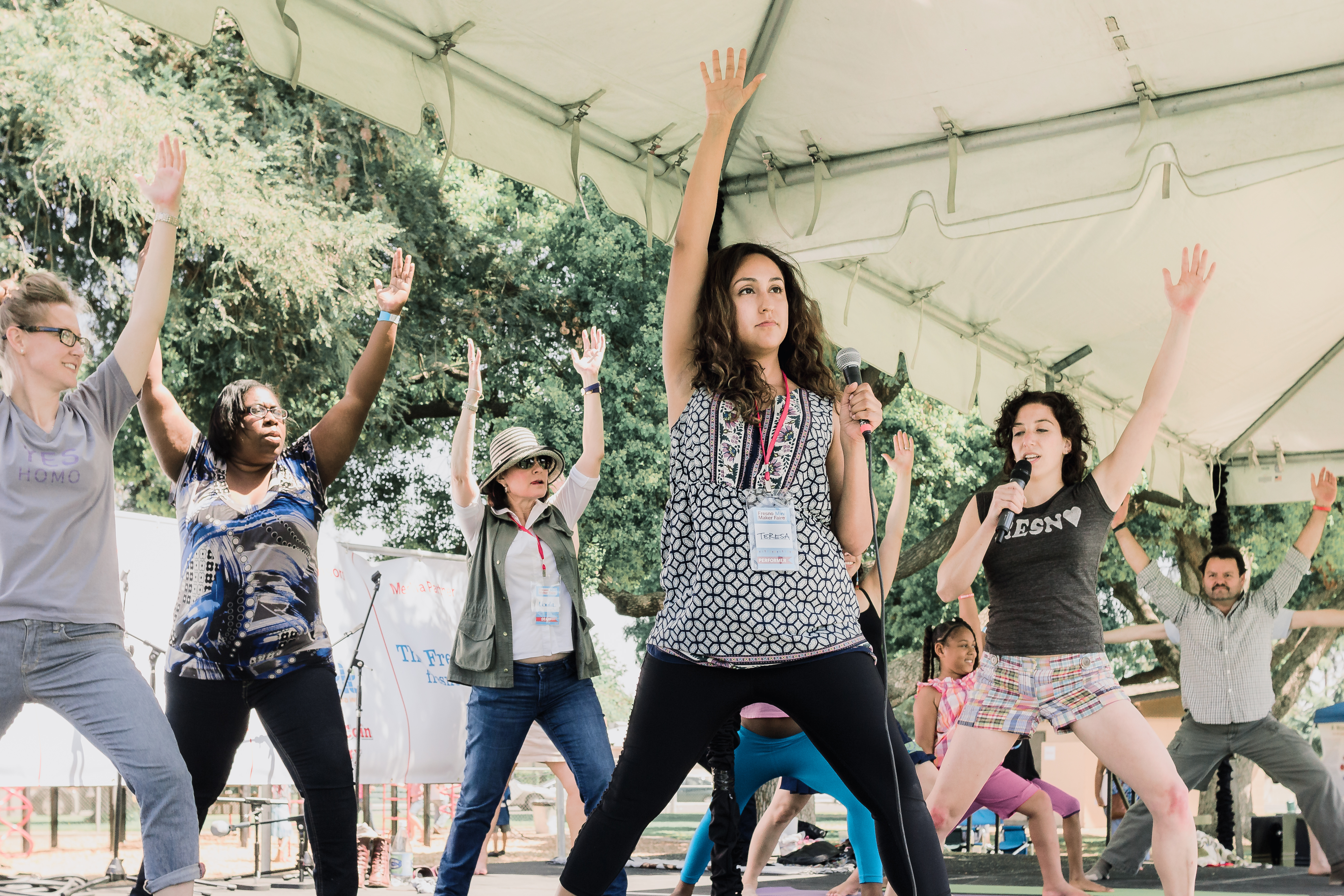 Flores's first project, FresnYoga, was designed for people in and from the Central Valley, to connect mind and body through a localized, accessible interpretation of yoga. It was a response to the elite yoga culture she had encountered in Los Angeles as a graduate student at Otis College. She created a sequence of yoga moves inspired by the issues, history, and landscape of her hometown, Fresno, California. Flores co-navigates sessions with her collaborator, Rebecca Plevin, immigration reporter for the Desert Sun newspaper in Palm Springs, California and certified yoga instructor, as they narrate the mechanics and motions of each uniquely named pose and the politics and history behind it. Participants explored traditional yoga moves renamed to resonate with issues from the working-class farm region of the Central Valley. Warrior poses are named after Cesar Chavez and Dolores Huerta, Civil Rights activists and co-founders of the United Farm Workers Union. Warrior three becomes a proposed bullet train fixed in place in a pose called "High Speed Rail." As they take the pose, yoga enthusiasts hear about California's decades long delayed high-speed rail that will connect the north to the south.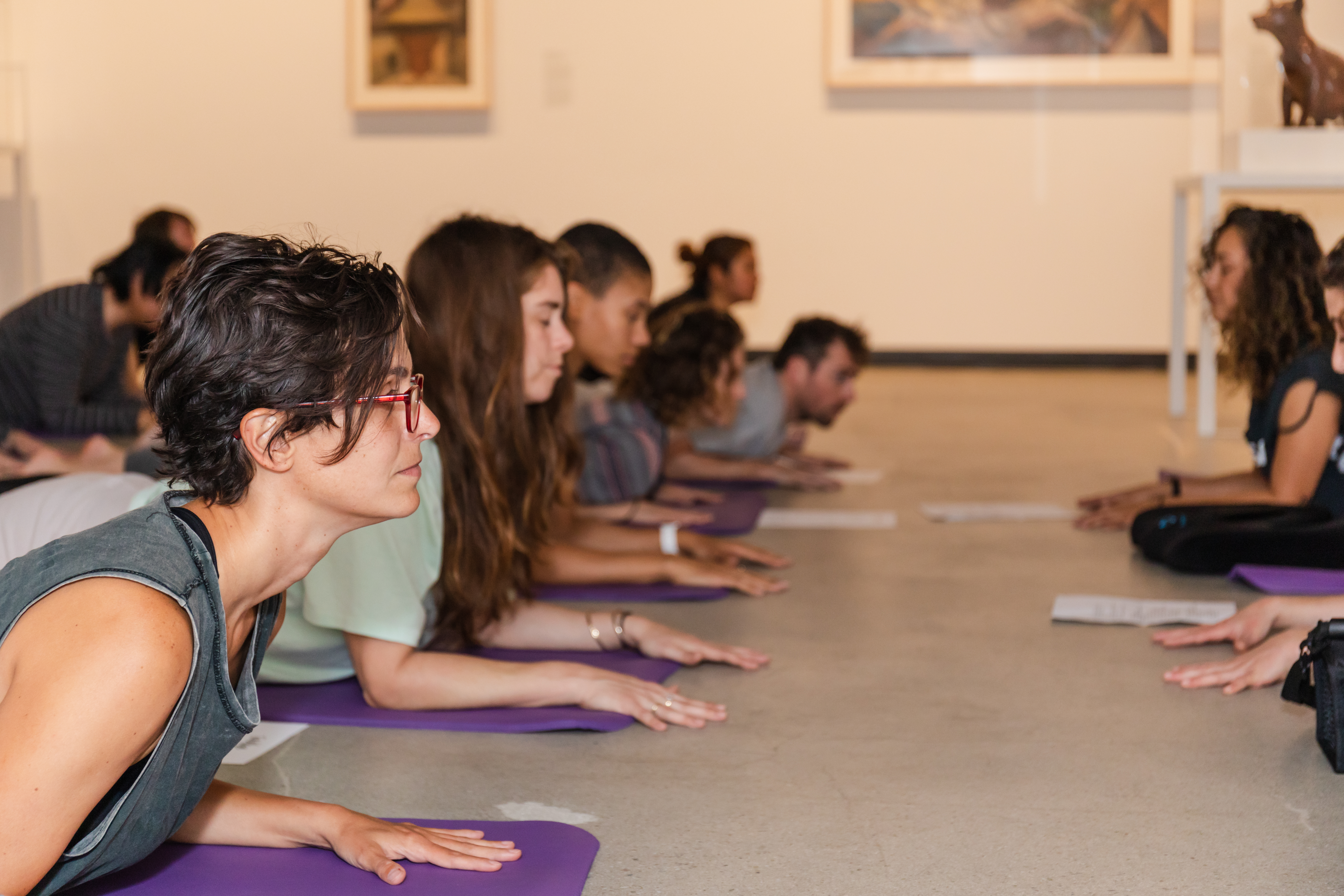 For LACMA, Flores was invited to adapt FresnYoga as a new work inspired by Rufino Tamayo, whose work on land and body in Mexico intersects generations later with Flores's Chicanx heritage and relationship to the vast farmland of the Central Valley. Tamayo, a leading Mexican artist of the 20th century, was known for his paintings, murals, and technical innovation in printmaking. One of his large-scale prints, Two Personages Attacked by Dogs, served as the backdrop of the yoga program held in the gallery in January 2020.
On June 20, at 10 am (PDT), we are offering a live virtual presentation of this program and hope you will join us for more TamaYoga. RSVP required.
A limited-edition silkscreen poster is available for purchase through the LACMA Store. The poster is a significant component of Flores's practice, emphasizing ways to make art and wellness accessible so viewers can continue to practice at home. While social practice is typically done for social good, we must remember to always honor the time and work artists put into developing the project and their need for sustainability as well.