American and European Art scholar and Professor of Art History at Purchase College Paul Kaplan was scheduled to speak at LACMA this summer following the release of his newly published book Contraband Guides: Race, Transatlantic Culture, and the Arts in the Civil War Era, but the planned talk was canceled due to COVID-19. The following text is adapted from Kaplan's book and contextualizes the Black figures in Emanuel Gottlieb Leutze's painting in LACMA's collection, Mrs. Schuyler Burning Her Wheat Fields on the Approach of the British (1852).
The German American painter Emanuel Leutze (1816–1868) is a familiar figure in American art thanks to his famous Washington Crossing the Delaware (1851), but the overexposure of that huge canvas has in a way obscured some fascinating features of his profile as an artist. While his style was relatively conventional, developing out of late Romantic history painting, Leutze was affiliated with progressive politics, both in Germany and the U.S. (His career truly spanned both regions: he was born in Germany but came of age in America, and then returned to Germany for advanced artistic training and the first part of his active career, though nearly all of his pictures were made for an American audience.) Like many white American artists around 1850, he was drawn to the representation of African American figures, but Leutze's are less stereotypical than many of his contemporaries and more caught up in action, sometimes even revolutionary action. For example, in Washington Crossing the Delaware, a Black oarsman sits just below the general himself, in a uniform similar to that of Washington and his officers, part of a courageous crew moving implacably across the river.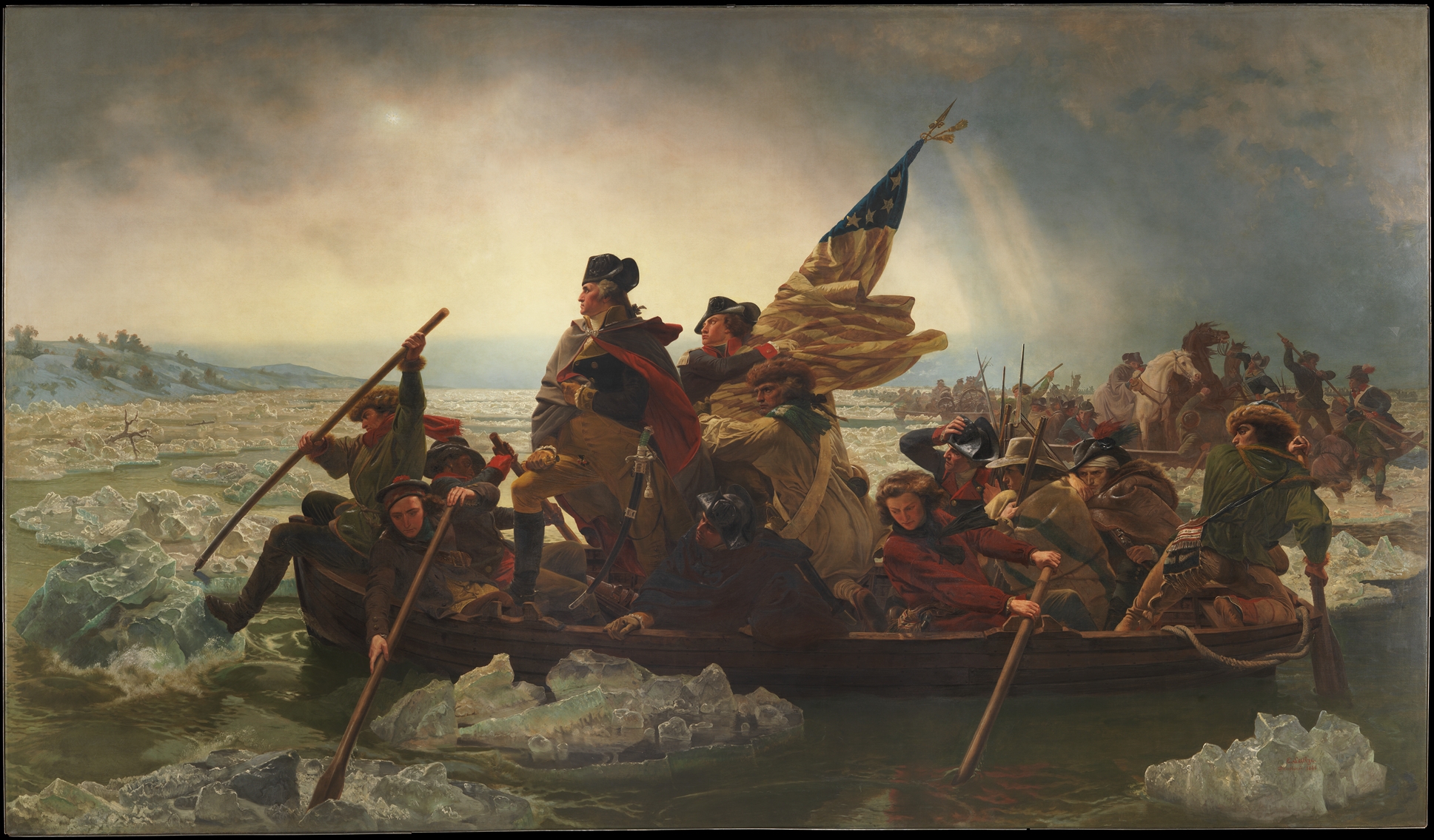 The very next year, in 1852, Leutze painted LACMA's Mrs. Schuyler Burning Her Wheat Fields, which takes up a previously unillustrated Revolutionary War story that would have been accessible to the artist in a widely read 1848 book by Elizabeth F. Ellet, The Women of the American Revolution.¹ This feminist publication was one of the first of its kind, and Leutze's interest in it demonstrates his more inclusive view of who had been a patriot during the Revolution. Ellet's account of Catherine Van Rensselaer Schuyler's heroic act seems to be the first instance of this episode appearing in print; she probably found the story in an 1846 letter written by Schuyler's youngest daughter, Catherine Van Rensselaer Schuyler Cochrane (1781–1857).² According to both sources, late in 1777, Gen. Philip Schuyler asked his wife to set fire to the crops on their estate near Saratoga in order to deny provisions to the advancing British army. Both accounts are extremely brief, and neither mentions an African American or indeed any other person assisting Mrs. Schuyler, though Ellet's version describes General Schuyler asking his wife to encourage "his tenants, and others" to burn their crops as well. (Modern historians doubt that this event occurred at all, but no one in Leutze's day raised any question about it.³)
Leutze often chose his historical subjects, and there are reasons to think he picked this one on his own. He had designed an engraving for an 1847 collection of the poetry of William Cullen Bryant, which shows the Old Testament heroine Rizpah holding a burning brand.⁴ In choosing this new subject, Leutze was affirming the presence of women of action among the patriots. His choice may have been encouraged by the rapid growth of the American women's rights movement between 1848 and 1851. Catherine Schuyler wears the national colors of red, white, and blue, and it is worth emphasizing that Catherine and a young woman who looks to be one of her older children are the figures who set the wheat alight, while the only mature man in the foreground seems more alarmed by the imminent arrival of the enemy. Catherine Schuyler is assisted by an African American youth who holds the candle from which the wheat has been lit. This kneeling adolescent boy, who looks at the burning wheat rather than the matron towering above him, is also costumed in patriotic colors, with a red shirt and dark blue pants that are partly illuminated by his white candle. At the far right we can see the packed-up coach that will convey the foreground group away from the estate as soon as the deed is done, and the horses are being hitched up by an African American man, wearing a straw hat. This hat is similar to one worn by a Black youth in another Leutze picture of 1852, Washington as Surveyor, which shows a very young George setting off into the Virginia wilderness.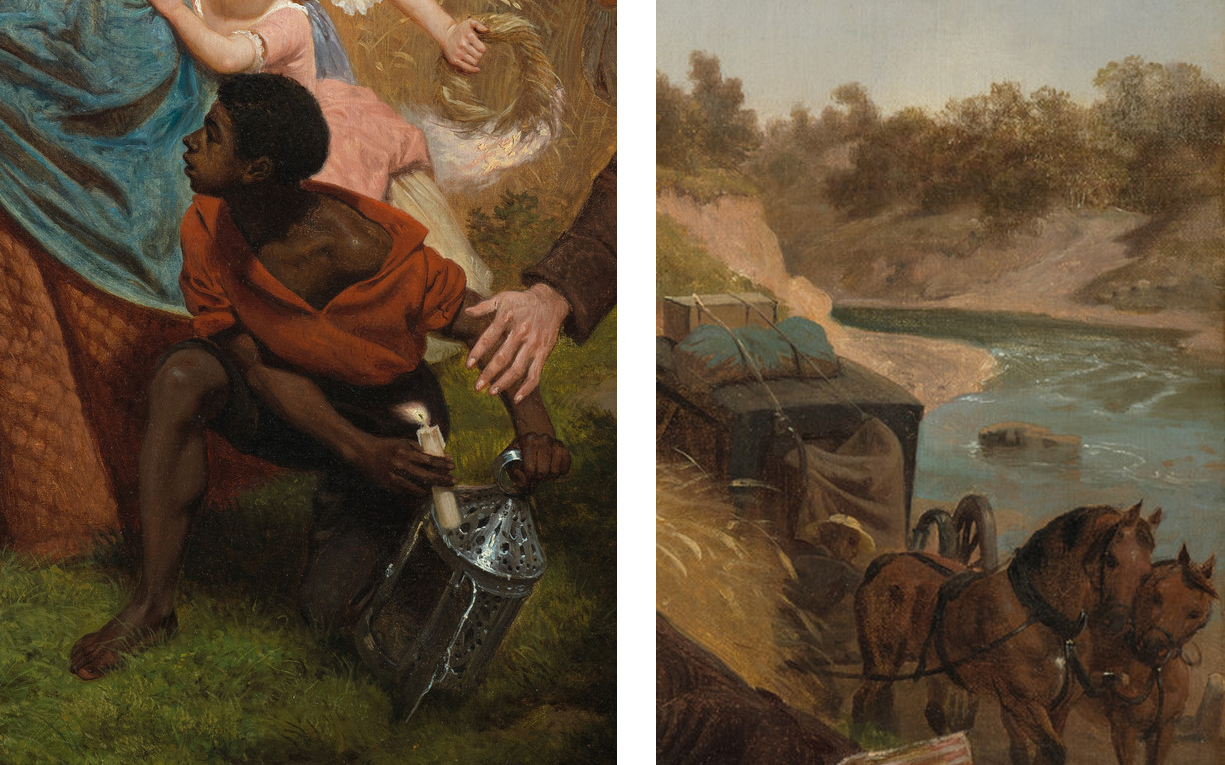 Since no textual source specified the presence of African Americans assisting Mrs. Schuyler, Leutze's inclusion of these two figures requires some explanation. It is certainly true that Philip Schuyler owned slaves—10 are recorded in 1776, and 14 in 1787—but it is not likely that Leutze would have known this.⁵ The upstate New York setting of the event would not have suggested the automatic presence of African Americans in a rural environment. Leutze clearly liked contrasting the boy's dark skin with the white candle and bright flame. But this would not explain the inclusion of the teamster at the right. Rather, Leutze seems emboldened here to assign a still subordinate but far more conspicuous role to African Americans in revolutionary activity than he had in the Crossing. Neither the boy nor Catherine Schuyler herself are soldiers, but they both hold a potent weapon in these particular circumstances. Moreover, the burning of crops and the houses of masters was a feared aspect of slave rebellions. For this reason, perhaps, Leutze rather hems in the youth in compositional terms, so that it is clear he is acting in concert with the white figures. This same caution may also account for his kneeling pose and not quite full-grown stature, which bring to mind the older European tradition of paintings of Black children attending on white mistresses. It may also be relevant that the women's rights movement that brought this subject to the fore was also closely tied to abolitionism, and that African American men and women had a significant presence at the conventions that advanced the movement's agenda in 1848–1851.
Leutze is described as already at work on this picture in a newspaper piece of February 7, 1852, but this notice does not mention a prospective buyer.⁶ The earliest known owner (as of January 1856) was Charles M. Leupp, an extremely wealthy New York leather dealer and financier who possessed an extensive art collection. Leupp contributed to the costs of a Washington statue in his city. His personal political views are not well known, but he was a close friend of the poet and progressive newspaper editor William Cullen Bryant, with whom he had travelled in Europe three times in the 1840s and 1850s. Bryant had a long-standing interest in visual art, and Bryant and Leupp visited Leutze's studio in Düsseldorf, Germany in 1845. Leutze then provided illustrations for an edition of Bryant's poems in 1847, including the Rizpah mentioned above, and at some point Leutze also made a portrait of Leupp.⁷
Leupp's interest in this particular subject of Leutze's may also have had something to do with the taste of his mother-in-law, Isabella Williamson Lee. Lee was the wife of Gideon Lee, the mayor of New York City in the 1830s, and she and her husband had moved upstate to Geneva, NY shortly before his death in 1841. Leupp and Isabella Lee were avid collectors of genre paintings by William Sidney Mount which featured prominent (though somewhat stereotyped) African American characters, including the widely-known Power of Music and Banjo Player.⁸ Lee, one imagines, would have been attracted to Leutze's picture of another woman living alone on a large property in upstate New York. Leupp's large collection of paintings and prints, by his death in 1859, reveals a special fascination with African Americans, split almost equally between genre compositions (scenes of everyday life) and historical subjects (he owned an engraving of Leutze's Washington Crossing the Delaware as well).⁹
Leutze had painted Mrs. Schuyler during a relatively short interlude in America, but he soon returned to Düsseldorf for several years. However, in 1859 he was back in the U.S., where he mostly remained for the last decade of his life. In late 1862 he completed his largest work, Westward the Course of Empire Takes Its Way, a mural for the stairwell of the Senate side of the U.S. Capitol. This was to be a scene of pioneers on their way to the frontier, a triumphant image of the country's hegemony over the continent. At the very last minute, however, the procession of white settlers was supplemented with a young African American man, front and center, probably as an acknowledgment of Lincoln's Emancipation Proclamation, which had been announced in September. In 1865 Leutze painted a memorial portrait of Lincoln orating, with several Black figures in his audience, and at the time of his death in 1868, Leutze was working on another huge composition (perhaps for the Capitol) on the theme of Emancipation itself, which was to have had many African American characters. The Black figures in Mrs. Schuyler must be understood as part of a deeply rooted thread in the overall fabric of Leutze's art.
¹ Los Angeles County Museum of Art; Michael Quick, "A Bicentennial Gift: 'Mrs. Schuyler Burning Her Wheat Fields on the Approach of the British' by Emanuel Leutze," Los Angeles County Museum of Art Bulletin 23 (1977): 26–36; Heidrun Irre, "Amerikanische Geschichte in Emanuel Leutzes Historiengemälden," Einhorn Jahrbuch (2012): 231–44; 239–240. Ellet: 3 vols. (New York, Baker and Scribner, 1848–50), 1:60.
² Katherine Schuyler Baxter, A Godchild of Washington (London: F. Tennyson Neely, 1897), 395.
³ Don R. Gerlach, Proud Patriot: Philip Schuyler and the War of Independence, 1775–1783 (Syracuse: Syracuse University Press, 1987), 281–283; Quick, "A Bicentennial Gift," 29.
⁴ Quick, "A Bicentennial Gift," 33; William Cullen Bryant, Poems (Philadelphia: Carey and Hart, 1847), between 74 and 75.
⁵ Gerlach, Proud Patriot, 3–4, 526, n. 8.
⁶ "The Fine Arts," The New York Herald, 3.
⁷ "Our Private Collections," no. IV, The Crayon 3 (Jan. 1856): 186; Frederick Baekeland, "Collectors of American Painting, 1813 to 1913," American Art Review 3 (Nov.–Dec. 1976): 120–166; James T. Callow, "American Art in the Collection of Charles M. Leupp," The Magazine Antiques 118 (Nov. 1980): 998-1009; William Cullen Bryant, Letters of William Cullen Bryant, ed. by William Cullen Bryant II and Thomas G. Voss, 5 vols. (New York: Fordham University Press, 1984), 2:261, 287, 291, 300–301, 401, 409. On the Leutze portrait of Leupp, see Baekeland, "Collectors of American Painting," 164, n. 34; reproduced in Catalogue of Portraits in the Chamber of Commerce of the State of New York (New York: Chamber of Commerce of the State of New York, 1924), 65, no. 211.
⁸ L., "Sketch of the Life and Character of the Late Gideon Lee," The Merchants' Magazine and Commercial Review 8 (1843): 57–64, 60; David Cassedy and Gail Schrott, William Sidney Mount: Works in the Collections of the Museum at Stony Brook (Stony Brook, N.Y.: Museums at Stony Brook, 1983), 65.
⁹ Charles M. Leupp, Catalogue of Valuable Paintings and Engravings, Being the Entire Gallery of the Late Charles M. Leupp, Esq., amongst Which Are the Works of . . . . Leutze . . . (New York: Hall, Clayton & Co., printers, 1860), esp. 3 (cat. 23), 6 (cat. 51), 8 (cat. 78), 11–12, 18, 23; New York Tribune, Nov. 14, 1860, 8; Thomas S. Cummings, Historic Annals of the National Academy of Design (Philadelphia: G. W. Childs, 1865), 276–79. In addition to The Power of Music (owned by Lee, but Leupp had an engraving of it) and The Banjo Player (described in the catalogue as a "picture purely American"), Leupp also owned Mount's Dance of the Haymakers, and a print of his Haymakers Nooning, both with African American characters; Cassedy and Schrott, William Sidney Mount, 52–53, 64–67, 72–73; Franklin Kelly, "Mount's Patrons," in Deborah J. Johnson et al, William Sidney Mount; Painter of American Life (New York: American Federation of Arts, 1998), 121–22; Karen M. Adams, "The Black Image in the Paintings of William Sidney Mount," American Art Journal 7, no. 2 (1975): 42–59.