The year 2020 started out with a strange feeling here in Los Angeles. Just a few weeks in, hometown hero Kobe Bryant and his daughter died tragically on an eerily gloomy day. We all know what happened from there: the winter and spring brought the jarring global pandemic that we now all face as our current reality. In a world with so much pain and struggle, Alex Prager: Farewell, Work Holiday Parties (on view at LACMA through January 3, 2021) encompasses the phrase, "laughing to keep from crying."
Approaching the work from any direction, the visitor gets the distinct sense that there are a lot of people around. It is strange to see a group gathered without masks, standing very close to one another and even touching as they pose for a picture. You quickly realize the plaza before you is not full of people; it is a tableau made of lifelike sculptures and props depicting an office party bordering on absurdity. Like Alex Prager's photographs, the characters are frozen into detailed, fantastical (pre-pandemic) scenarios. The most absurd thing of all is the eerily real feeling about the sculptures. They are so lifelike that it seems as if one might move at any moment—or that they are looking directly at you.
This new world has necessitated new approaches to making art and engaging audiences, and this type of life sculptural work is a new element in Prager's practice. Based in Los Angeles, the artist has been working in performance, photography, and film for years (and a keen eye may even notice a nod to one of her past works under the Christmas tree). This piece came about when Miller Lite approached Prager to make artwork that could be featured in a holiday commercial. Speaking about the inception of the work, Prager said, "It's rare that a project like this comes my way. I have been experimenting with sculpture in my work for years. Miller Lite and DDB trusted me to make 15 life sculptures with complete creative autonomy." The result of this collaboration with Miller Lite is a piece that enlisted Hollywood special effects, techniques of photography, and Prager's signature way of blurring the lines between reality and fantasy. The curators welcomed the opportunity to recontextualize these impressive new works by Prager and the hyperreal sculptures now have a new life beyond the advertisement as artworks for this outdoor installation.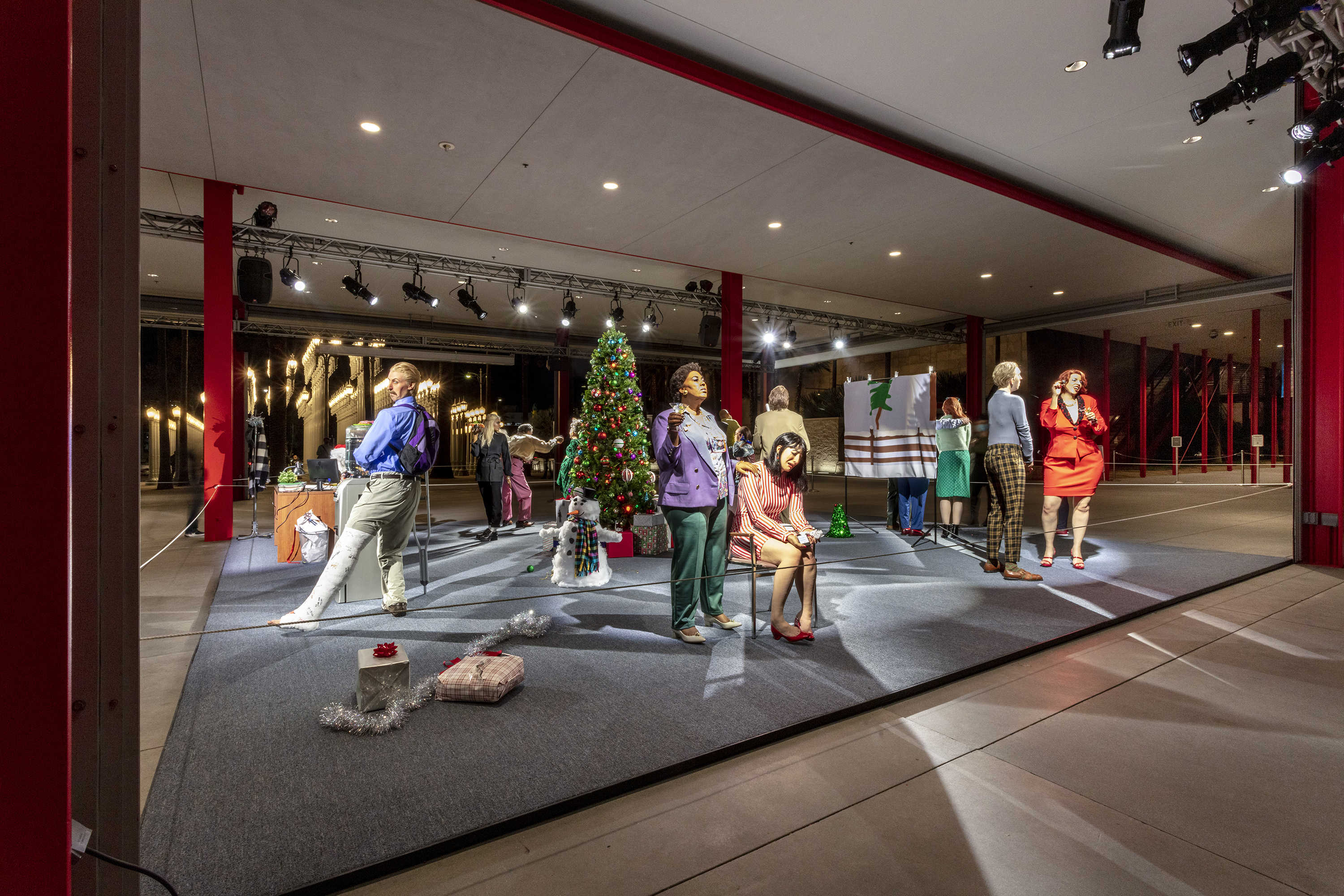 Beginning at the designated entrance on the northern perimeter, it is a hilarious scene. Lexi Lane is wearing candy cane stripes, but she is not having a sweet night. The hyperreal sculpture sits in a chair, shoulders slumped down with mascara-streamed tears running down her face. Prager used models for the hands and feet of each sculpture, and the result is strangely real. Lexi Lane's feet have the faintest indication of varicose veins. In her hand, an old iPhone shows that someone has dumped her with a thumbs-up emoji on a text message. How many of us can remember ourselves in tears this year? At a moment when there has been a whole lot to cry about for many serious reasons, seeing someone do it so openly makes you laugh. The Lexi Lane sculpture is a 2020 "mood"—it speaks to the viewer in a way that represents a spirit of the time. It is one of the many moods we can find in the work.
Bonnie "Birdie" King is by Lexi's side with a helping hand on her shoulder. You can see Birdie as that woman holding us all down as we are collectively suffering. But in the artist's brochure accompanying the artwork—written in collaboration with Mercedes Helnwein—we learn that Birdie is at the party primarily for the catering, and I can't help but laugh at this as well. The Smidt Welcome Plaza is the usual location of LACMA's beloved annual staff holiday party... and who could forget the legendary mashed potato bar?
Speaking of catering, looking past Lexi Lane and Birdie King, there is a character dressed in all black holding up a tray of shrimp. I see this sculpture as Prager's 2020 nod to the classic Hollywood blonde found in other parts of the artist's oeuvre. Turning around to give a stare, the blonde sculpture depicts a server carrying a tray at the center of the artwork, near the decorated tree. This sculpture, Rebecca Bagga, stands out in a startled stance from all four directions. For me, she is the north star—the axis around which I have come to view the work. But back to that in a moment.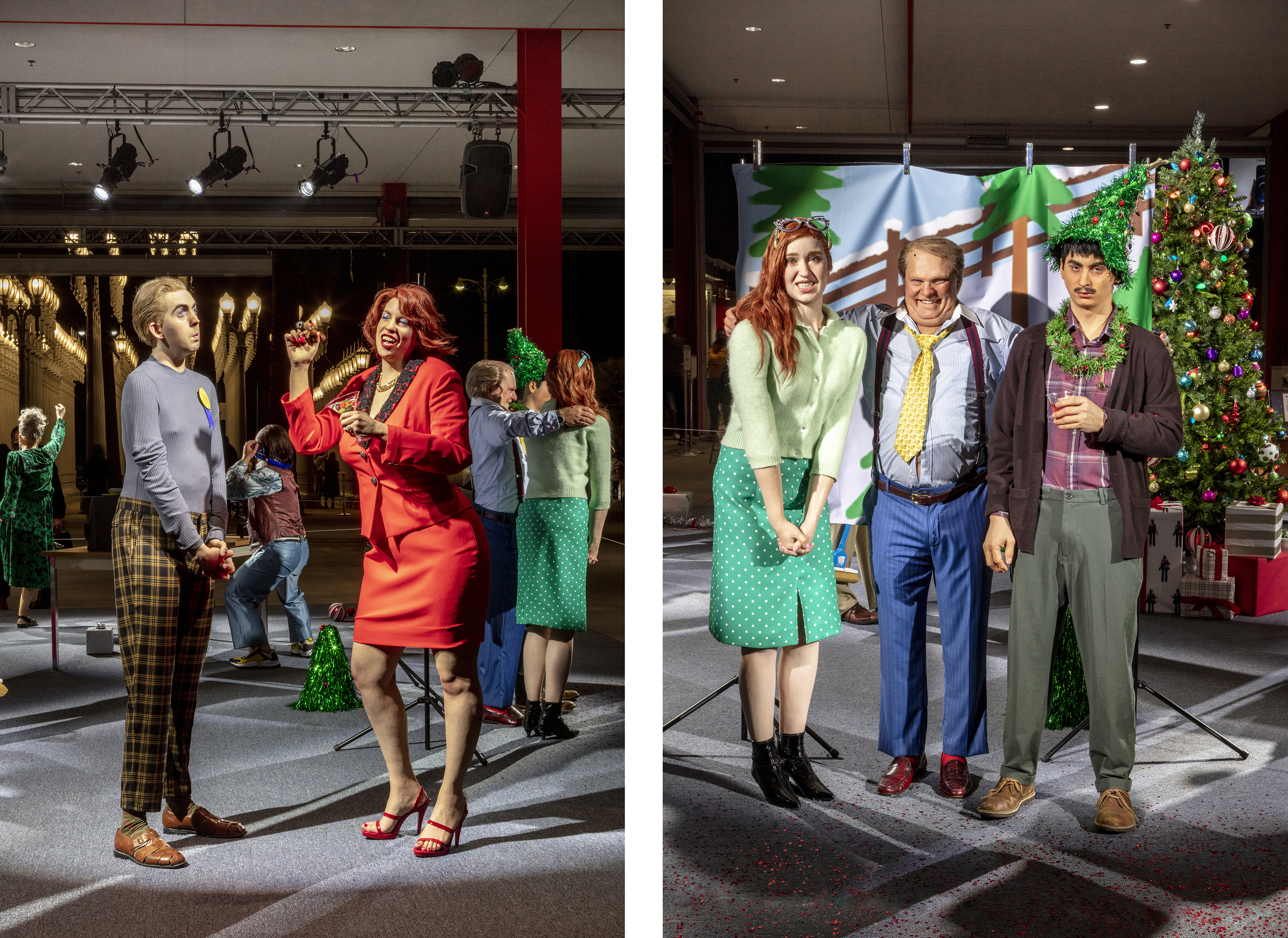 Rounding the artwork, we pass by the over-the-top CEO and eager Employee of the Month to another 2020 mood. There are three people posed for a photo in front of a cheesy backdrop and, in the absence of a photographer, we are the ones at the vantage point to take a picture. On the right hand side of the trio is Roberto Alvarez. His face says it all. Roberto may have on a shimmery Christmas tree hat but he is not feeling the holiday spirit. He is over it all. His expression is one that encompasses so many collective feelings about the events of 2020. Each of the silicone sculptures have glass eyes, giving them an eerily lifelike look. Looking at the hilarious expression on the face of the Roberto sculpture, it almost seems as though he is catching your eye.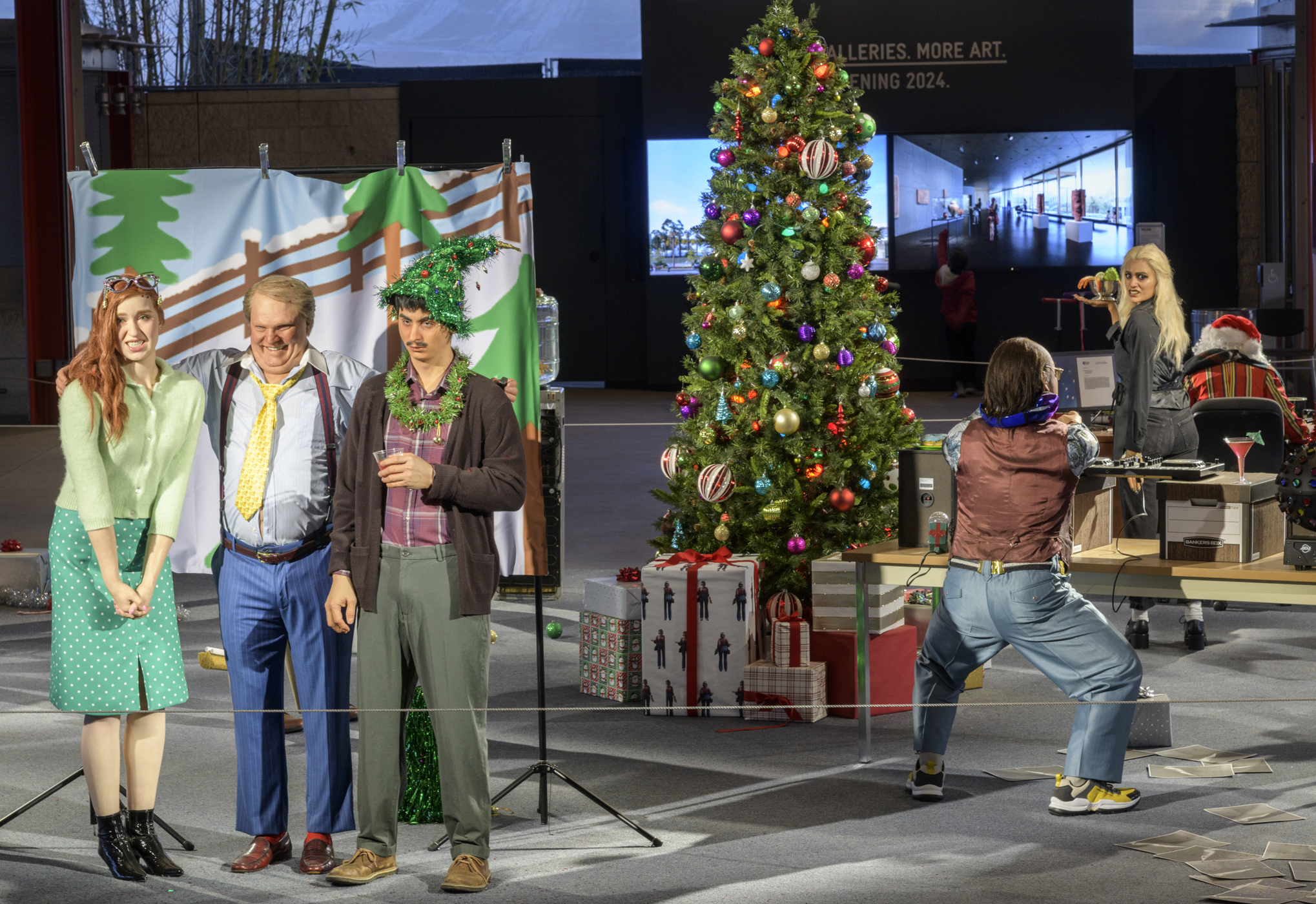 Over his shoulder the blonde server comes back into view. From there, it appears as though the eyes of Rebecca Bagga follow you for most of the western perimeter of the work. The face looks back with dramatic eye makeup in a state of surprise and disgust. If you were looking at a DJ telling you to "shake a leg" while a man photocopies his butt nearby, you'd probably look horrified too. The eyes of this sculpture pierce you as if she is looking back into the future—to our present where we stand with face coverings seeing an outdoor installation borne of a pandemic.
The tableau may remind visitors of TV shows and pop culture references to humorous office scenarios. After passing by copies of a backside that are dusted with holiday confetti, we reach the southern side closest to Urban Light. This vantage point brings yet another 2020 mood to light. Joan Black is letting loose. Never mind that Mickey Mancini, with his polyester pants and open shirt, is about to spill his drink on her. Joan is holding up her cup, showing off just a little too much leg and is dancing her troubles away. Prager used her own mother's hands and feet as the model for the Joan sculpture, but the face, complete with slightly-too-light makeup, is a character. This sculpture reminds me that another mood or mode of this year is determination to live in the moment and enjoy life despite it all.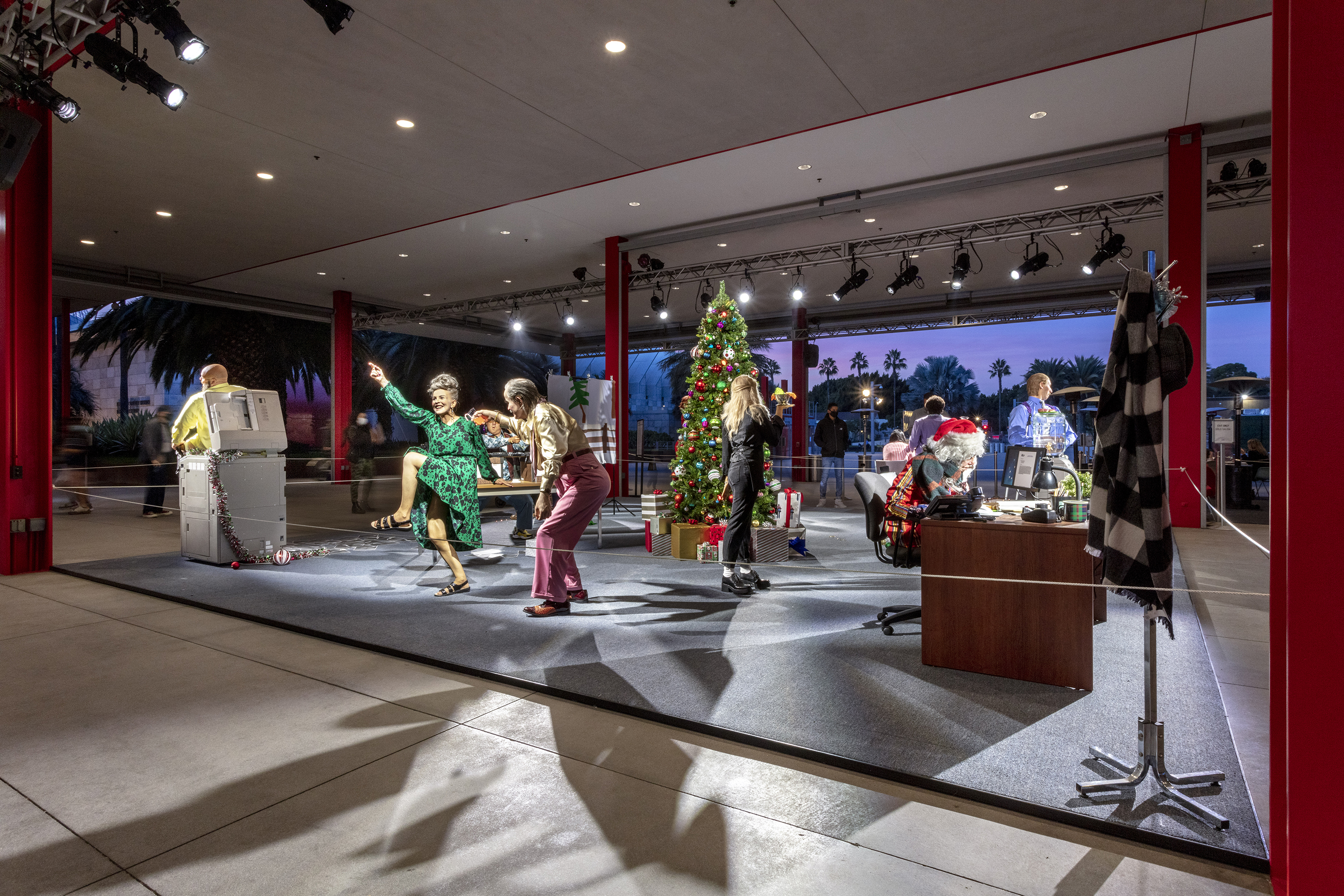 The fourth and final side completes the comedic scene. Wilma, a woman with gray hair, wears a Santa hat with a white wig. She is asleep with her head in her hand at her desk where we see a very realistic grilled cheese sandwich forgotten in her slumber. On the other side, Todd wears a cast on his left leg and seems to have just placed a goldfish in the water cooler. Although it is across the way, this may also be the first time the viewer notices the sales executive Simon who is asleep on his feet with a broom in hand. And again from this side, we see Rebecca Bagga.
We learn in the brochure that Rebecca is the artist in the room. The character has taken dance classes her whole life and is there working to support her dreams of being a star. Serving gigs like this were the bread and butter of many artists before the pandemic brought the hustle and bustle of Los Angeles, and the world, to a sudden, screeching halt in March of 2020. From where we stand as a visitor to Farewell, Work Holiday Parties, we know the pandemic has been especially hard on artists. Frozen in a pre-COVID past, I view Rebecca looking back into the future in a year when so many jobs, so many livelihoods, and so many lives have been lost.
The presence of these human-like sculptures on the plaza signals the absence of LACMA mainstays. We all miss Friday night Jazz at LACMA and the outdoor tables at Ray's and Stark Bar. This outdoor artwork is also a reminder of the incredible exhibitions that grace the indoor galleries at this very moment, waiting to greet visitors when we can reopen our doors.
Alex Prager: Farewell, Work Holiday Parties is a welcome, humorous, and haunting presence. It allows the viewer to become immersed in comedic scenes and stare at some serious moods in the form of hyperreal sculptures. We hope to open our galleries safely in the new year and fully continue our mission to support artists and the arts. In the meantime, there is a stunning outdoor installation on the Smidt Welcome Plaza at LACMA. Come view the work in person or enjoy the installation from home through a self-guided 3D virtual rendering created by Matterport. However you experience the installation, we hope it brings visitors some much-needed laughter.
Please join us for an evening of art and storytelling on Saturday, December 19 at 7:30 pm with a StorySLAM co-produced with The Moth, the acclaimed storytelling non-profit. The theme for the night is "After-hours," inspired by Alex Prager: Farewell, Work Holiday Parties, on view at LACMA through January 3, 2021. Sign up as a storyteller for a chance to tell your tale on the virtual stage. Or purchase tickets to sit back, relax, and enjoy the show! Special guest artist Alex Prager will share the inspirations behind her artwork.