LACMA is deeply saddened by the passing of John Outterbridge (1933–2020), the groundbreaking Los Angeles artist known for his rich body of multi-media work addressing the legacy of slavery and racism in the United States. 
A self-proclaimed activist artist, Outterbridge was a crucial participant in the development of cultural organizations and art communities in Los Angeles. Born and raised in North Carolina, Outterbridge came to the West Coast in 1963 after studying at the American Academy of Art in Chicago, where he worked as a bus driver. As he learned more about the geography and cultural terrain of Los Angeles, his regional enthusiasm grew. Outterbridge soon became inspired by what he describes as the city's "assembled kind of culture," from the material residue of its aerospace industries to the innovative urban phenomenon of lowrider engineering. Outterbridge's art would eventually find a place in the tradition of assemblage associated with Californian art, especially from the 1960s onward.
After the Watts Rebellion of 1965, many African American artists—most notably Noah Purifoy—began to collect leftover urban debris and burnt offerings to use as art materials. Outterbridge was deeply informed by this transformation of the landscape into art and began to incorporate found objects in his sculptural practice. Purifoy's mentorship and Outterbridge's examination of everyday the realities of Watts as well as his roots in Southern vernacular culture would propel his art production for the following four decades. From 1975 to 1992 Outterbridge served as director of the Watts Towers Arts Center and as such was a mentor to many other Los Angeles–based artists.
"John Outterbridge translated his personal and cultural legacy into beautiful, powerful, and moving objects that speak to the Black experience in America—and Los Angeles in particular—in the 20th and 21st centuries," says Carol S. Eliel, senior curator of Modern Art at LACMA. "In addition to his stature as an artist, he was a generous human being; it felt like a gift to be in his presence."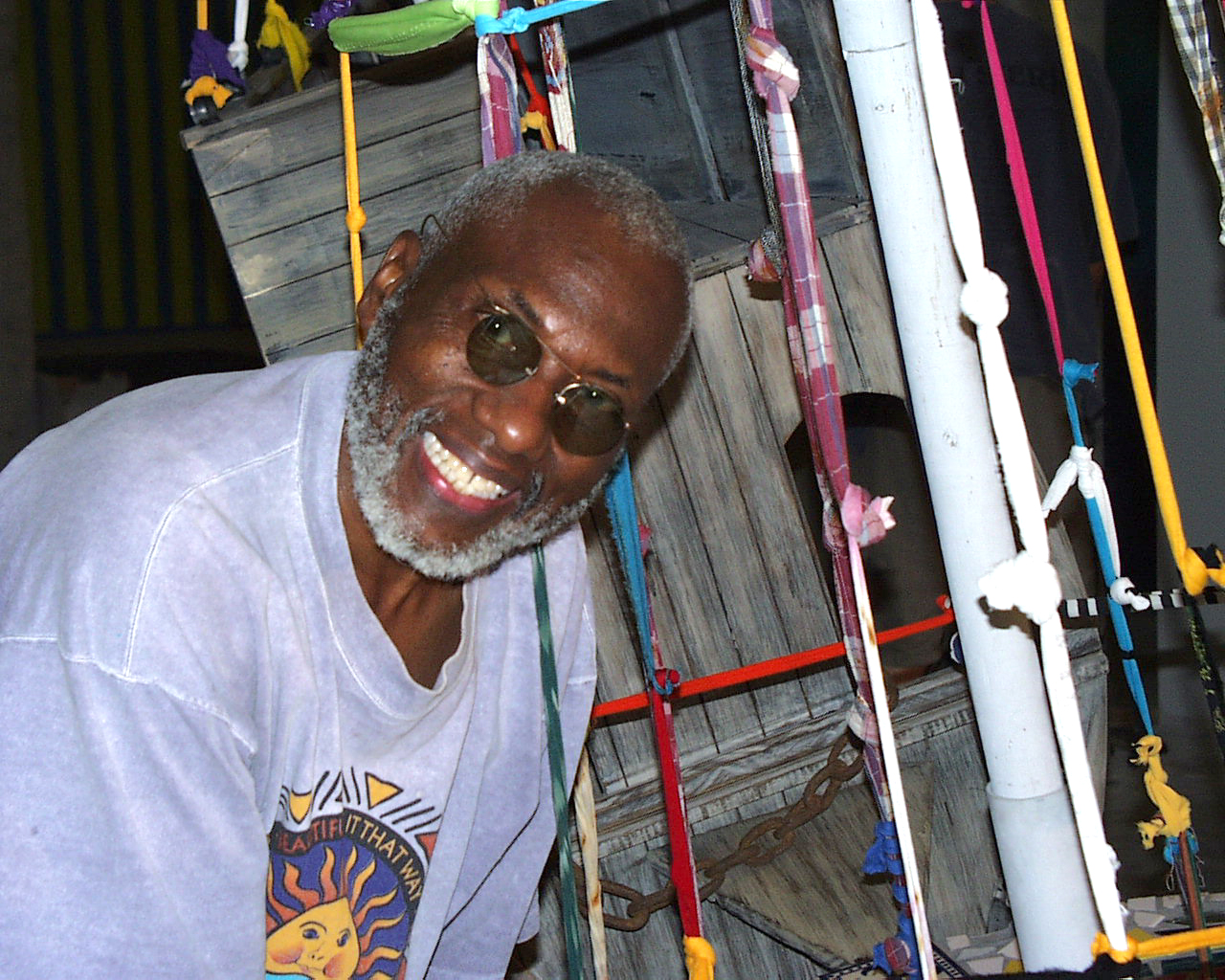 LACMA has a long history of showing Outterbridge's work, including in the 1972 exhibition Panorama. In 1976, LACMA hosted a panel with Betye Saar and Outterbridge held on the occasion of the major exhibition, Two Centuries of Black American Art. Outterbridge created an installation inspired by Simon Rodia's Watts Towers for Made in California: Now as part of LACMA's 2000–01 celebration of the millennium; in addition to being featured in Human Nature: Contemporary Art from the Collection in 2011, his work was on view at LACMA most recently in the 2018 exhibition Outliers and American Vanguard Art.
Outterbridge's Asafetida Yoke (2008) in LACMA's collection belongs to a series of mixed-media sculptures that are consistent with Outterbridge's main preoccupations: materiality and the ancestral. Asafetida refers to the herbal gummy substance used in medicinal pouches often proffered by elderly Southern women who served as healers. The sculpture comprises a wooden structure in the shape of a yoke, recalling the agrarian south of Outterbridge's youth. The asafetida bag is embedded in the yoke, and in this juxtaposition we sense the artist's indebtedness both to the animating energies of the African diaspora and to Surrealist collage.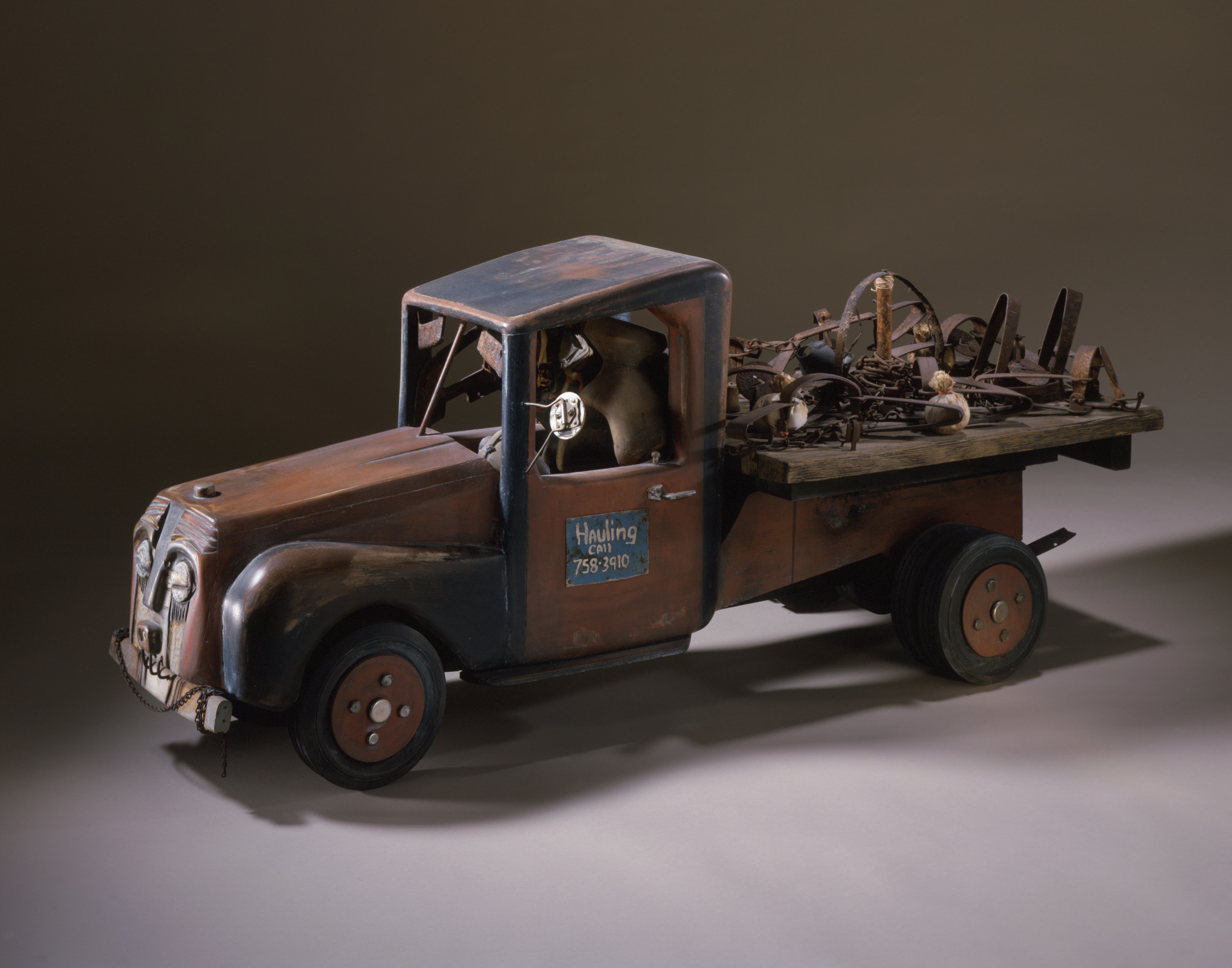 In 1999, LACMA acquired a particularly personal work in Outterbridge's oeuvre, John Ivery's Truck: Hauling Away the Traps and Saving the Yams (1993), which was on view in the exhibition SoCal: Southern California Art of the 1960s and 70s from LACMA's Collection (2007–08). This work, fashioned from wood and various found materials, represents the truck Outterbridge's father drove during the Great Depression.
When asked about specifics in his artworks that reflect the Southern California of the 1960s and 1970s, Outterbridge said, "I grew up in the South during the Depression, and the misfortune of being part of that period gave me the opportunity to move around the country as a young person. I always did assemblage because of my father—his back yard was beautiful. Rust became beautiful to me. Decay became beautiful. Then I came to California, in 1963, where my work was very much influenced by the car culture. This particular piece, John Ivery's Truck: Hauling Away Traps and Saving Yams, was in dedication to my father, and was part of a ritual to bless a new studio space. My father was a real likeable, sensible person who refused to work for anyone other than himself—something that was very difficult during the depression for an African American to do. But for a lot of the work he did, people would pay him with bushels of watermelons and yams, which he would carry in his truck. He did everything he could do through his truck! So I created this truck as part of my own ritual and as my way of saying 'I love you' to Pop."
These works play an essential role in the museum's ability to represent the importance of Black artists to the story of art in Southern California, in particular the tradition of assemblage. LACMA is grateful to be able to honor Outterbridge's memory by sharing his powerful art and message with the public.