The class was canceled abruptly. Students from the Spring 2020 Create+Collaborate session were notified in the afternoon of March 12 that the course had been canceled until further notice due to the COVID-19 pandemic. Everything changed very rapidly from then on and hasn't been the same since.
Create+Collaborate is a 10-session printmaking program designed to enrich the creative, social, and emotional needs of the older adult population. Since its beginnings in 2017, the program has partnered with different senior centers around Los Angeles focusing on participants aged 65 and older. The program has been generously funded by Aroha Philanthropies for the past four years.
As a teaching artist at LACMA for over 20 years, and having taught all age groups from five to 105, this class has had a very special place in my heart. I had been thinking about our older adult students and the possibility of bringing this class to them. How might we bring some joy from artmaking into their homes? After hours of planning, rethinking printmaking without a press at home, and capacitating participants in the use of Zoom, together with Director of Youth and Family Programs Karen Satzman and Senior Education Coordinator Pattie Esquivel, we were able to enroll 10 students who had internet access. The class went online on April 12, 2020.
Create+Collaborate was designed to help diminish the social isolation older adults often experience, through creating connections and building community around learning a new art skill. The cancellation of the program due to Safer at Home orders only intensified this isolation, so we knew we had to do something! During this time of isolation, connection became essential for those in this most vulnerable age group. As one student stated, "The regular class has many benefits, but during the pandemic, the online class was a lifesaver."
We started every class by checking in on everyone. It was a time of sharing and getting to know one another. As another student would note, "It almost felt like a family." In this new online world, we found a different way to learn and connect. The stakes were higher and this seemed to foster a deep and open dialog.
During the course of three months, twice a week, we came together and designed a book, comprising over 20 linocuts, personal stories, and thoughts about our confinement. The in-person version of Create+Collaborate didn't include a writing component but we adapted the curriculum after recognizing a desire from students for multiple art forms (printmaking and writing) to express their pandemic lives.
We drew our inspiration from a design principle called notan, the interplay and tension between elements of dark and light. It worked as a metaphor for the dark moments that we were living in and how the darkness delineated a brighter hope. We explored this concept through three exercises.
First, we used the simple activity of cutting out a shape and turning it to reveal its negative space. The juxtaposition of black and white give energy to each. It was not only a literal exercise, but also a reflection on how the negative and positive balance each other as a whole. Together they find their harmony. The students were inspired by their own images to reflect on this dual dimension of pandemic confinement.
This is one example of a student's linoleum cut, based on the notan principle, paired with his own words.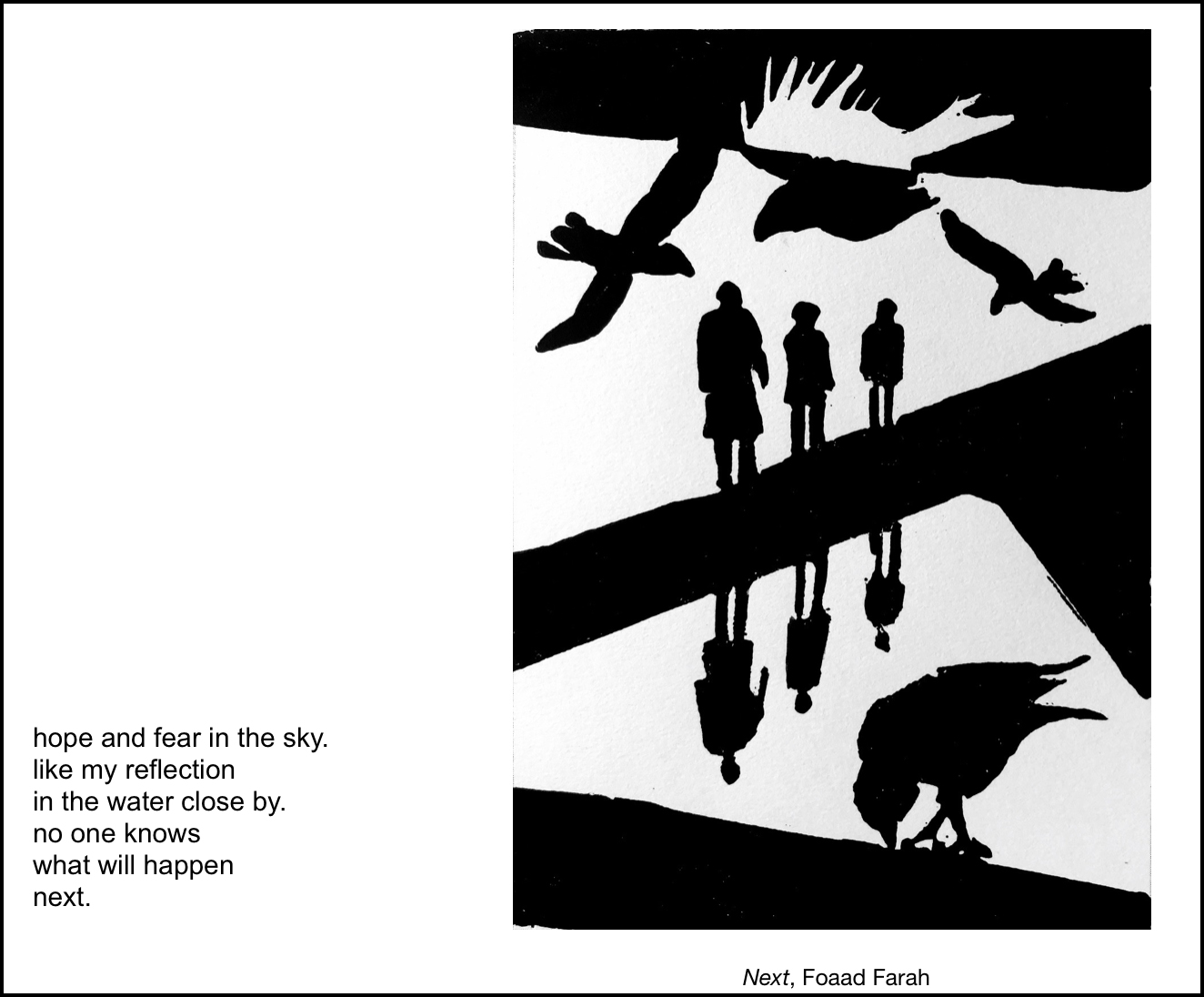 Second, we looked to our circumscribed worlds to find the person or object that was sustaining us during these times of the pandemic. In a world suddenly made smaller, little things became big. A cat, a plant, a friend, an exercise, a hammock—we rediscovered the value in connections with a new intensity. And we found solace in the things we used to take for granted.
Here, a student's expression carved and printed from a linoleum block.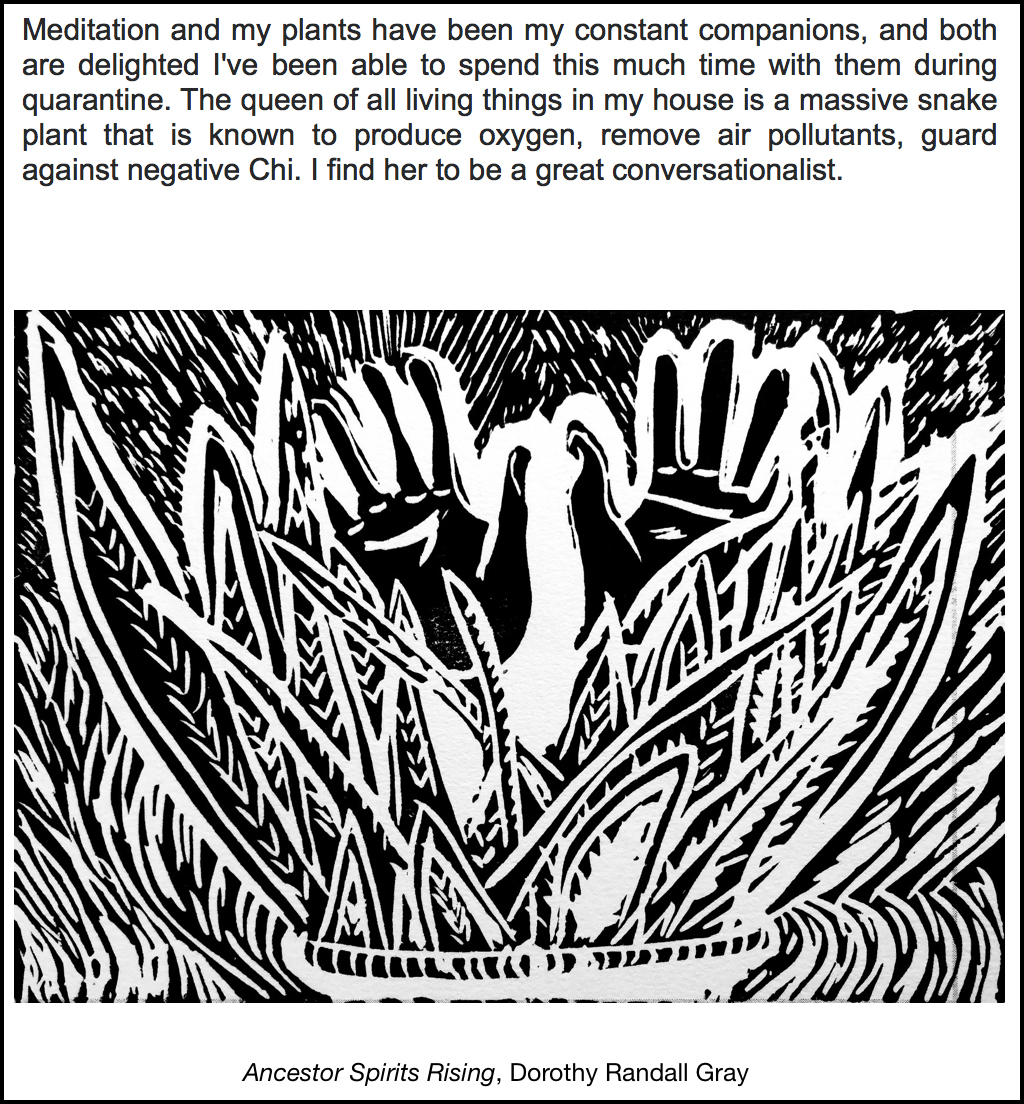 Finally, we looked out our windows from confinement onto the world to find the beauty that still exists and lives around us. One student found refuge in a lakeside cabin and found in this peaceful setting a powerful emotion—rage. It was as if the confinement allowed her to focus on how the national experience was taking on its own notan of dark acting out, fear, and posturing against the need for community, hope, and real change—reflections of darkness and light.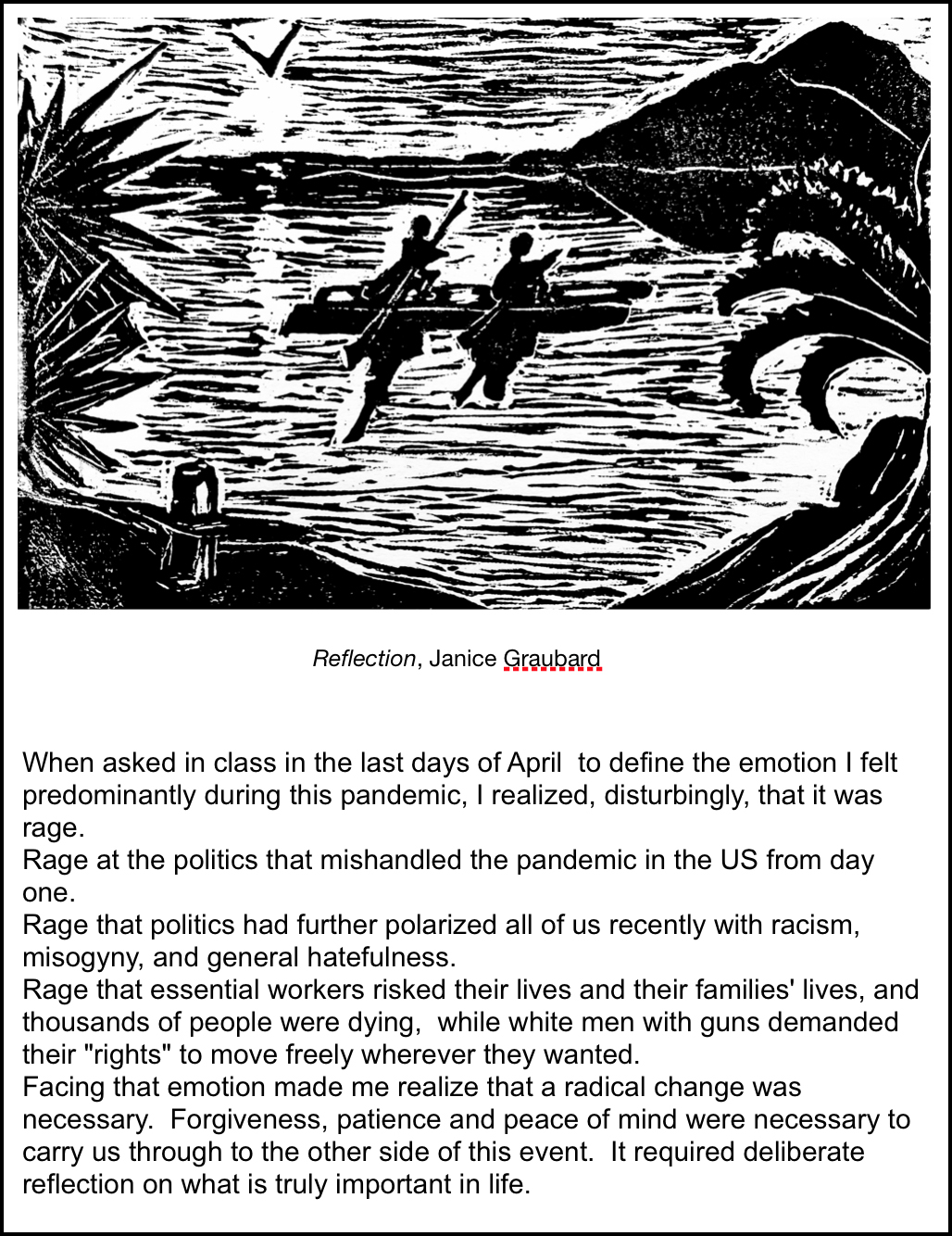 Even as everyone was exploring their individual reactions, they were very committed to the class: thinking, carving, printing from their homes turned into makeshift printmaking studios. Students found creative ways in dealing with all the project's challenges.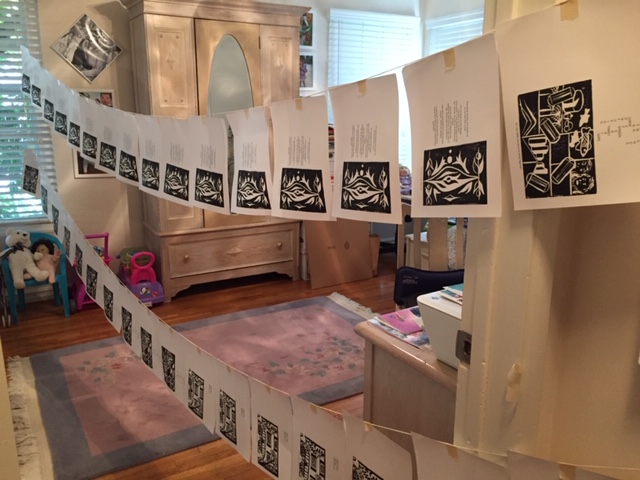 Eventually, we joined these many different individual responses together to make books. Prints were distributed so everyone was able to bind their own book with original prints from every participant.
What we found through these exercises was more than a new skill. We found that we could continue to create and connect through our humanity even in challenging times.
A student described the experience in these words:
"I really loved this class. It would have been a great experience no matter what, but the timing, something we could never have imagined, took it to a whole other level. Knowing many seniors who have really had a hard time with quarantine, I instead had a focus and a purpose, gaining new skills and new friends and a beautiful book to remind me in a poignant and positive way of the bigger picture. It would have been easy to remember this time as a terrible sinkhole, a time of being glued to the tv and the consistently bad news that seemed to keep escalating. I'm so grateful to have had this beautiful time with other creators, digging deep and examining what is really important."
And another student:
"The closeness I believe we all felt, practical strangers at the Zoom onset, the support we felt from each other, I hope will continue into long-lasting friendships."
We won't forget these first three months of the pandemic. A group of "strangers" came together through art in an online setting, to support and encourage each other in a small chapter of daily life during the pandemic, creating a testament of this time and our most intimate feelings.
As a teaching artist, I can attest to the importance of funding and offering programs like these. They are vital for a creative aging community.
Since the first online Create+Collaborate session in April, we have hosted two other 10-session classes with older adults, having opened the opportunity to more than 50 students during the pandemic.
The next session starts on February 9, 2021 and is open for enrollment.