The Free Black Women's Library - L.A. and LACMA present a zine-making video workshop, collection of books written by Black women, and a music playlist all inspired by the exhibition Cauleen Smith: Give It or Leave It. Asha Grant details the partnership below.
Last year, The Free Black Women's Library - Los Angeles had the opportunity to collaborate with LACMA for Betye Saar: Call and Response by creating an accompanying book playlist, featuring all Black women authors, to connect art and literature. Angelenos were able to browse the selections at our partner locations and take home bookmarks commemorating the collaboration. Read more about last year's partnership. 
In 2021, the pandemic required us to approach many things differently—including how our latest partnership for the visionary Cauleen Smith's Give It or Leave It would take form. The Free Black Women's Library - Los Angeles typically has a creative craft component for our in-person events, and with many of us confined to our homes, it was of the utmost importance to continue encouraging all of us to remain imaginative and expressive. We landed on a virtual activity that could be shared easily through the blog and paired with a video workshop.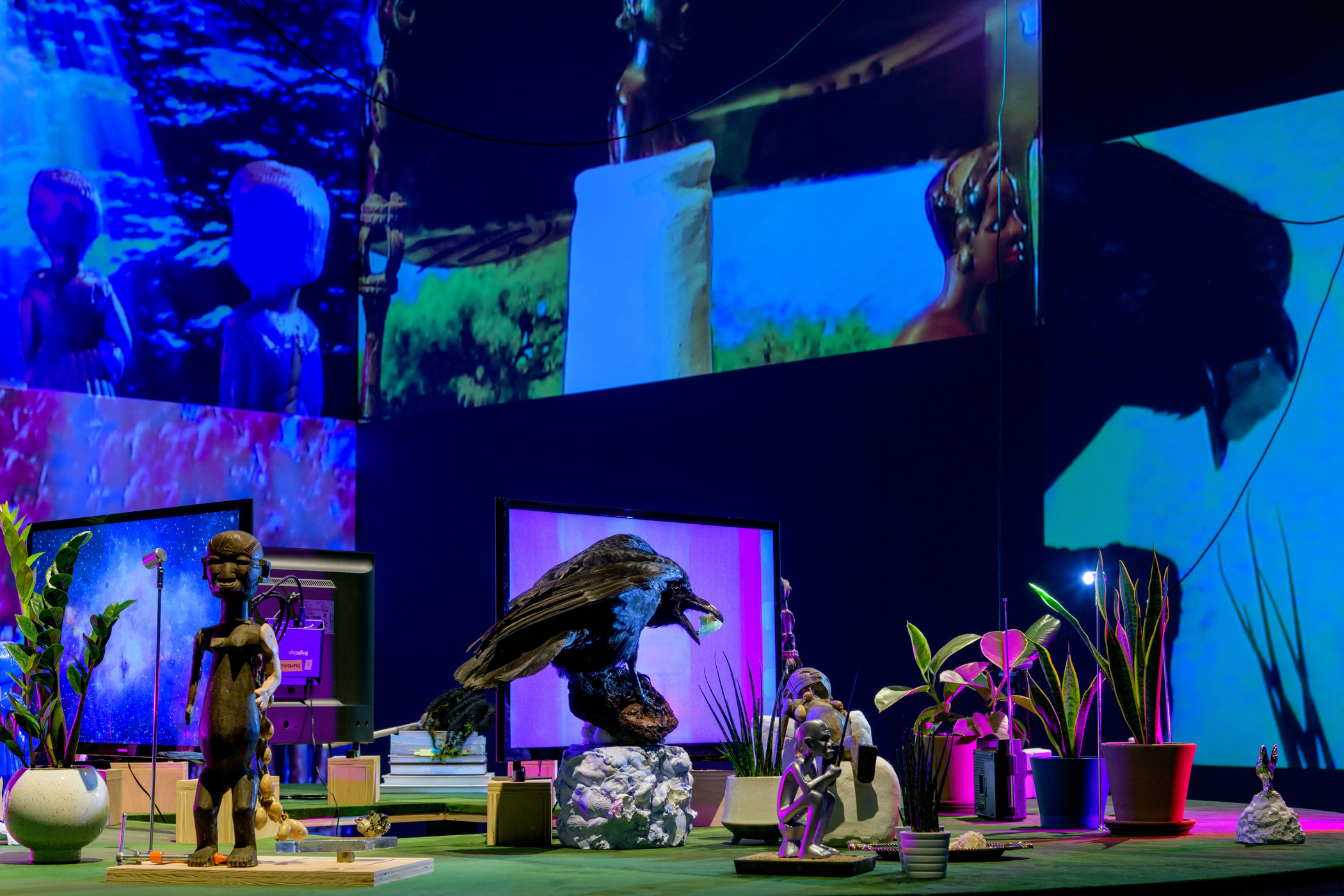 I was first introduced to zines, noncommercial (often homemade or online) publications usually devoted to specialized subject matters, at Spelman College. A campus organization created a black-and-white poetry zine and distributed them throughout campus. I was struck by the art and design—how the placement of words and images, so clearly hand-cut, carefully crafted, and photocopied made me feel as though the information was presented and printed just for me. I began making small zines of my own, for class projects and as a way to explore topics of personal interest in a creative way.
Upon browsing Smith's Give It or Leave It exhibition, I was struck by her intermixing of light, sound, projections, perspective, film, literature, and objects. Much like a zine, each medium worked together to tell us a story, and I was brimming with ideas. There were images I knew I needed to include, for example an homage to Alice Coltrane's ashram, tragically destroyed by California wildfires in 2018, and also items from my own dresser, an African sculpture from my grandmother's mantle, and eucalyptus from my kitchen that felt critical in illustrating my own coinciding story of Black womanhood with hers.
Zine Workshop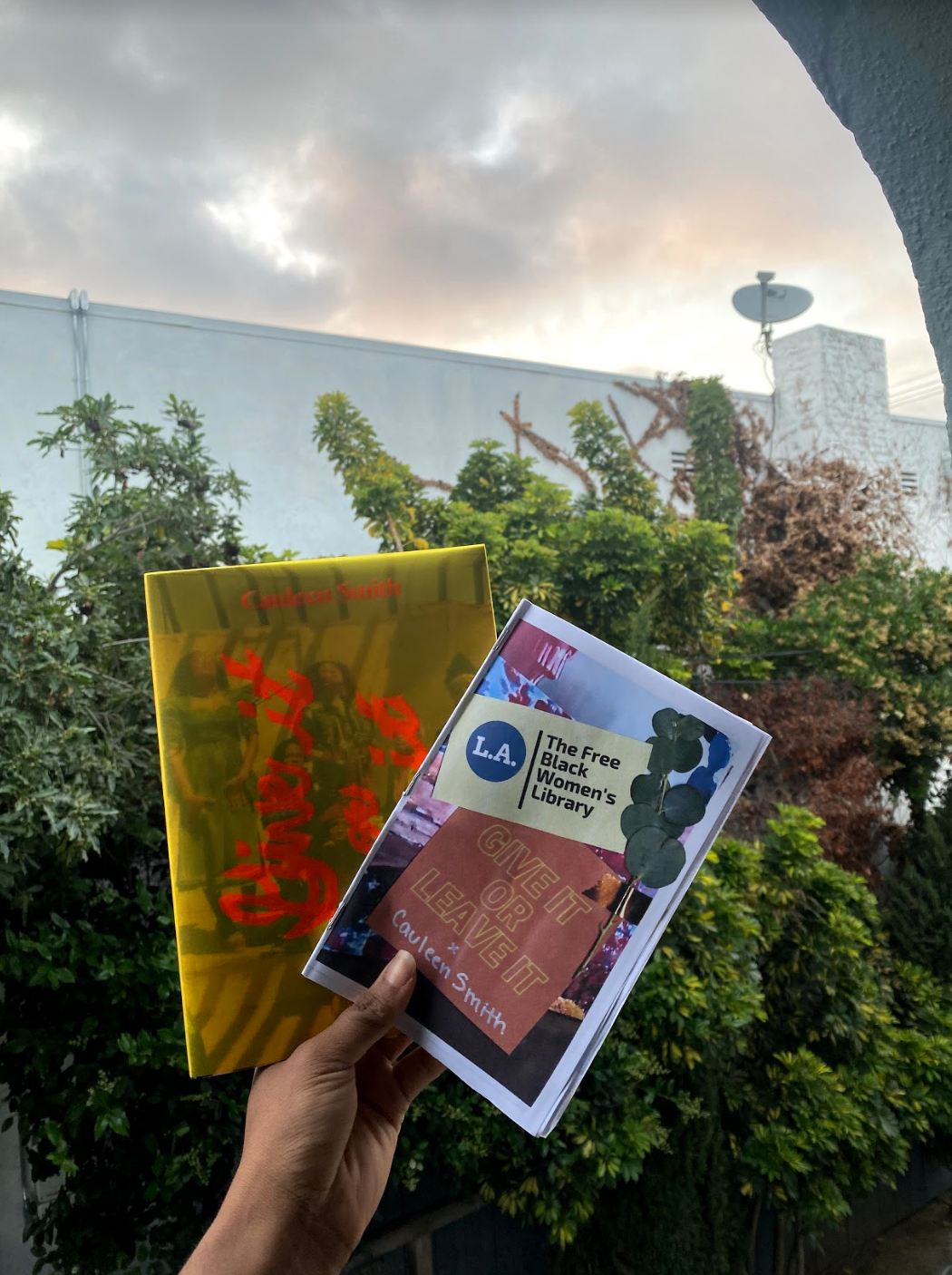 I filmed a workshop based on my creative approach to zine-making with inspirations drawn from Cauleen Smith: Give It or Leave It.
View the workshop and create your own!
Supplies
Paper


Scissors


Markers, crayons, pens


Stapler


Glue or tape 


Magazines, newspapers, printed images


Found objects (preferably flat)


Scanner (optional)

To continue what we started with our initial collaboration, I compiled a selection of books to include within the zine. Consider supporting your local bookstore by ordering one of the books from the playlist, or borrow a title from L.A. County Library and the Los Angeles Public Library.
Book Playlist
Wounded in the House of a Friend by Sonia Sanchez contains the poem "Catch the Fire" that asks Black readers to examine the ways African Americans have harnessed their power throughout history despite circumstance. In a 2018 interview with Rhea Anastas, Cauleen Smith proclaims "Our power lies in the ways in which we produce culture from thin air—from trauma, pain, irony, laughter, and love. We make a culture that literally influences the entire planet. Our horror is our power." You can also listen to Sanchez's poem in our Spotify playlist in the song, "Don't Kill Dub" by Rob featured in HBO's Lovecraft Country.

Sister of the Yam: Black Women and Self-Recovery by bell hooks delves into issues Black women face in healing from shame rooted in capitalism and white supremacy, themes Smith is working to counter through art, community, and bodily autonomy in her film, Sojourner (2018), featured in the exhibition. 

Black Girls Are From the Future: Essays on Race, Digital Creativity, and Pop Culture by Renina Jarmon is a collection of essays on the intersection of race, gender, the internet, the digital space, and popular culture. Smith's exhibition utilizes the digital art mediums to illustrate these themes, choosing to feature physical objects like exposed cords and wirings to illustrate the role of technology in envisioning a new future. 

Wayward Lives, Beautiful Experiments: Intimate Histories of Riotous Black Girls, Troublesome Women, and Queer Radicals by Saidiya Hartman documents the rarely told stories of Black women shedding societal expectations. Smith credits Hartman in helping her grapple with creating art that deals with questions without answers. 

Audio of The Combahee River Collective Statement by The Combahee River Collective plays overhead in the exhibition. The Combahee River Collective was deeply invested in world making, stating they believe in a "collective process and a nonhierarchical distribution of power within our own group and in our vision of a revolutionary society."

Narrative of Sojourner Truth by Sojourner Truth is a written account of Truth's journey from an enslaved person to an abolitionist and women's rights activist. Set in Noah Purifoy's Outdoor Desert Art Museum in Joshua Tree, California, artist Cauleen Smith reimagines this unique space as a radical feminist utopia in her film Sojourner. 

Words of Fire: An Anthology of African American Feminist Thought edited by Beverly Guy-Sheftall is a seminal Black feminist theoretical text. Black feminist liberation themes and concepts are woven throughout Smith's exhibition. 

To set the mood for creativity, enjoy this music playlist also inspired by the exhibition. We encourage you to listen as you compile materials and craft your own zine. 
In-person inspiration is now possible at LACMA. Visit Cauleen Smith: Give It or Leave It through October 31, 2021. 
All visitors, including LACMA members, must purchase or reserve timed-entry tickets in advance.