The typical timespan of an exhibition, from its inception as a research topic to its fruition in a gallery, can span years. Historical exhibitions may take up to 10 years to develop and execute, whereas presentations of contemporary art, especially those organized around commissioned works, have tighter timelines. The COVID-19 pandemic and the events of the past year, and the subsequent temporary closure of the museum, required us to pivot on numerous endeavors, one of which was artist Cauleen Smith's collaboration with students at Charles White Elementary School. Since 2007, numerous artists have worked alongside teachers and students at Charles White Elementary School on collaborative projects in the art gallery housed on the school campus. This space was the storied home of the Otis College of Art and Design gallery. This year, in what hopefully will be the first and only instance of its kind, Smith collaborated with students and teachers via Skype through the necessary distance learning protocols established by the school district. Extracts from the videotaped virtual classroom dialogues provide source material for Smith's new installation, heightening the artwork's timeliness.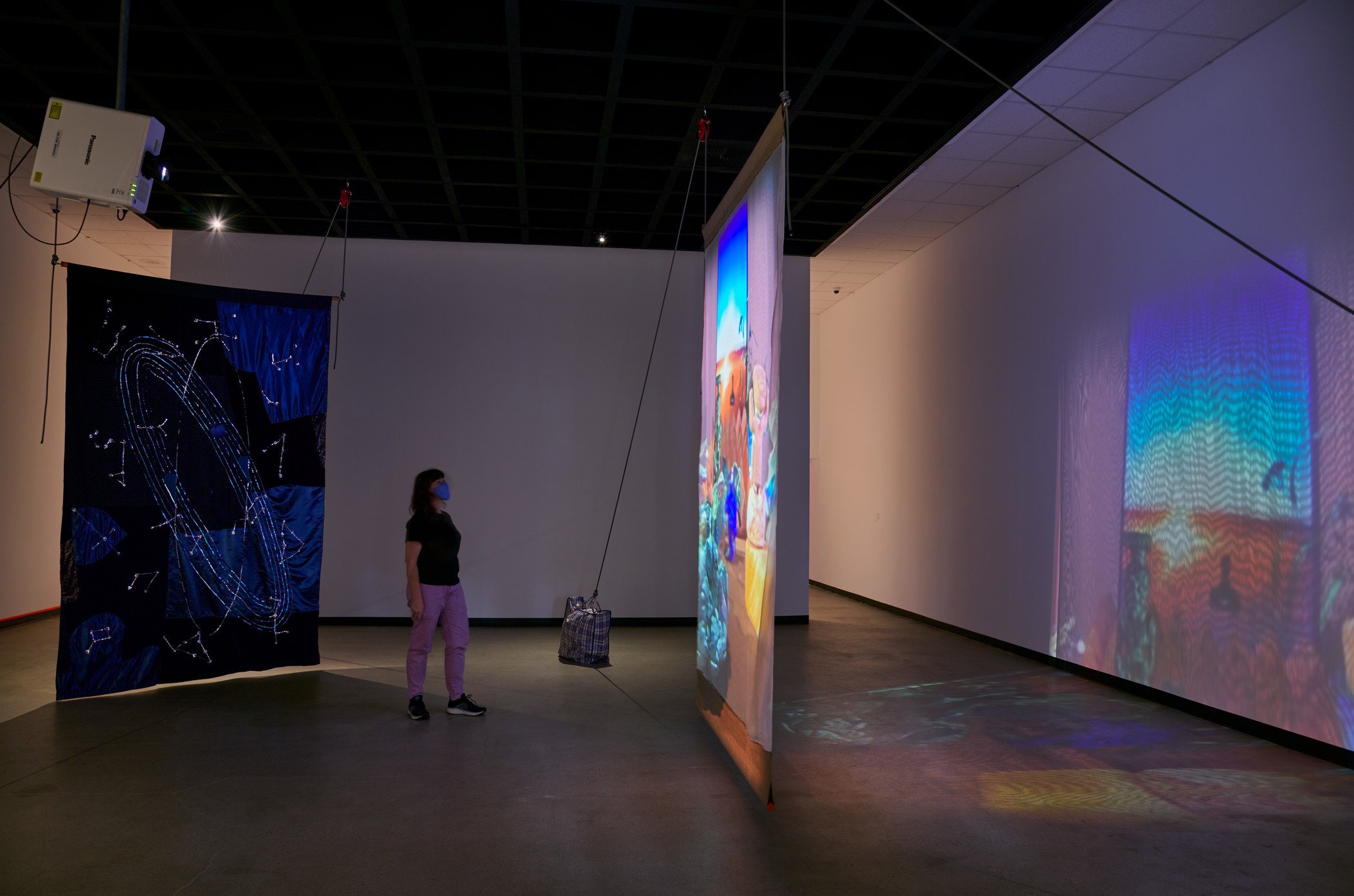 The exhibition Cauleen Smith: Stars in My Pocket and the Rent Is Due, which opens at LACMA's Charles White Elementary School Gallery this Saturday, July 10, serves as counterpart to the Los Angeles presentation of her touring exhibition Cauleen Smith: Give It or Leave It (currently on display in BCAM at LACMA), curated by Anthony Elms for ICA Philadelphia. In both exhibitions, Smith intertwines pre-recorded and live video footage, as well as sculptural installations and embroidered banners. While the exhibition on LACMA's Mid-Wilshire campus circles around historical figures such as Alice Coltrane and Rebecca Cox Jackson (one of the few Black leaders in the Shaker religion), as well as Simon Rodia's Watts Towers, Smith's presentation at Charles White Elementary School Gallery is more reflective of this past year. The synthetic and generative space in Stars in My Pocket and the Rent Is Due collapses pre-recorded and live participation or activation, making way for the happenstance, such as reflections of spectators walking through the exhibition. 
How does the experience of the pandemic affect how we interact in public spaces? How have we adjusted to participating in the world vis-à-vis a screen? Smith invites us all to speculate on these questions, and to participate—as much as we can, given the circumstances—in this new body of work. Smith has used the term "constellation" to describe her work: "the constellation of thought that allows one to think through a lens and through materials." Smith engaged with students and teachers through Zoom and incorporates the footage into her installation to provide a window on the ways they combined living, teaching, and learning in one space. Thus her mix of recorded and live materials mirrors our own overlapping of domestic and work spaces, as well as the vastness of imagination and the strictures of confinement.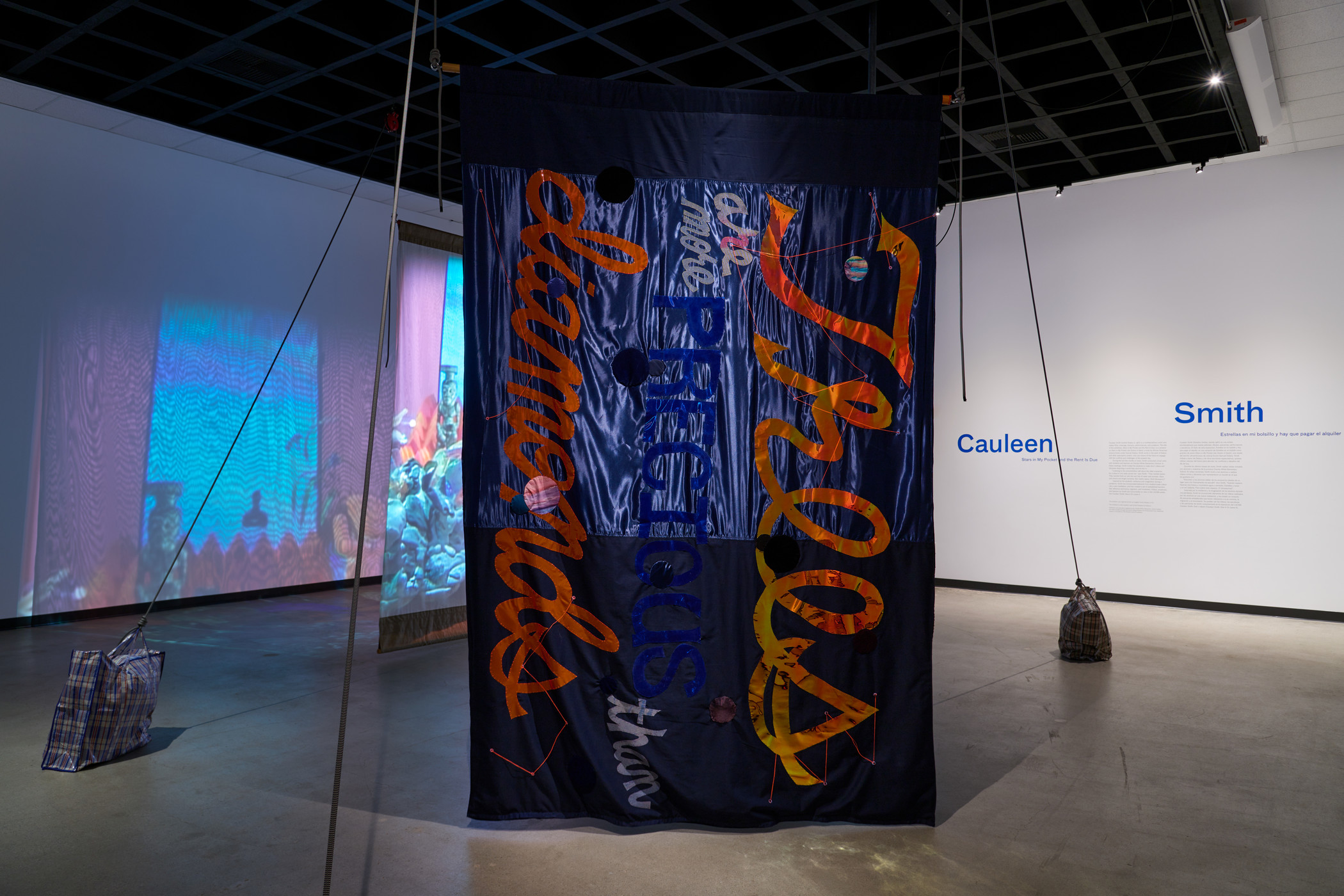 Smith has transformed the gallery interior through projections and hanging banners that resemble sails. A diaphanous sail and an embroidered banner are secured to the floor with the type of utility bags used to haul or temporarily store one's material possessions. With this choice of material (the woven storage bag), Smith produces a tension between the nomadic and the anchored. There is a hallway of ceramic sculptures (functionable incense burners when not in an exhibition context), as well as an installation with found and fabricated sculptures, and memorabilia that is the subject of a "live" diorama projected in a separate gallery through an interconnected surveillance camera. The final rooms contain two of Smith's older films, Lessons in Semaphore (2016) and White Suit (1998). This overlay of different periods of her artistic output is consistent with Smith's retrospective approach to exhibition making, placing old and new work in conversation.
Smith asked the students to make a world they wanted to live in. "They wanted space," Smith recounts. "They wanted fresh air and lots and lots of water and animals. Stars and moons and bright sunshine. But mainly space. (And dinosaurs.)" Through this unique collaboration, the artist and students together envisioned a microcosmic world where we are still able to thrive through adverse times.
Cauleen Smith: Stars in My Pocket and the Rent Is Due is open Saturdays, 1–4 pm, from July 10 through September 25, 2021, at Charles White Elementary School (2401 Wilshire Boulevard, Los Angeles, CA 90057). Admission is free and available on a first come, first served basis. Visitors may enter the gallery at the corner of Park View and Wilshire Boulevard. Complimentary parking is available in the lot at 611 South Carondelet Street, between Wilshire and 6th Street. Street parking is also available in the neighborhood. Learn more about visitation requirements and enhanced health and safety measures at Charles White Elementary School Gallery.