This week, make art with the whole family art in the recently reopened Boone Children's Gallery, visit an exhibition of photography from LACMA's Permanent Collection in Northridge, and join us online for the first-ever LACMA Game Night.
The Boone Children's Gallery is open every other Saturday. It is free to all and requires a reservation.
Now On View
Lee Alexander McQueen: Mind, Mythos, Muse
LACMA × Snapchat: Monumental Perspectives (Collection II)
Barbara Kruger: Thinking of You. I Mean Me. I Mean You.
City of Cinema: Paris 1850–1907
Mixpantli: Space, Time, and the Indigenous Origins of Mexico
Mixpantli: Contemporary Echoes
Ai Weiwei: Circle of Animals/Zodiac Heads
Mark Bradford: 150 Portrait Tone
Barbara Kruger: Untitled (Shafted)
LACMA Around L.A.
What Would You Say?: Activist Graphics from the Los Angeles County Museum of Art
Riverside Art Museum
Golden Hour: California Photography from the Los Angeles County Museum of Art
California State University, Northridge, Art Galleries
Family Album: Dannielle Bowman, Janna Ireland and Contemporary Works from LACMA
Charles White Elementary School
Museum Hours
Monday and Tuesday: 11 am–6 pm
Wednesday: Closed
Thursday: 11 am–6 pm
Friday: 11 am–8 pm
Saturday and Sunday: 10 am–7 pm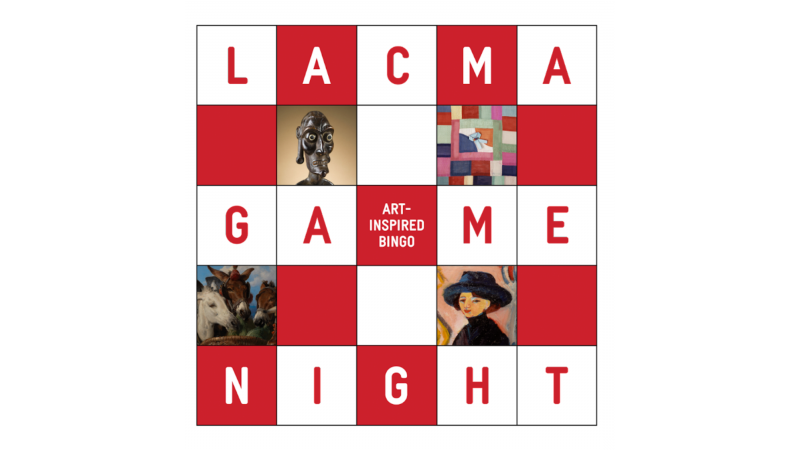 Events
LACMA Game Night: Art-Inspired Bingo
Tue, May 10 | 6 pm | Zoom
Jazz at LACMA: Sam Hirsh Trio
Fri, May 13 | 6–8 pm | Smidt Welcome Plaza
Series Screening—Impeachment: American Crime Story and Post-Screening Conversation
Fri, May 13 | 7 pm | Online | LACMA Members Only
Boone Children's Gallery
Sat, May 14 | 12–5 pm | LACMA
Classes
Adult Art Class: Friday Art Night—Unexpected Paintings
Fri, May 13 | 6–8 pm | Smidt Welcome Plaza