"Now that is a museum picture," exclaimed Michael Govan, LACMA's Wallis Annenberg Director and CEO, in delight upon encountering Robert Henri's Spanish Dancer - Sevillana for the first time in 2006. Hanging in the installation showcasing gifts celebrating LACMA's 40th anniversary, it had been promised to the museum by longtime supporters Abby and Alan D. Levy. The gift was realized this year, a result of their generosity and commitment to LACMA's future. 
An important teacher and portraitist, Robert Henri was a pivotal figure in the artistic community of the United States in the first decades of the 20th century. He was a leader of a group of painters dedicated to capturing images of contemporary life, an artist who felt that "history be of your own time, of what you can get to know personally…within your own experience."¹ This experience was not limited to New York, where the artist lived and worked, but was explored well beyond from Ireland to California and points in between. Yet among the many places Henri visited, it was to Spain that he traveled the most (he visited on seven different occasions), and it was to Spanish art and culture that he returned most consistently throughout his career. On his extended visits to the country, Henri painted dozens of images of singers, dancers, musicians, bullfighters, peasants and Romani people, often in two, three, or even four different variations.²
While Spanish Dancer - Sevillana is the first of Henri's "Spanish pictures," the painting was, in fact, created in the artist's New York studio. Certainly inspired by Henri's first trip to Spain in 1900, it is nevertheless a complete creation, imagined at home. Life-size, and delicately balancing a boldness and sensitivity characteristic of the artist's work at this time, it is at once a painting drawn from his experiences abroad, the reflection of contemporary popular interest in America of Spain and its culture (the Hispanic Society, for example, was founded the same year the painting was executed), and on a personal level, it was a nod to the "simple and direct" approach to painting espoused by Henri's artistic hero Diego Velázquez. Along with its two additional variations made during the same time (see above and below), Spanish Dancer - Sevillana is an exercise in compositional experimentation.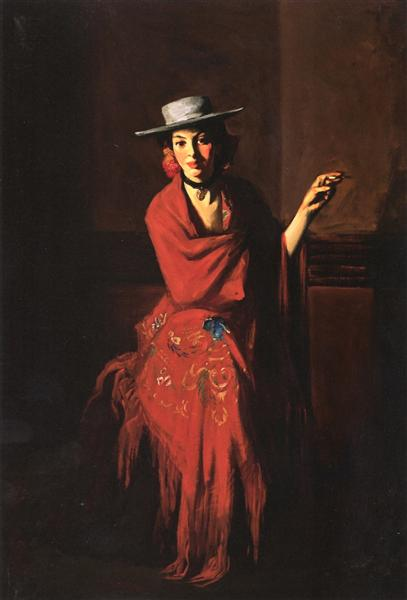 The professional model Marianna Bustamenta stars in all three pictures. Alternatively standing and seated, Bustamenta's various bodily arrangements are adorned with accessories that signify "Spanish" to an American audience: a black choker, castanet, flower-adorned hair, and a vibrant red shawl, which itself becomes an alternative subject of these pictures. Identified by my former colleague Dr. Mei Mei Rado (Bard College of Art and Design) as a Mantón de Manila, so named because this Chinese-made shawl was exported for a Western market via the Manila-Acapulco Galleon trade, established by the Spanish after colonizing both Mexico and the Philippines. (You can see an example below from LACMA's collection). While Henri's shawl may well have been bought by the artist in Madrid, it makes another appearance in a later studio picture of Henri's from 1909, this time the explicit subject of the painting.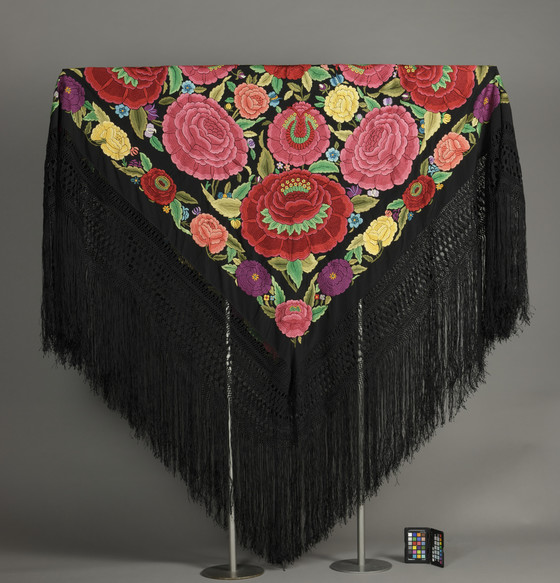 Not long after the painting's completion in 1904, Henri chose Spanish Dancer - Sevillana, to be displayed in several prominent contemporary exhibitions on the East coast and in the South. This included the Society of American Artists exhibition and the Carnegie international, both in 1905, a touring exhibition in the American south in 1906, and the Pennsylvania Academy of Fine Arts and the New York School of Art exhibition in 1907. In addition to the critical acclaim the painting garnered along its tour, where, for example its "drama" and "brilliance" was compared to that of John Singer Sargent's masterful El Jaleo (1882), Sevillana also remained one of Henri's favorite paintings. And yet despite its attention and the tangible effect it had toward Henri's positive reception, the painting went unsold during the artist's lifetime, remaining in the family's estate until its purchase by the Levys. Now, as an official part of the museum's collection and with its display anticipated in the new David Geffen Galleries, this magnificent gift will become a new touchstone for the broader LACMA community. 
1. Robert Henri, The Art Spirit: Notes, Articles, Fragments of Letters… Comp. Margery Ryerson (New York: 1923), 217–18. 
2. For more reading on Henri and his relationship to Spain and Spanish culture, See Spanish Sojourns: Robert Henri and the Spirit of Spain, Ed. Valerie Ann Leeds and Courtney A. McNeil (Savannah, GA: 2014).