The 2023 Winter Guide is here! We've got a robust slate of programs in the coming months, so spend some me-time at LACMA immersing yourself in local art or create a family routine with our newest on-demand content. From live memoirs to films, sound baths to poetry, we have programs for everyone.
Download your digital copy of The Guide today or pick up a printed copy during your next visit.
Now On View
Another World: The Transcendental Painting Group, 1938–1945
The Five Directions: Lacquer Through East Asia
New Abstracts: Recent Acquisitions
Scandinavian Design and the United States, 1890–1980
The Space Between: The Modern in Korean Art
Conversing in Clay: Ceramics from the LACMA Collection
Park Dae Sung: Virtuous Ink and Contemporary Brush
Reexamining the Grotesque: Selections from the Robert Gore Rifkind Collection
Yassi Mazandi: Language of the Birds
LACMA × Snapchat: Monumental Perspectives (Collection II)
Ai Weiwei: Circle of Animals/Zodiac Heads
Mark Bradford: 150 Portrait Tone
Barbara Kruger: Untitled (Shafted)
LACMA Around L.A.
Pressing Politics: Revolutionary Graphics from Mexico and Germany
Charles White Elementary School
Monday and Tuesday: 11 am–6 pm
Wednesday: Closed
Thursday: 11 am–6 pm
Friday: 11 am–8 pm
Saturday and Sunday: 10 am–7 pm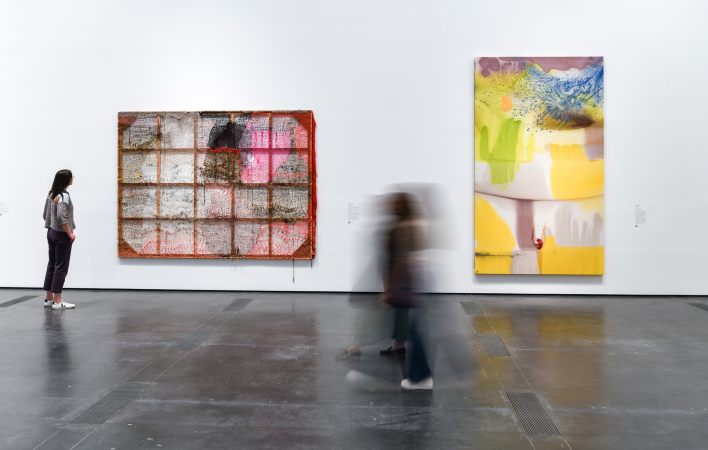 Events
Member Monday | Another World, The Five Directions, Afro-Atlantic Histories, and More!
Mon, Jan 16 | 6:30–9 pm | BCAM and Resnick Pavilion
Mental Health and Well-Being in the Museum
Wed, Jan 18 | 6–8 pm | Resnick Pavilion
Conversing with Collections: New Spins on Ceramics | Steven Young Lee
Thu, Jan 19 | 12 pm | Online 
Boone Children's Gallery
Sat, Jan 21 | 11 am–5 pm | LACMA
Classes & Camps
Friday Art Night—Pops of Color
Fri, Jan 20 | 6–8 pm | LACMA
Teen Art Class: The Creative Vessel—A Conceptual Approach to Art (Ages 13–15)
Sat, Jan 21 | 1–4 pm | LACMA