Many artists working with abstract vocabularies today interrogate not only the possibilities of color, material, gesture, and form, but also the potential for injecting abstract art with political, spiritual, or personal meaning. Peter Bradley, the painter behind Coravilas, is among the artists featured in LACMA's New Abstracts: Recent Acquisitions. 
Now On View
Another World: The Transcendental Painting Group, 1938–1945
The Five Directions: Lacquer Through East Asia
New Abstracts: Recent Acquisitions
Scandinavian Design and the United States, 1890–1980
The Space Between: The Modern in Korean Art
Conversing in Clay: Ceramics from the LACMA Collection
Park Dae Sung: Virtuous Ink and Contemporary Brush
Reexamining the Grotesque: Selections from the Robert Gore Rifkind Collection
Yassi Mazandi: Language of the Birds
LACMA × Snapchat: Monumental Perspectives (Collection II)
Ai Weiwei: Circle of Animals/Zodiac Heads
Mark Bradford: 150 Portrait Tone
Barbara Kruger: Untitled (Shafted)
LACMA Around L.A.
Pressing Politics: Revolutionary Graphics from Mexico and Germany
Charles White Elementary School
Monday and Tuesday: 11 am–6 pm
Wednesday: Closed
Thursday: 11 am–6 pm
Friday: 11 am–8 pm
Saturday and Sunday: 10 am–7 pm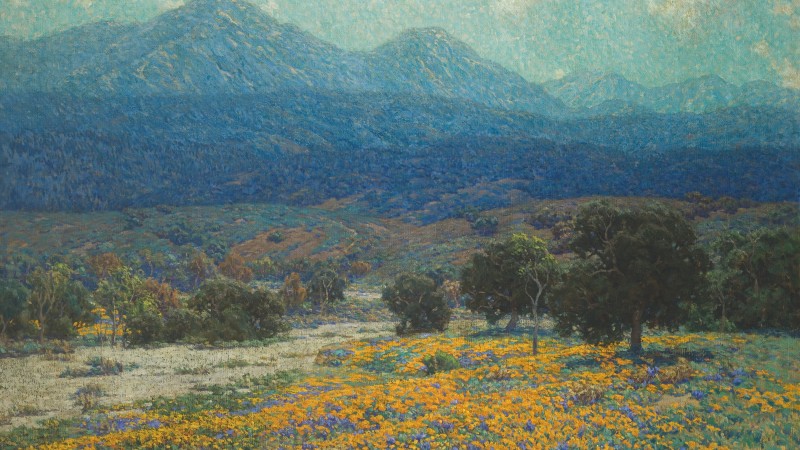 Events
Mindful Monday: Cultivating Empathy and Connectedness @ Home
Mon, Jan 23 | 4 pm | Online
Personal Connections (Virtual)
Tue, Jan 24 | 1 pm | Online
Art & Meditation
Fri, Jan 27 | 12 pm | Online 
Classes & Camps
Friday Art Night—Origami Is Not Just for Kids!
Fri, Jan 27 | 6–8 pm | Online
Family Art Class (Ages 6+): Fun and Colorful Prints!
Sun, Jan 29 | 10 am–12 pm | LACMA