Coded: Art Enters the Computer Age, 1952–1982 includes works by more than 75 artists, many of whom were pioneers of what we now call digital art, reflecting the simultaneous wonder and alienation that was characteristic of the 1960s and '70s, along with the utopian and dystopian possibilities of these new machines. Reserve your tickets for this week!
Now On View
Another World: The Transcendental Painting Group, 1938–1945
The Five Directions: Lacquer Through East Asia
New Abstracts: Recent Acquisitions
Conversing in Clay: Ceramics from the LACMA Collection
Yassi Mazandi: Language of the Birds
LACMA × Snapchat: Monumental Perspectives (Collection II)
Ai Weiwei: Circle of Animals/Zodiac Heads
Mark Bradford: 150 Portrait Tone
Barbara Kruger: Untitled (Shafted)
LACMA Around L.A.
Pressing Politics: Revolutionary Graphics from Mexico and Germany
Charles White Elementary School
Museum Hours
Monday and Tuesday: 11 am–6 pm
Wednesday: Closed
Thursday: 11 am–6 pm
Friday: 11 am–8 pm
Saturday and Sunday: 10 am–7 pm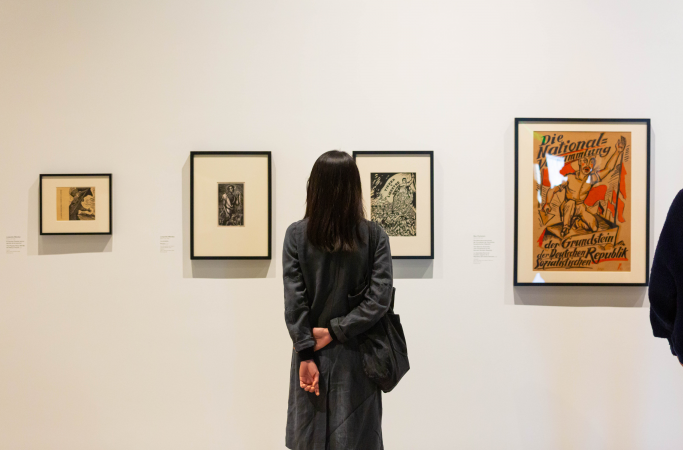 Events
Mindful Monday: Cultivating Empathy and Connectedness @ Home
Mon, Mar 13 | 4 pm PT | Online
In Conversation: Michael Govan and Glenn Ligon
Tue, Mar 14 | 7:30 pm | Academy Museum of Motion Pictures
Educator Speaker Series—The Funds of Knowledge and the Arts: Tools for Learning From Students and Creating Culturally Relevant Practices in Our Classrooms
Wed, Mar 15 | 5 pm PT | Online 
Poetry in Color: Revolutionary Graphics
Wed, Mar 15 | 7 pm | Charles White Elementary School
Boone Children's Gallery
Sat, Mar 18 | 11 am–5 pm | LACMA 
Docent Tour of Another World: The Transcendental Painting Group, 1938–1945
Sat, Mar 18 | 7:30 pm | Resnick Pavilion 
Fiber Maker's Circle
Sun, Mar 19 | 12:30–3:30 pm | LACMA
Andell Family Sundays—New At LACMA (In Person)
Sun, Mar 19 | 12:30–3:30 pm | LACMA
Classes & Camps
Kids Art Class: All About That Paper (Ages 9–12)
Sun, Mar 19 | 10 am–12 pm | LACMA