In 2021, LACMA and Snap launched the first five augmented reality (AR) monuments as part of LACMA × Snapchat: Monumental Perspectives to explore monuments and murals, representation, and history across the region. The first collection of artists, Mercedes Dorame, I.R. Bach, Glenn Kaino, Ruben Ochoa, and Ada Pinkston, examines key moments, figures, and monumentality in the region's past and present through augmented reality experiences. 
Ruben Ochoa draws upon personal, familial, and community histories by using a recognizable figure in Los Angeles—a fruit vendor cart—to tell interwoven, intergenerational stories. In his augmented reality monument, ¡Vendedores, Presente!, Ochoa draws attention to the region's familiar fruit carts, paleteros, and flower stands, creating a large-scale immersive environment that calls for solidarity with vendor advocacy. Working with Inclusive Action for the City and Community Power Collective, Ochoa sought to create work that positively impacted the lives of street vendors.  
A part of Monumental Perspectives, ¡Vendedores, Presente! is an immersive AR experience which pays homage to the critical role that street vendors play in Los Angeles's culture and economy. It is a direct response to the city's invisible, but robust, history of street vending, an informal economy that emerged in the late 19th century fueled mostly by Mexican and Chinese immigrants. ¡Vendedores, Presente! also serves as a multilingual resource for on-the-ground entrepreneurs as well as a primer for those curious about their contribution to the social fabric of Los Angeles.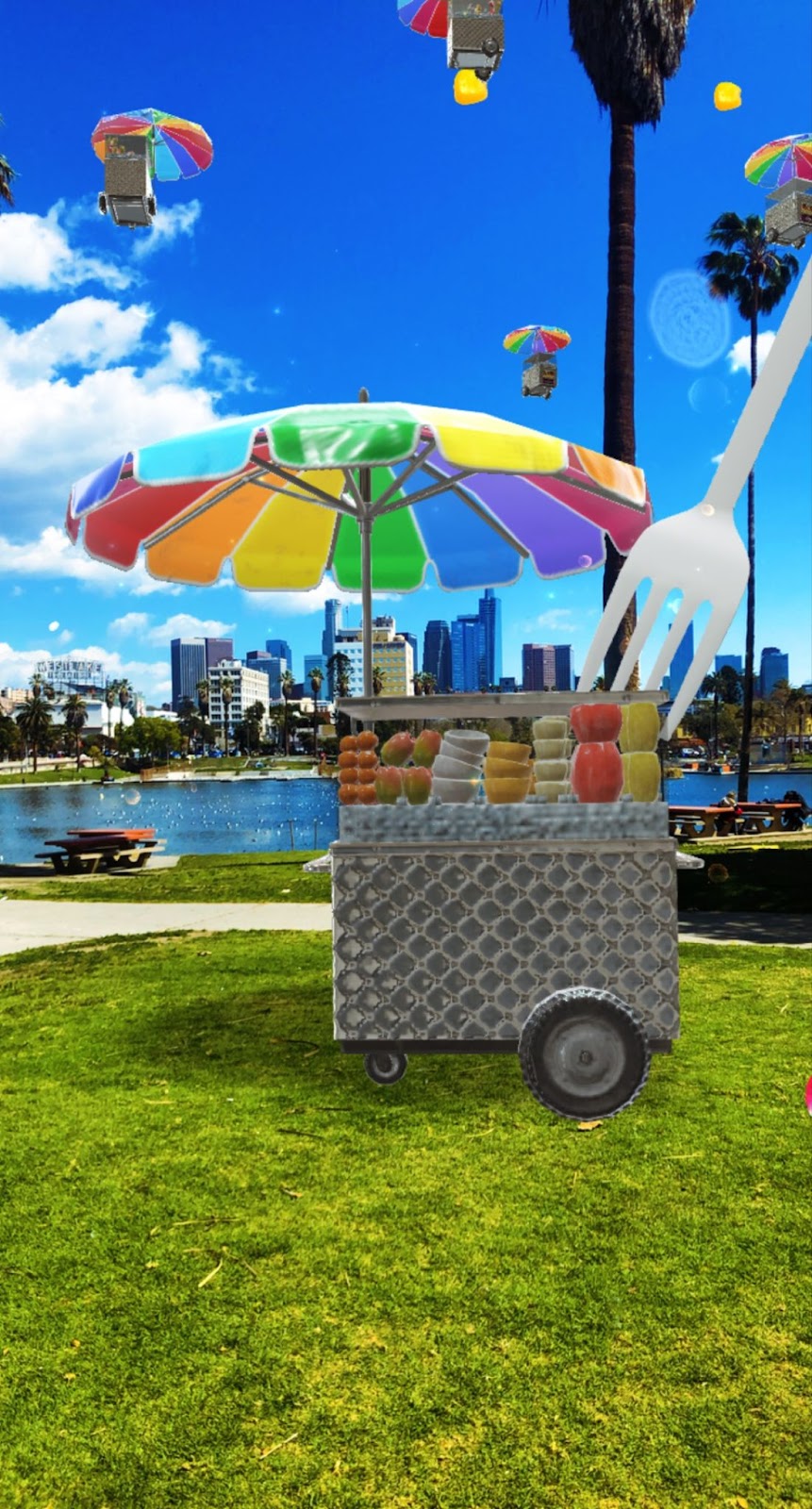 Growing up, Ochoa's experiences with street vendors were close to home. His mother pioneered mobile tortilla delivery routes in North County, San Diego. The family sold tortillas out of their fleet of Chevy vans, including Ochoa's 1985 Chevy, at a time when street vendors and Mexican markets weren't yet a common sight. The vehicle functioned as a mobile market, filling a gap for the local community.
Today, the number of street vendors in Los Angeles is estimated to be over 10,000. Ochoa's monument calls into question the conditions under which these vendors are forced to work. Many of them are undocumented, and without legal protection in the face of rising crime. Among the issues faced by street vendors are permits, hefty fines, confiscation of their equipment, access to capital, and harassment. After a decade-long fight to legalize street vending in L.A., the pandemic has impacted its progress and potential growth, with many street vendors left more vulnerable than ever.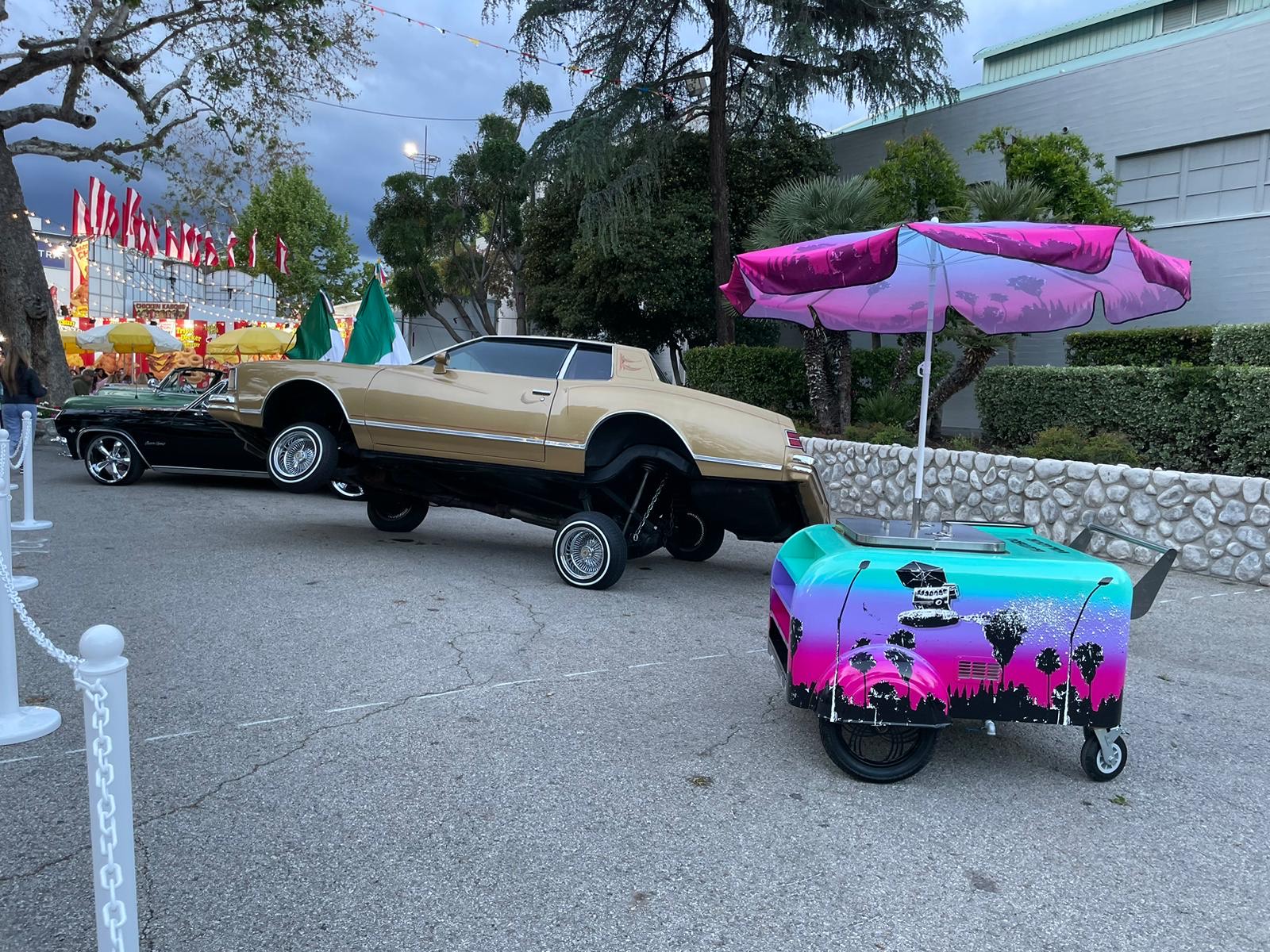 Even though Senate Bill 946 decriminalized sidewalk vending in 2018, the road to a city permit was nearly impossible for most. Complicated and opaque, the process was structured for restaurants, which include standards for refrigeration, food handling, preparation, and sanitation beyond the capabilities of a standard food cart. It left cities the ability to enforce county health codes adopted by reference through the California Retail Food Code. This allowed cities to criminally cite sidewalk food vendors for failing to have the required county health permits for vending food. 
On January 1, 2023, Senate Bill 972 finally decriminalized sidewalk food vending by creating a new category for vendors, referring to them as "compact mobile food operations." Though the law still regulates and restricts food preparation, storage, and the like, violations no longer result in misdemeanor charges (and are now limited to administrative citations). Now, SB 972 closes that gap by decriminalizing the California Retail Food Code. Cities can still conduct routine inspections of carts and preparation kitchens—though they are only able to issue administrative citations for violations.
Since the launch of ¡Vendedores, Presente!, Ochoa has produced original fundraising prints inspired by the augmented reality Snapchat lens monument. The funds from each individual print translate directly to cash cards for street vendors and their families, many of whom have not been eligible to receive direct pandemic relief funding from the government. Most recently, he collaborated with Revolution Carts—the makers of the first permitted tamal cart in Los Angeles—to custom wrap vending carts!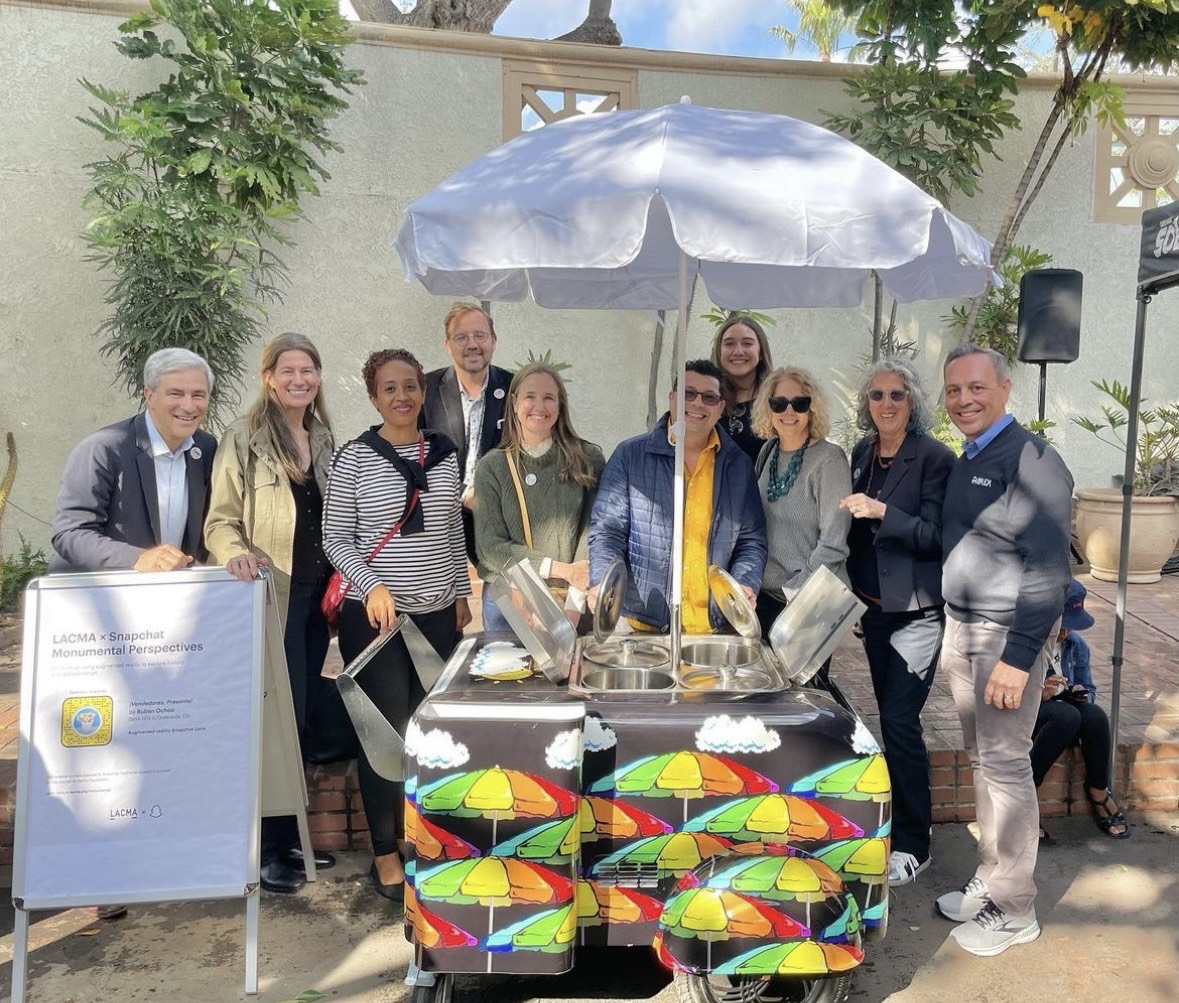 Visitors to the LA County Fair will be able to experience ¡Vendedores, Presente!, in conjunction with LACMA's exhibition You Are Here at the Millard Sheets Art Center through the run of the fair. This augmented reality artwork, which can be experienced via Snapchat, will be accompanied by two of Ruben's food cart installations. One of the cart installations will be activated this weekend and visitors will be able to buy tamales from a collaborating vendor. The LA County Fair runs May 5–29. Access to the exhibition and installation is free with fair admission.
Learn more about Ruben Ochoa x Street Vendors project.