Across generations and working in different media, the artists of Women Defining Women in Contemporary Art of the Middle East and Beyond share a common sense of identity. Their works bear witness to rapidly shifting political developments and often accelerated social transformations taking place in lands extending from Africa to Western and Central Asia, as well as in diasporic communities.
Visit LACMA this week to see Women Defining Women and listen to nine artists from the exhibition discuss art, notions of womanhood, and their relationships to Islamic societies in an exclusive interview.
Now On View
Matthew Barney: REPRESSIA (decline)
Women Defining Women in Contemporary Art of the Middle East and Beyond
Light, Space, Surface: Selections from LACMA's Collection
New Abstracts: Recent Acquisitions
Artist Selects: Silke Otto-Knapp, The Living We Are Doing, Always Among Others
Yassi Mazandi: Language of the Birds
LACMA × Snapchat: Monumental Perspectives (Collection II)
Ai Weiwei: Circle of Animals/Zodiac Heads
Mark Bradford: 150 Portrait Tone
Barbara Kruger: Untitled (Shafted)
Museum Hours
Monday and Tuesday: 11 am–6 pm
Wednesday: Closed
Thursday: 11 am–6 pm
Friday: 11 am–8 pm
Saturday and Sunday: 10 am–7 pm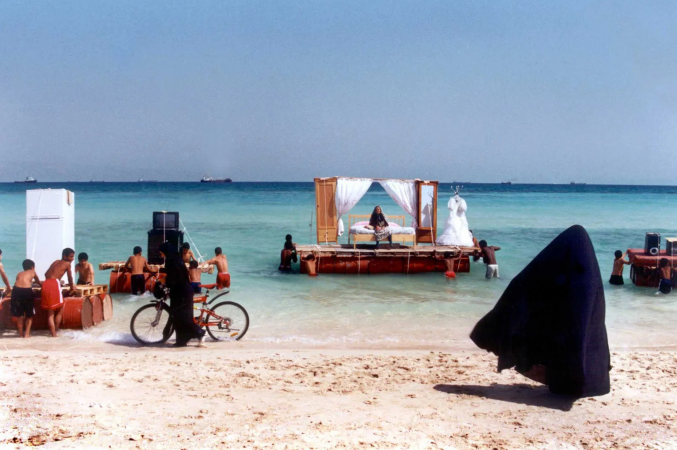 Events
Art & Music: Nashville Ambient Ensemble
Wed, Aug 2 | 6 pm | BCAM
Pop-Up Workshop: Listening to Geometric Abstraction
Fri, Aug 4 | 11 am–5 pm | BCAM
Jazz at LACMA: Alex Hahn Quintet
Fri, Aug 4 | 6 pm | Smidt Welcome Plaza
Boone Children's Gallery
Sat, Aug 5 | 11 am–5 pm | LACMA
Latin Sounds: Flaco Navaja and the Razor Blades
Sat, Aug 5 | 5 pm | Hancock Park 
Classical Around Town: Pamela Park
Sun, Aug 6 | 5 pm | Pamela Park 
Fiber Maker's Circle
Sun, Aug 6 | 12:30–3:30 pm | LACMA
Reflections from the Unseen World: Films by Women of the Ummah—The Day I Became a Woman (روزی که زن شدم, Roozi ke zan shodam)
Sun, Aug 6 | 2:30–5 pm | Lumiere Music Hall
Consider making a gift to LACMA Fund today to help us continue sharing meaningful artistic, educational, and cultural experiences like these.