Dirk de Bray's Flowers in a Glass Vase is one of over 300 objects included in The World Made Wondrous: The Dutch Collector's Cabinet and the Politics of Possession, now on view at LACMA through March 3, 2024. The exhibition, which recreates a fictive 17th-century Dutch collector's cabinet to examine the political and colonial histories of European collecting practices in the 17th century, features the painting among other other Dutch floral still lifes, which virtually preserved flowers beyond their regular period of blooming for European consumers and spoke to the desire to preserve, collect, and commemorate symbols of short-lived beauty.
LACMA was pleased to collaborate with Los Angeles–based J. Hannah, who took inspiration from details found in Flowers in a Glass Vase to develop two limited-edition nail polishes now available at the LACMA Store. The shades—Morning Glory, described as "a painterly azure," and Hollyhock, "a blushy, sun-ripe apricot"—are based on flowers that were found not only in late summer Netherlands but that are also native to California. We were fortunate enough to speak to founder Jess Hannah Révész about the process of developing them.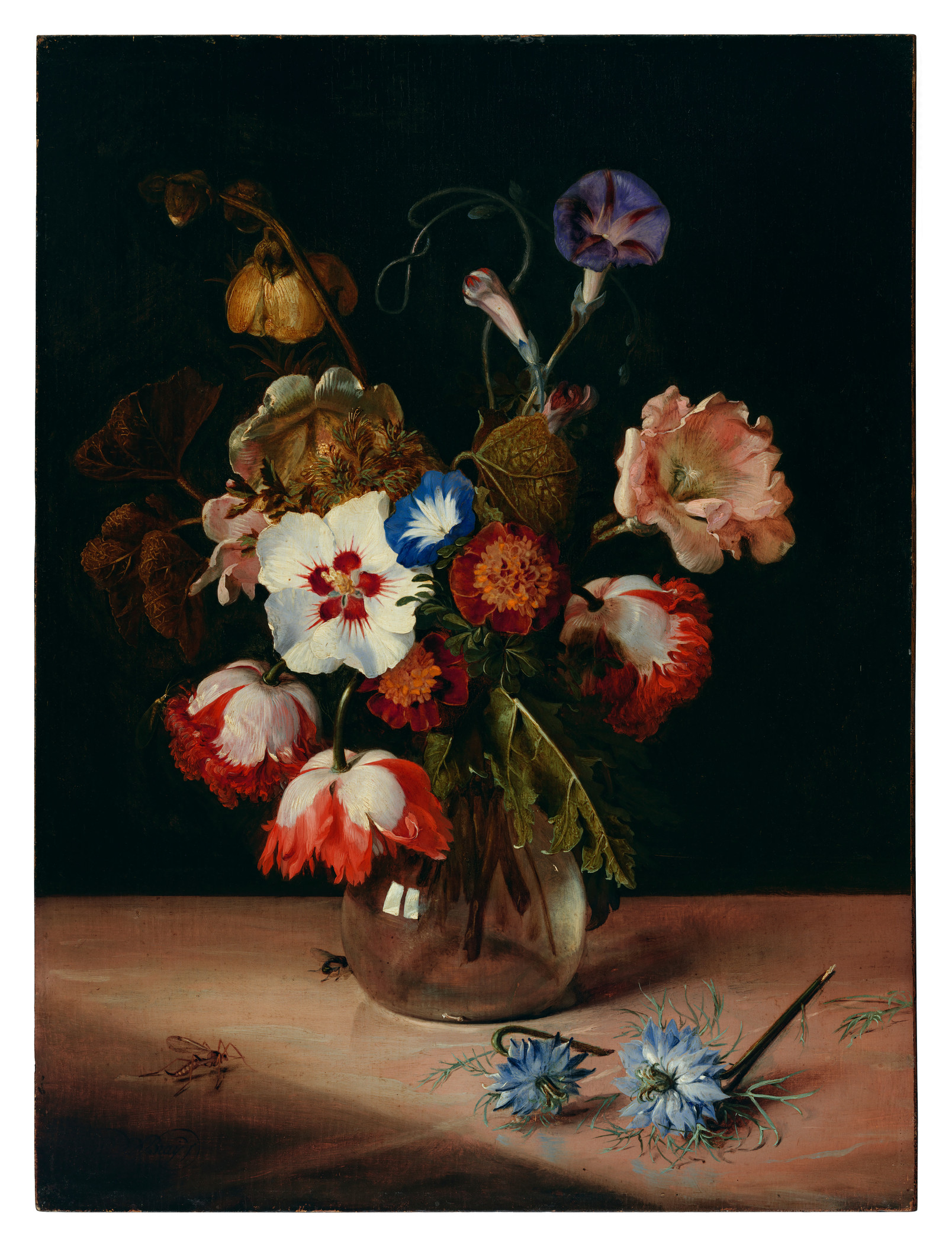 Your two colors were inspired by Dirck de Bray's Flowers in a Glass Vase. What were your initial reactions or thoughts after seeing the painting? 
Aside from the obvious artistic mastery at work, I was really struck by learning about the larger context of still lifes painted during this time period—a way of preserving the finite, of allowing something as common as a casual, undone flower arrangement to be seen as a moment worth remembering. Centuries later, there is still such a resonant feeling and poignancy to a dedication to find beauty in the objects we surround ourselves with.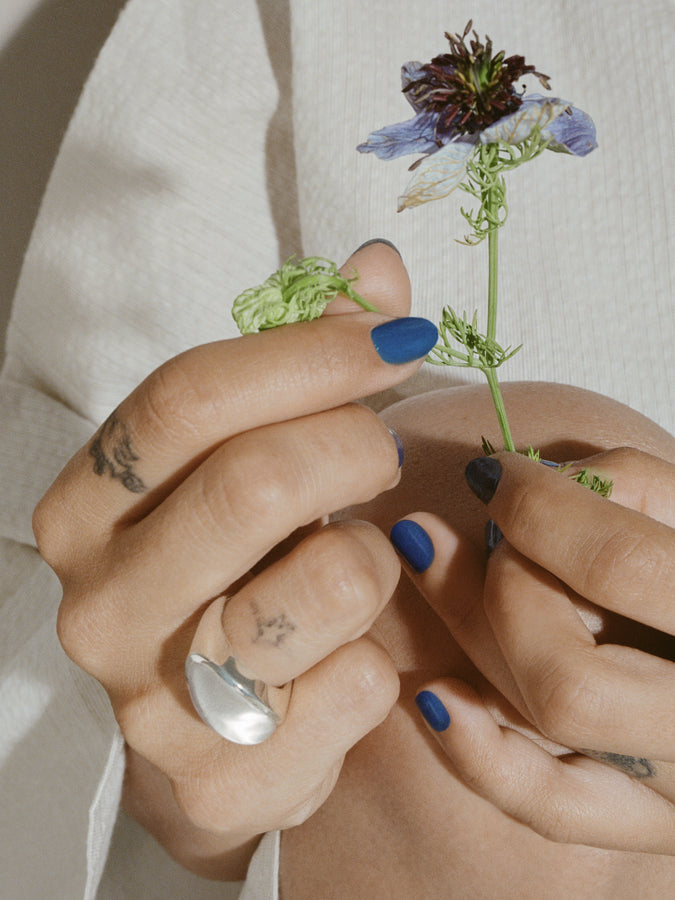 What was the process of developing and selecting the colors like? What is the idea behind both of them? 
Our process—be it nail polish or jewelry—tends to always begin with immersive research, and here it began with a quest to identify the specific blooms depicted in de Bray's work. We were drawn to the balance of bold vividity and soft nuance in the shades we selected, Morning Glory and Hollyhock. Flowers contain such a layered history across tradition, art, and symbolic meaning, and we were delighted to be able to dig deeper into those concepts to enrich the world behind each shade. 
Were there any challenges in the process?
We wanted to be certain we were correctly identifying the blooms in the specific painting with our nomenclature and references, so corroborating our findings with historic reference and contemporary experts was incredibly helpful. Many texts were sent to the horticulture-loving friends and floral experts in our world to help fact check our findings!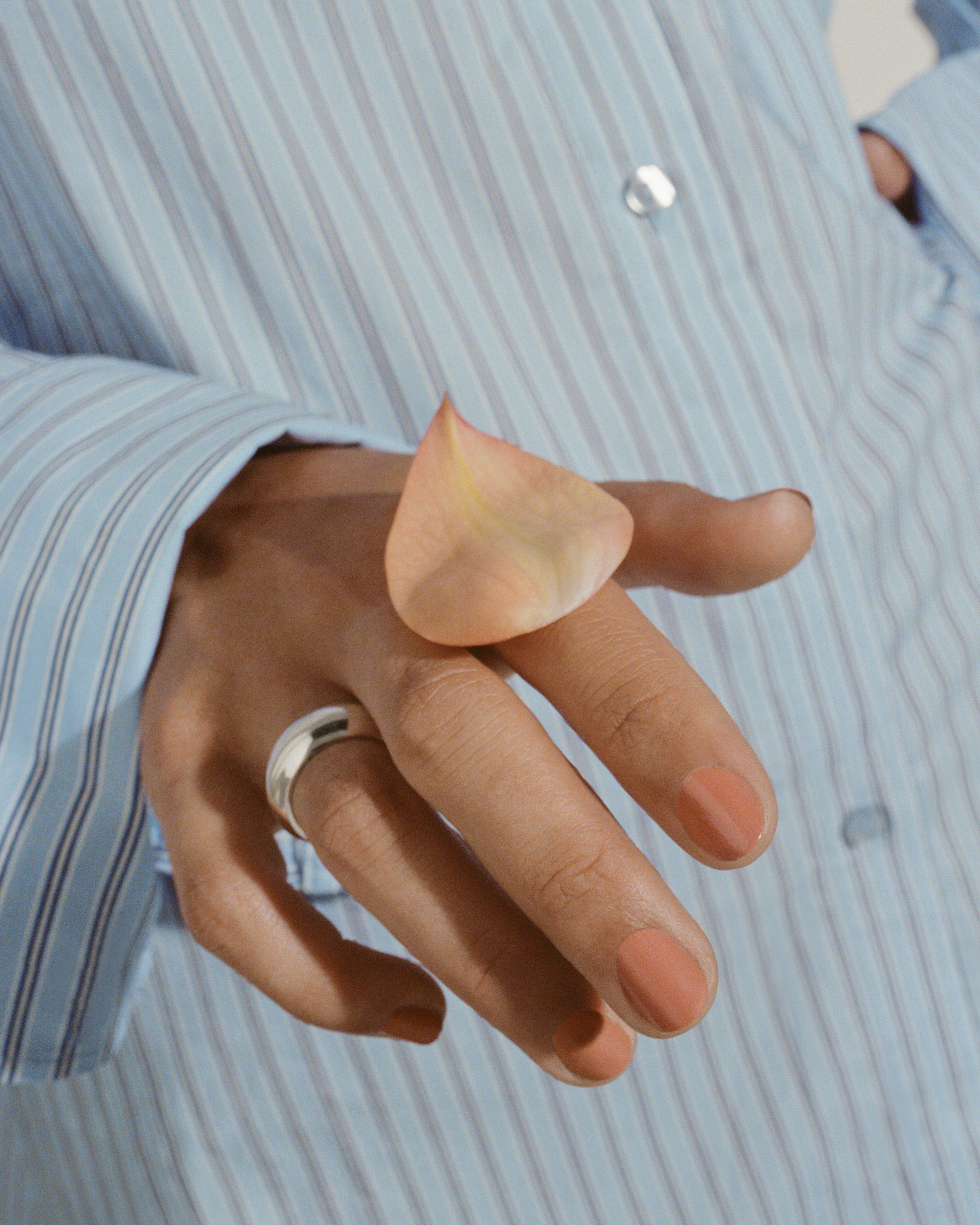 This isn't your first project in response to art. Do you often find inspiration in art and culture?  
Art, history, and the juxtaposition of the storied with the contemporary is paramount to our inspiration and process. We're continually looking for ways to both inform modern design with researched references, and to enrich contemporary design with the context of history—finding ways to put a new spin on the timeless while inspiring others to always be looking below the surface. 
What do you hope people are able to get out of these unique polishes? 
Ultimately, we design polishes to be worn, used, and to integrate into a daily lineup—and hope these polishes spark conversation through a sartorial detail that's just the right amount of unexpected.