After months of reconstruction, the first phase of the reinstallation of LACMA's European art galleries is complete. These beautifully installed galleries feature the internationally acclaimed Carter Collection of seventeenth-century Dutch paintings. In conjunction with the preparation of a catalogue of the collection by Amy Walsh, curator of Dutch and Flemish art, the Conservation Department has been conducting a technical analysis of each painting. One of the more interesting artists, in terms of both personal vision and technical ability, is Jan van der Heyden, who was an inventor as well as an artist. His detailed scenes along Amsterdam's canals, such as his View of the Herengracht from 1670, are almost photographic in their realism.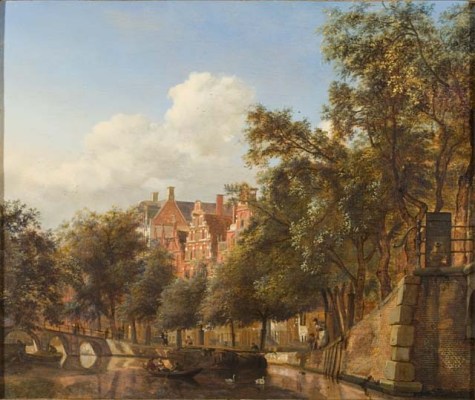 Recent studies by the Rijksmuseum have shown that van der Heyden used a type of "printing" process to create the regular, precise patterns of the brick walls of his buildings and canal banks. The artist would etch brick patterns on a metal plate, apply light or dark paint to the plate, and then press it against a sheet of paper. While the paint was still wet on the paper, he would press it against his painting in the areas where he wanted a pattern of the mortar of the bricks. This photomicrograph (a photograph taken under the microscope) of a detail of the brick wall on the right side of the river bank shows van der Heyden's technique.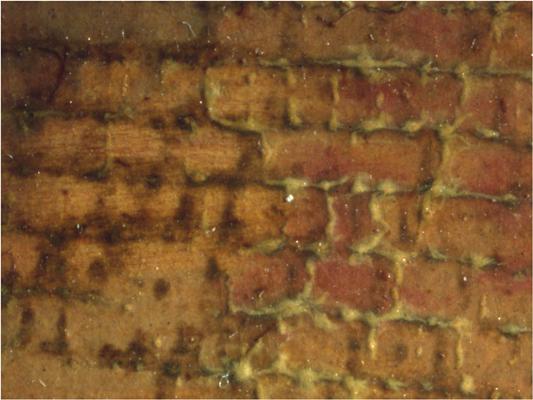 Another photomicrograph from the same painting (below) shows how when the artist pulled up the sheet of paper, he smudged or dragged the yellowish paint toward the bottom right.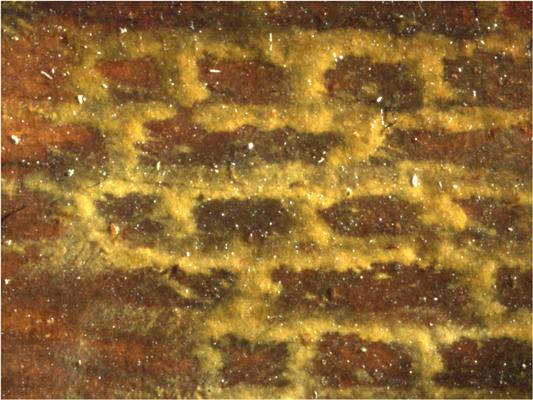 Van der Heyden also used other materials for "printing" patterns. In this photomicrograph of the foliage from one of the trees on the left, there are no brushstrokes visible—only a soft dotted texture. In this case the artist may have used something like a sponge or a piece of moss or lichen, dipped into paint and then sponged on the surface. The shadows and highlights were built up over each other with a variety of sponged greens from dark to light. The tapering lines of the branches however indicate that they were painted in with a brush.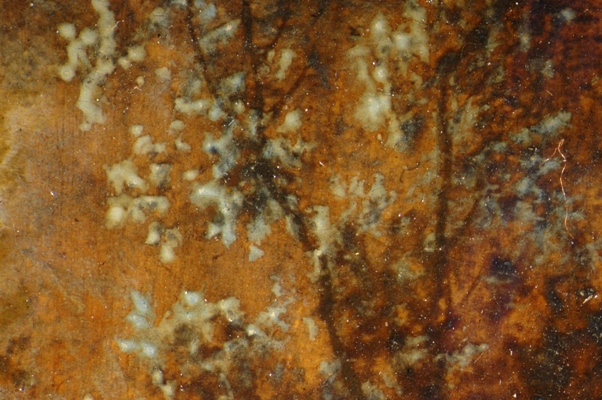 Van der Heyden used these techniques to create the striking realism of his Amsterdam canal scenes—small surprise that his personal vision has continued to mesmerize viewers from his own time to this day.   
Photography by Yosi Pozeilov; photomicrographs by Charlotte Eng (Associate Scientist).