One of the most important artists of the past century, Robert Rauschenberg famously declared himself to be working "in the gap between art and life." Currents is a superlative example of this radical approach. Hijacking the immersive scale of abstract expressionism, Rauschenberg channeled the energy and anxiety of the world around him. The Cold War, the civil rights movement, the conflict in Vietnam, and the rarefication of high culture: these and other divisive forces had opened the chasm he resolved to occupy.

Robert Rauschenberg, Currents (detail), 1970, gift of the 2012 Collectors Committee, with additional funds provided by Gail and Tony Ganz, © Robert Rauschenberg Estate/Licensed by VAGA, New York, photo courtesy Peter Freeman Inc., New York, photo by Jerry Mathiason
Rauschenberg undertook to bring "serious journalism" into the fine-art realm with Currents, which expresses his intention literally, insofar as it comprises screenprinted extracts from the January and February 1970 issues of major metropolitan newspapers. This fusion of high and low culture refers back to Picasso's incorporation of newspaper in his cubist collages, and to Rauschenberg's own renowned Combine paintings and sculptures of the mid-1950s. Currents deploys the material and meaning of newsprint, and the work's brash activism aligns it with the contemporaneous New Journalism. "Absolute truth is a very rare and dangerous commodity in the context of professional journalism," according to Hunter S. Thompson, but for Rauschenberg, truth-telling was worth the risk:
I want to shake people awake. I want people to look at the material and react to it. I want to make them aware of individual responsibility, both for themselves and for the rest of the human race. It has become easy to be complacent about the world…. I made [Currents] as realistically as I could, as austerely as possible, in the most direct way I knew how, because, knowing that it was art, people had to take a second look, at least, at the facts they were wrapping their garbage in.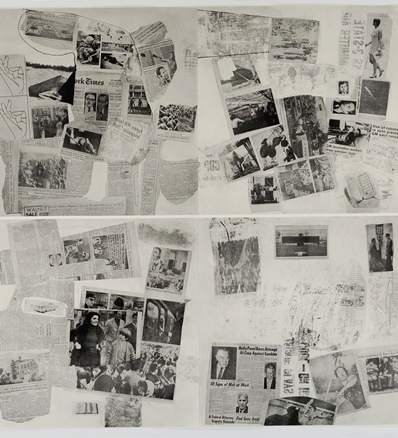 Robert Rauschenberg, Currents (detail), 1970, gift of the 2012 Collectors Committee, with additional funds provided by Gail and Tony Ganz, © Robert Rauschenberg Estate/Licensed by VAGA, New York, photo courtesy Peter Freeman Inc., New York, photo by Jerry Mathiason
The dense messiness of the clippings, strewn across a sixty-foot expanse, creates a disorienting effect. "The world condition permitted me no choice of subject or color and method/composition," the artist wrote emphatically. The first themes to emerge from the welter of headlines are grim: murders and riots offer stark evidence of social upheaval. More sustained observation reveals an art-world subtext, with articles documenting Expo '70 in Osaka, Japan, and a new work by Richard Serra. Art, Rauschenberg suggests, has constructive potential amid general disintegration. In keeping with his political convictions and experimental ethos, Rauschenberg participated in LACMA's Art & Technology project simultaneously with his work on Currents. His three-year A&T collaboration with Teledyne resulted in the sound sculpture Mud Muse, a huge tank of sludgy volcanic ash that bubbles audibly as electrical signals pass through it. Deliberately atavistic, Mud Muse is an astute counterpart to Currents, which manifests the equally haphazard signals of so-called civilization. Rauschenberg had been making large-scale prints for several years, and the commission to fill a long wall at Dayton's Gallery 12 in Minneapolis gave him the opportunity to exceed all previous efforts by any artist to date. First, he made thirty-six collages, 30 x 30 inches each, which were then photomechanically transferred to screens for printing at Styria Studios in Glendale. Since its display at the Pasadena Art Museum shortly after its completion, Currents has not been seen in Los Angeles. Of the original six editioned prints and two artist's proofs, one proof was destroyed by the artist, four impressions remain with his estate, and only two are in museum collections (the Museum of Modern Art, New York, and the Minneapolis Institute of Arts). Rauschenberg's Currents is a critical work of art in every sense. As a tactical and technical achievement, it is as timely now as ever. Britt Salvesen, curator and department head, Wallis Annenberg Photography Department and Prints & Drawings Department