As part of LACMA's Art+Film education initiative, LACMA launched Through Your Lens, a new program for middle-school students that just wrapped up its pilot session. Over eight weeks, seventh and eighth graders at John Burroughs Middle School made short films inspired by artwork on view in LACMA's galleries. Working with filmmaker and LACMA teaching artist Kate Marks, students learned about the filmmaking process and discovered a new way to express themselves using technology.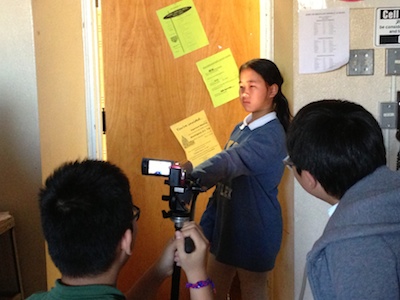 Student Nicole Kim posing for a recreation of a Figueroa film still.
Students worked in groups to adapt paintings from the museum's collection into short experimental films that explored issues they've experience in their lives, such as love, friendship, loneliness, and, in one case, war. Students were also inspired by the cinematography of Gabriel Figueroa after touring Under the Mexican Sky: Gabriel Figueroa—Art and Film. As part of their lesson on composition and perspective, the young filmmakers replicated frames from Figueroa's iconic films within their own work.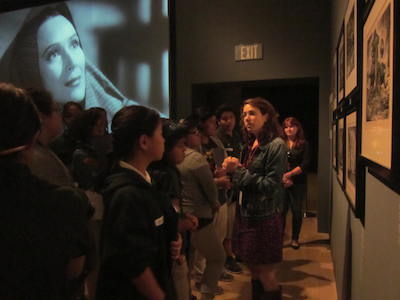 Teaching artist Kate Marks leading students through the exhibition.
After speaking with students about their experience and desire to participate in the program, many spoke about previous interests in filmmaking as well as the desire to express themselves. Surprised by how much work and time goes into making a movie, one student said "I never imagined it would be such a long process. It makes you admire [those] movie directors who make three hour movies."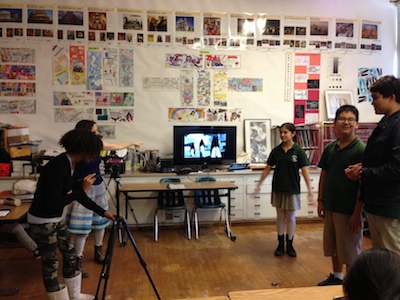 Students learning about composition by recreating stills from Figueroa film.
As the program progressed and students became more immersed in the class, comfort level with technology as well as teamwork improved among the students. Classroom art teacher, Nancy Hanover-Reyes, commented on the students' improved "decision making and 'thinking on their feet'."
http://www.youtube.com/watch?v=kf-5rfqjd0o&feature=youtu.be
One film titled This Is My Story, created by a group of four young women, was inspired by the painting Messengers in the Wind by Rufino Tamayo. Their experimental piece explored the issue of arranged teen marriage in some Middle Eastern and Southeast Asian cultures, an issue close to their hearts and homes. The girls used cinematic techniques influenced by Figueroa and narration rather than dialogue to share a story they felt strongly about. Through Your Lens gave the girls an opportunity to express their ideas using moving image and showed them firsthand the accessibility of filmmaking in their generation.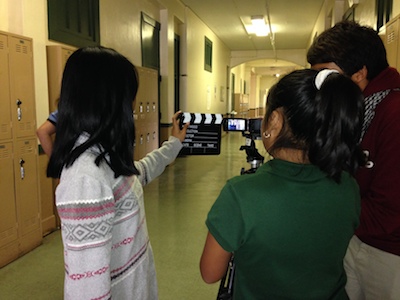 Director, cinematographer, and assistant director working on shooting a scene.
The program concluded with a screening of student work at the museum and a reception for their families. After each film screened, the students spoke about their inspiration, process, and experience. Seeing these budding filmmakers bravely take center stage and ownership of their work was truly heartwarming. The students and their work become themselves an inspiration for the Art+Film program as it grows to enrich youth through discoveries in art and technology.
In addition to Through Your Lens, other Art+Film events continue as part of LACMA's commitment to making film more central to the museum's programming and outreach. Tomorrow, Friday, February 21, the Hacienda Heights Art+Film Lab launches at Steinmetz Park in Hacienda Heights. Take part in the opening festivities featuring a live performance by Los Angeles–based Chicano Batman and a screening of These Birds Walk.
Valentina Mogilevskaya, Art+Film Education Coordinator, Education and Public Programs