Samurai: Japanese Armor from the Ann and Gabriel Barbier-Mueller Collection, on view in the Resnick Pavilion through February 1, 2015, features an exhibition design by wHY, an interdisciplinary firm that focuses on "buildings (architecture), grounds (landscape environments), objects (products and material explorations), and ideas (design research and strategy)." wHY was able to address a number of these elements in their design of Samurai: they worked within the confines of a preexisting building, with its own predetermined floorplan and walls; they created a display that articulated the richness of samurai armor and objects from the Ann and Gabriel Barbier-Mueller collection; and they had to support a narrative—through design—of nearly 600 years of samurai life, culture, and pageantry. I asked Kulapat Yantrasast, wHY's creative director, about his work on the installation.
Linda Theung: How did you come up with the design for the exhibition?
Kulapat Yantrasast: It was a lightblub in my head when I recalled the traditional processions I experience in Kyoto, Japan. The procession as ceremony as well as the military procession, it is so simple yet very strong.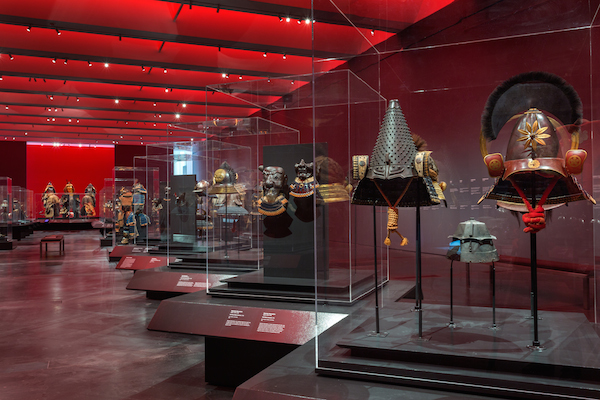 LT: In what way does your design respond to the works on view?
KY: The design responds absolutely to the artworks; the works were made to be used in processions, the design also implies the balance of beauty in the midst of violence and war.
LT: Tell us how you arrived at positioning the galloping horses at the entrance to the exhibition.
KY: I want visitors not just to see the exhibition but to be in the exhibition; the horses jump into the scene!
LT: How is designing within the confines of another space (with parameters predetermined by another architect) more or less challenging than designing without such boundaries?
KY: There are always predetermined parameters in architecture, creative design takes advantage of these parameters like a strategic move in Judo; using and aligning the forces around you to make your mark.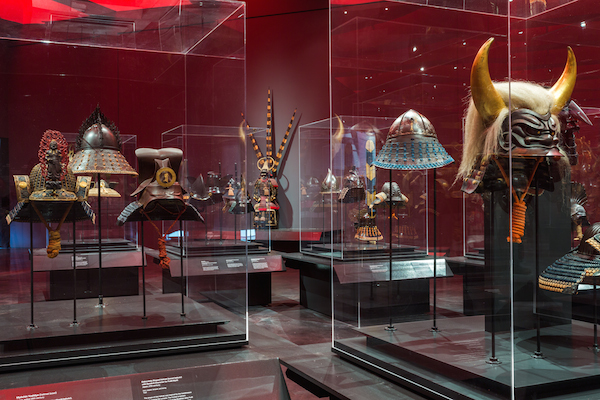 LT: What insight did you gain from working so closely with these samurai objects?
KY: I have found such an inspiration from these samurai objects in the rare balance of beauty versus violence, of masculine form versus feminine expressions, of war versus peace as well as permanence versus transience. The objects truly sum up Japanese balanced sense of life quite extraordinarily.