Fall is the time of year when we turn the clocks back, dig out our winter wardrobe, and pull out a heavier blanket for our beds. It was during this change of the seasons that I visited the Big Quilts in Small Sizes: Children's Historical Bedcovers exhibit, on display at LACMA through January 4, 2015. Viewing the 10 quilts transported me back to my childhood in rural Pennsylvania, where my grandmother would regularly set up her quilting frame and labor over a new blanket for numerous months, and where one could easily glimpse traditional Amish quilts hanging on the wash line during drives on back country roads.
Historically produced by women, and compiled of materials that were either bought or recycled from around the home, each quilt in the gallery displays a unique interpretation of a specific pattern. This established pattern language, handed down over the generations, includes designs with descriptive names such as "snowflakes with stars," "bars," "square within a square," "flying geese," and "Dutch windmill." The pattern of each quilt is highlighted by the maker's choice of fabric and the overall arrangement on the square grid format. Sometimes the fabrics used are elaborate calicos which showcase the positive space of the design, while others may employ simple solids that highlight the negative space of the pattern—almost playing tricks on your eyes like a Rorshach test.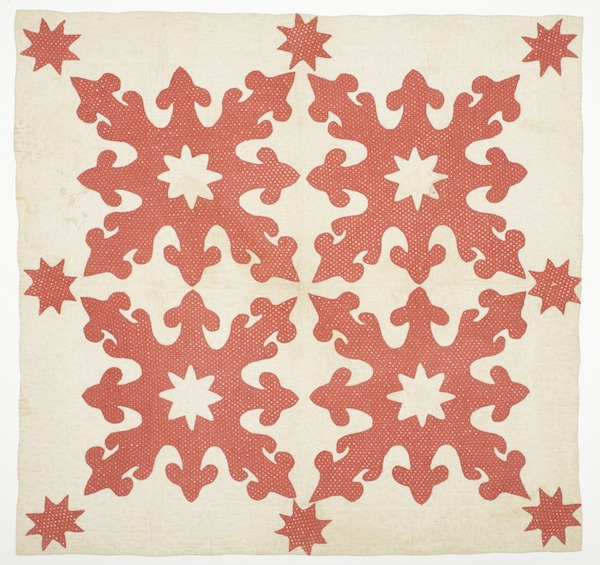 During my time in the gallery, I remembered one of my favorite quotes from the British Arts and Crafts designer, William Morris, "have nothing in your house that you do not know to be useful, or believe to be beautiful." Armed with this sentiment, I further wondered about each quilt's maker and owner: What woman made the blanket? Where did she get the fabric? How did she select the pattern? And who was the child it kept warm? I imagined many possible stories while I studied each quilt.
Inspired by the show, I took out a quilt for my own son when I got home. A friend had made the blanket for him and sent it to us soon after he was born, though he had not yet used it. This quilt has now become his favorite blanket, and I wonder if one day it will also adorn a museum wall and inspire someone to reconsider an object we live with every day as a work of art.