Ilona Katzew, curator and department head of Latin American art at LACMA, has been focusing on building a strong historical collection and establishing links between LACMA's rich holdings of ancient, colonial, and modern and contemporary Latin American art. What follows is a conversation between her and Peruvian scholar Luis Eduardo Wuffarden about a remarkable new addition by the 19th-century Ecuadorean painter Luis Cadena (1830–1889).
Ilona Katzew: Luis Eduardo, you are a noted specialist of South American art from the colonial and 19th-century periods (and beyond!). What in your estimation makes the addition of this painting worth celebrating?
Luis Eduardo Wuffarden: This work is an excellent example of the "academic" interest in the portrayal of popular local types (what we call in Spanish costumbrismo) that developed in South America in the mid-19th century. In this sense, Luis Cadena's Spinning Woman (Hilandera) offers a rather interesting counterpoint to a similar work in LACMA's collection from Mexico: Felipe Santiago Gutiérrez's Indian Woman with Marigold. 
IK: Luis Cadena is one of the most important 19th-century painters from Ecuador. It is interesting that he was an apprentice of renowned Ecuadorean painter Antonio Salas (1790–1860) and that in 1852, Cadena traveled to Chile, where he met French painter Raymond Monvoisin (1790–1870), who had a decisive impact on Cadena's style. A few years later, in 1857, he traveled to Rome to perfect his art. What can you tell us about Cadena's training and artistic trajectory? Was his education typical of the time?
LEW: Cadena's education in many ways represented what was happening in Quito in the 19th century. Unlike Peru and other countries of the region, where the introduction of an academic visual repertoire implied a radical break with the colonial past and a major change of players, in Quito there was a much less traumatic transition. This gave rise to a highly interesting group of "hybrid" works, halfway between colonial and academic, which also accounts in part for the uniqueness of Quito painting of the time. It is not uncommon to find subjects rooted in viceregal art rendered in a more "elevated" technique or that include new motifs. The works are inspired by the academy but follow pictorial conventions inherited from the colonial period and a deliberate de-emphasizing of volumetric naturalism.
IK: Cadena returned to Quito in 1860 and became very active in promoting the official study of fine art. That year he received the support of President Gabriel García Moreno to open an arts academy to educate the local youth. By 1872, Cadena was named director of the newly established Escuela de Bellas Artes (School of Fine Arts). The founding of this academy seems rather late, especially if we consider that Mexico's Academy of San Carlos was officially established in 1785. How important was Cadena in catalyzing this change?
LEW: Without question, Cadena was a key figure in introducing the academic canon in his country, both through his own work and his teachings. Indeed, the establishment of the School of Fine Arts in Quito was a relatively late occurrence in comparison to Mexico, but it could also be seen as relatively early if we consider that the academy of Lima only opened its doors in 1919. This chronological schism also accounts for the active circulation of South American artists in European academies, a phenomenon that continued until the late 19th century. It is precisely the absence of the institutionalization of local art that led many young artists to move to Europe to complete their training. Their stays were relatively long, and on more than one instance they decided to further their careers in the Old World, but without breaking their ties with their country of origin, where their artistic triumphs acquired a "national" meaning.
IK: In tandem with his pedagogical work, Cadena was especially favored by the Augustinians, Dominicans, and Jesuits, for whom he fulfilled several important commissions; he also created a number of society portraits. One of the issues that I find absolutely compelling when looking at the 19th century is that there was not always a clean break from the past, as you noted. There was, yes, a rhetoric of change and the introduction of an academic visual vocabulary, but the pictorial output of many painters throughout Latin America remained precariously situated between a colonial and more modern aesthetic. How does Cadena succeed in negotiating this apparent dichotomy, and is Woman Spinning a good example of this?
LEW: Absolutely. The work eloquently demonstrates the transition between colonial traditions and the new ways of seeing and creating art. Without entirely breaking away from the workshop teachings of Salas, one of the last painters of the previous generation, Cadena embraced European genre painting to construct a romantic trope of indigenous peoples living in the countryside. By the end of the 1840s, the Peruvian painter Francisco Laso (1823–1869), for example, strove to endow the subject of the hilandera with an aura of dignity that clearly reverberates in pictures such as this. The posture of the woman, the idealized treatment of her facial features, and the loving attention with which Cadena renders each and every object in the modest interior, seem to be inspired by the most prestigious models of "domestic interiors" in European painting.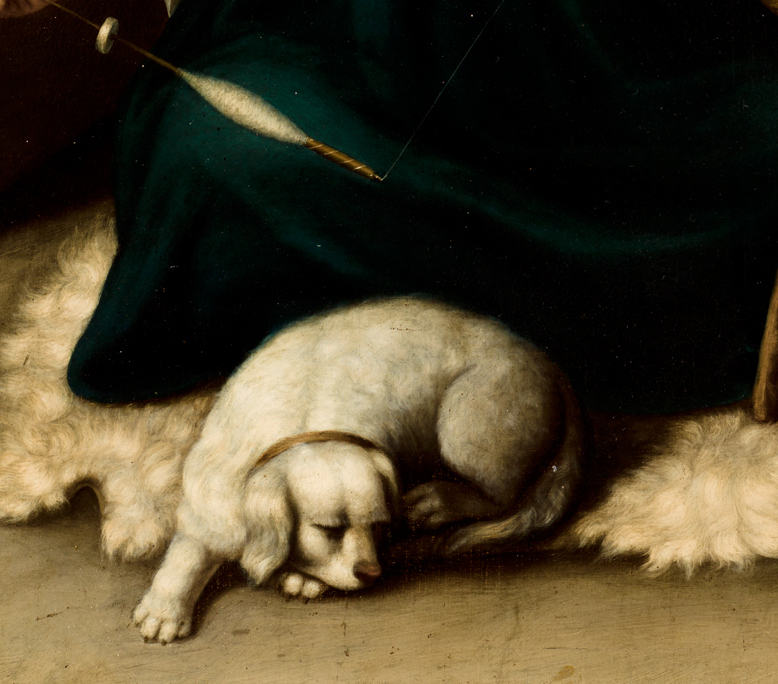 IK: Cadena also carefully conveys the tactile quality of surfaces. For example, the embroidered details of the woman's blouse and mantle are striking. At the same time there's a palpable contrast between the softness of the dog (a traditional symbol of fidelity) and the rug on which the hilandera sits and the subject's stern facial expression. Another dichotomy could be drawn between the dark interior and the light that filters in ever so subtly through the opening on the left. But what I find most intriguing is the pen, inkpot, and book resting on the shelf in the back, placed between the hanging spurs and the wool saddle. These elements would seem to connote secular knowledge (as we see in many vanitas paintings that remind viewers of the transience of earthly life), but here they seem oddly out of context. What do you make of these symbols?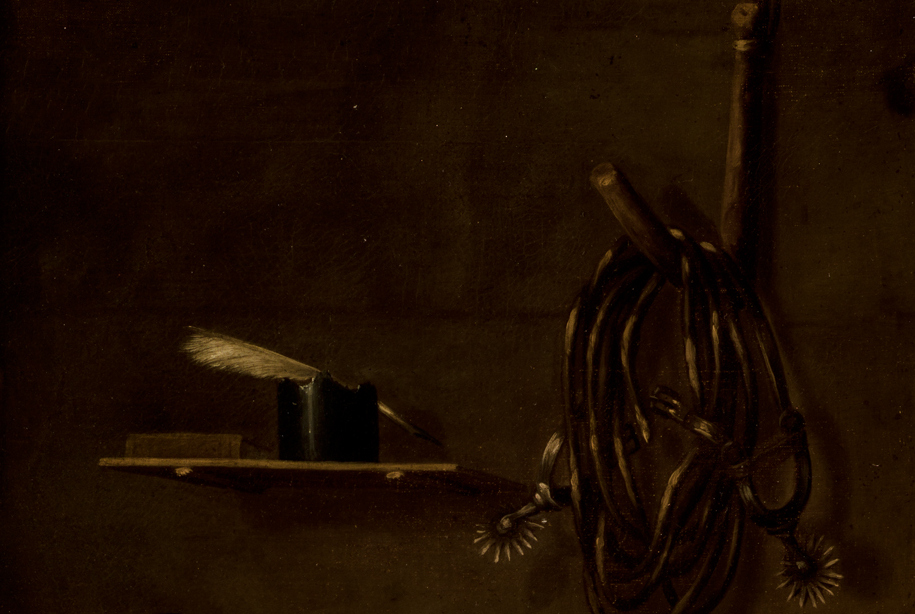 LEW: There is no question that the inclusion of these objects is not random. In this type of work, honoring tradition tends to go hand in hand with the aspiration to progress. That is why, even without knowing the history of the painting, I can venture that this kind of "enlightened still life" is connected with the intense literacy campaigns that the Ecuadorean government undertook in the mid-19th century to educate the indigenous population. It is interesting to see that the modest inkpot and book are at rest next to the spurs and other horseback trappings that make reference to the activities of the hilandera's husband. We should keep in mind that in those social sectors, education was generally the purview of men.
IK: Finally, Luis Eduardo, how do you think that Cadena, as well as other artists from his generation, succeeded in bridging so-called international and Europeanizing artistic trends with a nationalist imperative to depict local types, traditions, and landscapes?
LEW: The case of Cadena, akin to that of many other artists from Latin America in this period, proves that this contradiction is superficial. The adoption of a cosmopolitan pictorial language was a way of positioning themselves at the same level within the new international context following the wars of independence. Motivated by nationalistic ideals, they drew on their European training to render the great local subjects of the day with a fully modern visual vocabulary. In this way, they succeeded in creating representative images of their nations designed to reach beyond the confines of their own countries. This allowed them not only to prove the artistic progress achieved by the new republics but also to contribute to the construction of a local identity.