The last day to see 50 for 50: Gifts on the Occasion of LACMA's Anniversary is Sunday, September 13. Half a century in the making, this celebration of generosity involved the significant efforts of our director and curators, trustees Lynda Resnick and Jane Nathanson, and many more donors. Matthew Thompson, Director of Collections Development and Exhibition Support, was at the center of this initiative. Unframed sat down with Matthew to learn more about 50 for 50.

Roberto Ayala: What was your role in organizing 50 for 50? 
Matthew Thompson: I managed the 50th anniversary gifts of art campaign and worked closely with the director, the museum's curators, and the collectors who made the extraordinary commitment to ensure that these works will stay in Los Angeles and at LACMA for the public to enjoy far into the future. 
RA: Looking back over the run of the show, what were unexpected connections you uncovered once the exhibition was on view?
MT: Michael Govan and Stephanie Barron did an amazing job wrestling an elegant and poetic installation out of such a diverse group of objects, which requires sensitivity to a really broad range of material. I love how the exhibition doesn't totally segregate objects by time period or discipline, so you can, for example, see a Donald Judd tension box and a Bernini bust in proximity to one another and think about the development of sculpture in the intervening four hundred years. Or to see Ingres's Virgin and the Host and Warhol's Double Marilyn together, which on the one hand makes a kind of easy Madonna/Madonna comparison, but I love thinking about how both artists revisited the same composition and subject multiple times and reveled in teasing out these subtle variations.
And there are some very nice connections to LACMA's history. The remarkable Bruce Nauman holograms were first exhibited at LACMA in the Art & Technology exhibition, and it feels really special to have them return to the museum as we are devoting such energy to thinking about what Art & Technology means at LACMA in the twenty-first century.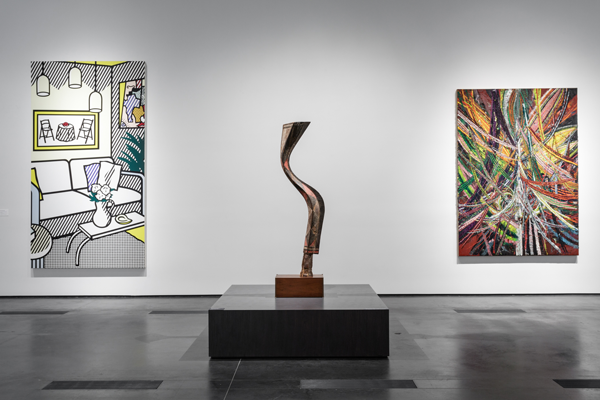 RA: What work of art are you most excited to see return to LACMA and why?
MT: Tough. I would have to say the Baga serpent. It is one of the most incredible African sculptures I have ever seen, and the significance of it coming into the museum's collection one day is pretty difficult to overstate. It is a truly singular work with an incredible presence in the gallery. Though Edgar Degas's At the Café-Concert: The Song of the Dog is a very close second. Even before I knew it might come to LACMA one day, if you would have asked me to pick one Degas painting for the collection, it would have been that painting. But that is just me. I am sure there would be a range of different responses if you asked the museum's curators, because there are so many compelling objects and some really great stories. I think the public has really connected with the breadth of the exhibition as well, and I've heard so many different favorites when I've toured visitors through the exhibition. Certainly the DeWain Valentine disc and David Hockney's monumental video work The Jugglers have been crowd favorites, which is so great to see for two artist with such a long history in Los Angeles.
All of the works in the exhibition will come to LACMA's collection eventually, but some of the objects will return to private collections and may only come back to the museum periodically before they are bequeathed to the museum as part of the donor's estate. So this exhibition really represents an extraordinary opportunity to see some of the most important gifts of art in the museum's history in one place at one time. You might have to wait a while before you see some of these masterpieces again.  
RA: How would you describe the impact of 50 for 50 on LACMA's collection?
MT: One of the things that stands out to me is the amount of firsts. There are so many objects that will be the first to enter the museum's collection, and they will all be pivotal in how we can tell the story of art and its history from so many different vantage points. So we can start with some big names: our first Bernini, our first Giambologna (in turn our first Renaissance bronze), our first Hans Memling, our first James Rosenquist, our first Vija Celmins painting, our first Glenn Ligon painting, our first Robert Rauschenberg painting. On top of that there are some remarkable objects like the Baga serpent and a wonderful Kota figure which will significantly enhance our African holdings, several masterworks of Japanese cloisonné, and some monumental immersive installations by Robert Irwin and Kiki Smith that extend LACMA's depth in large-scale works. And of course the A. Jerrold Perenchio collection will dramatically transform the museum's holdings of nineteenth century European art when it ultimately comes to LACMA, and the six works on view in 50 for 50 will give the public an idea of the quality of each of the nearly fifty works in this collection of masterpieces.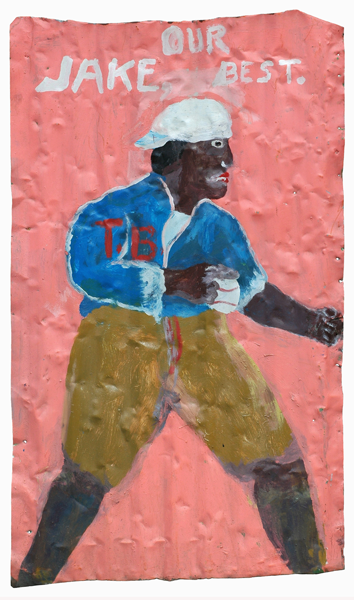 RA: There are a number of gifts in the exhibition that indicate new areas of interest for the museum. Can you talk more about that?
MT: For me, the works of self-taught vernacular art really stand out in an exhibition like this, and we were delighted to be able to add some really important examples to our small but growing collection of this material, including the striking Sam Doyle portrait of Jackie Robinson that was on view in Sam Doyle: The Mind's Eye—Works from the Gordon W. Bailey Collection at the museum last year. In a larger sense, conveying the true diversity of American and Contemporary art feels very relevant and necessary in a global city like Los Angeles. You can see this too in the addition of the fascinating Blackburn Collection, which includes a remarkable breadth of material. Over 5,000 photographs and objects documenting the entirety of the Pacific and Polynesia from the invention of photography on. In 2007 we acquired one of the most significant private collections of Oceanic art assembled in the twentieth century, driven in large part by our belief that in Los Angeles it makes sense to view art history from the perspective of the Pacific and Latin America, and this acquisition really extends that effort. The impact of Oceanic works of art has been substantial, and had a particularly profound effect on modern artists, including expressionists.
But my favorite object in the collection is on view in 50 for 50: Duke Kahanamoku's massive redwood surfboard. It is the ultimate Southern California ritual object and has such a great monumental quality. I also love the Southern California travel posters included in the exhibition. LACMA's remarkable and fast-growing collection of colonial Latin American art has a similar resonance, and the casta painting included in 50 for 50 was front-page news. Graphic design and posters are also an area of focused interest for the museum, which historically have not been well collected by major museums and present a rich opportunity for our Prints and Drawings and Design and Decorative Arts curators to reach across departments to collaborate.
50 for 50 is on view through Sunday, September 13 and included in General Admission.